Are We Underestimating America's Fracking Boom?
Thanks to a subscriber for this article by Dennis Berman for the Wall Street Journal which may be of interest to other subscribers. Here is a section:
In that way, Sasol is a metaphor for what we don't yet understand about America's gas boom. Most know what fracking has meant for oil and gas prices. But because much of the work hasn't started yet, few appreciate the true extent of the industrialization that's about to begin.

So let's put it this way: We are building a Qatar on the Bayou. From whole cloth, companies are laying new cities of fertilizer plants, boron manufacturers, methanol terminals, polymer plants, ammonia factories and paper-finishing facilities. In computer renderings, the Sasol site looks like a fearsome, steel-fitted Angkor Wat.

In all, some 66 industrial projects—worth some $90 billion—will be breaking ground over the next five years in Louisiana, according to the Greater Baton Rouge Industry Alliance. Tens of billions of other new investments could be coming, says Louisiana's economic development secretary, Stephen Moret. How many projects will actually get built remains to be seen.

Assuming that most will, you realize we are still probably underestimating the positive impact of the gas boom on both local and national economies. The entire GDP of the state of Louisiana is about $250 billion annually.

"As an economist, I can only say, 'Wow. Holy Cow,'" said Loren Scott, a Louisiana economist who has studied the state for 40 years. "We typically measured expansion in terms of hundreds of millions of dollars. Something like that makes your eyes bug out." He expects, for instance, that once 10-year tax-abatement deals expire, schools boards will "find themselves with a bonanza."
Veteran subscribers will be familiar with our belief, since at least 2009, that unconventional oil and gas represent game changers for the energy sector. The USA's competitive advantage both in terms of energy production and costs represent powerfully attractive qualities for energy intensive industries.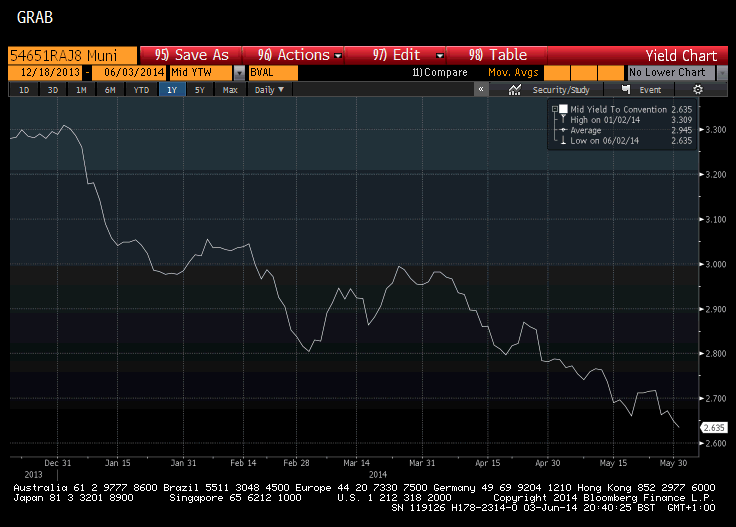 The investments expected in Louisiana detailed in the above article are transformational and have resulted in the spread of the state's 9-year revenue-backed bonds compressing to 43 basis points over Treasuries with room to contract further.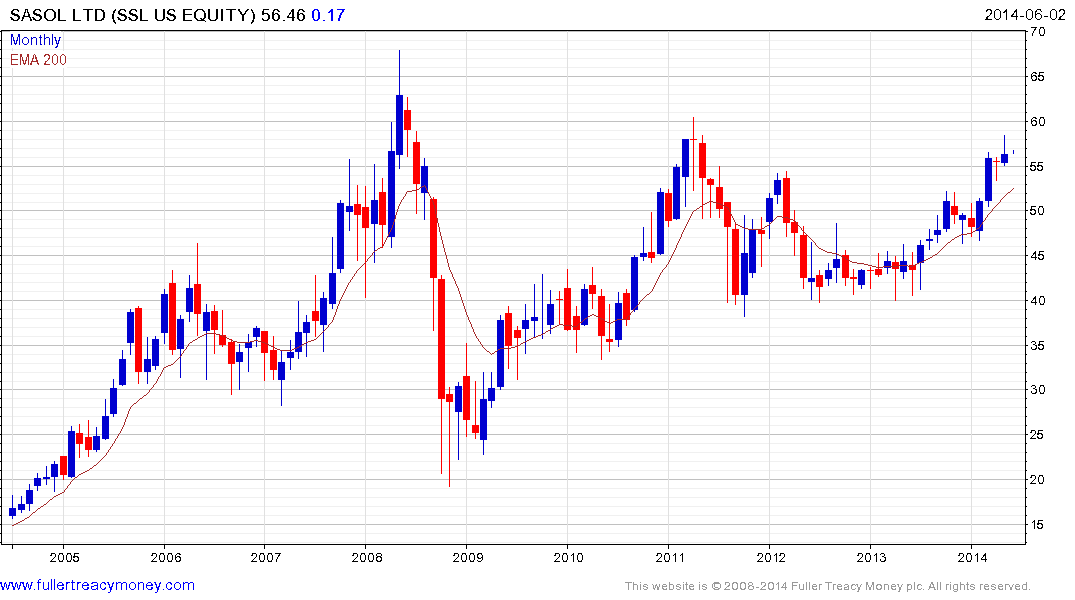 Sasol (Est P/E 10.8 DY 2.65%) has returned to test its 2011 highs below $60 and while some consolidation in this area is possible, a sustained move below the 200-day MA, currently near $52 would be required to question medium-term scope for additional upside.
Back to top