Amid turmoil, Iraq Kurdish region is laying foundation for independent state
This article by Ben Van Heuvelen for the Washington Post may be of interest to subscribers. Here is a section:
With relations badly strained, there is little appetite in the Kurdish capital of Irbil to provide any military support to Maliki.

"The Iraqi government has been holding the Kurds hostage, and it's not reasonable for them to expect the Kurds to give them any help in this situation without compromising to Kurdish demands," said an adviser to the Kurdish government, speaking on the condition of anonymity to be candid.

The pesh merga say they have not tried to displace ISIS from territory it now controls.

?"In most places, we aren't bothering them [ISIS], and they aren't bothering us — or the civilians," said Lt. Gen. Shaukur Zibari, a pesh merga commander.

In his statement, Yawar said, "There is no need for Peshmerga forces to move into these areas."
If we remember our geography lessons from a decade ago, the ISIL has stormed into what might be described as the Sunni heartland of Iraq. The Kurds to the north have aspirations of an independent nation while the Shia majority to the south are sitting on the majority of the nation's oil resources. The above article suggests that the ISIL has chosen to avoid fighting on two fronts, at least for now.
One of the main sticking points almost a decade ago in the formation of the Iraqi government was on how much oil revenues would be transferred to the Sunni's, whose territory has less oil than its neighbours. The result was unsatisfactory from a Sunni perspective. One wonders if it could realistically have gone any other way.
The ISIL's supply lines are susceptible to air strikes but the territory It now controls has long borders with both Syria and Saudi Arabia suggesting this insurgency could persist for quite some time. From the perspective of oil prices, this introduces an additional risk premium but oil markets will be watching this situation closely for signs of any threat to the country's main production regions. Such a threat would likely to a catalyst for foreign involvement in order to protect this globally significant infrastructure.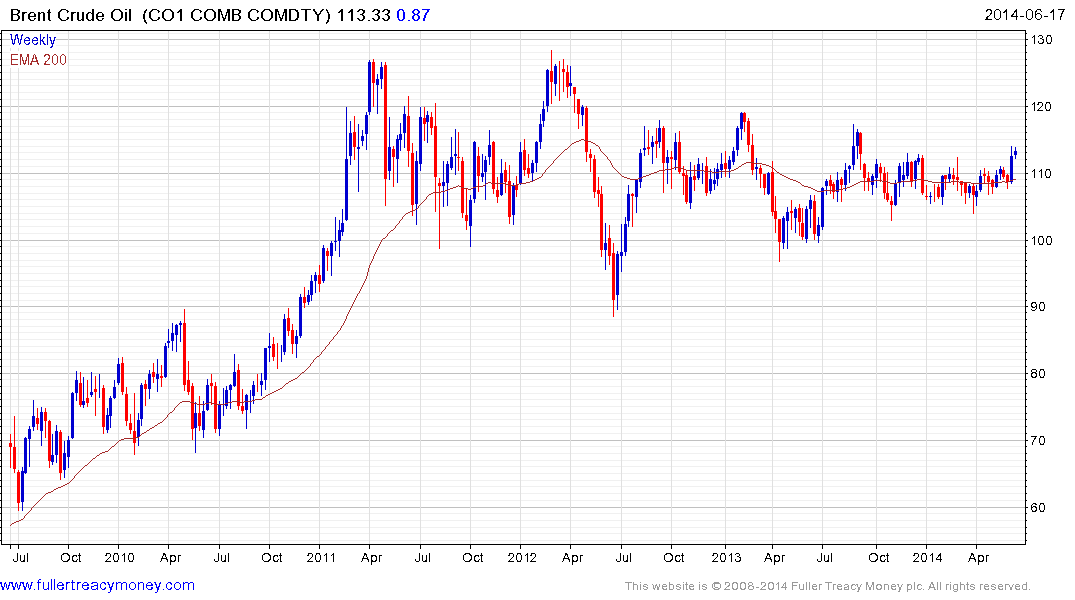 Brent crude prices have broken up out of their short-term range and continue to hold the advance. A clear downward dynamic would be required to question current scope for a further test of overhead trading.
Back to top