After underperforming the stock market for years, alternative energy is red hot
This article by Debbie Carlson for Market Watch may be of interest to subscribers. Here is a section:
Energy-market watchers say what makes today different than 10 years ago, when interest in clean tech also was hot, is that these power sources are now economically viable as subsidies fall away.

Peter McNally, global lead for industrials, materials and energy at research firm Third Bridge, says aggressive investment by utilities in renewable energy has lowered the cost of clean tech and showed it was viable at scale. Just as utilities invested in natural gas 20 years ago at the expense of coal, they are now doing the same with alternative energy.

"Clean-tech businesses are starting to stand on their own, and I think they got a big boost from the utilities," he says.
Even though Joe Biden disavowed support for the green new deal in last night's debate, that did nothing to hamper enthusiasm for the sector today. Part of the reason for that is its success is less dependent on political whim than it was a decade ago.
Low interest rates, abundant credit, improving technology and carbon credits have changed the calculus of where profits can be found. With low interest rates companies can install as many panels as they wish because they have the luxury of waiting for cashflows to pay off the initial cost.
Carbon credits are hampering the ability of conventional oil majors to compete. Instead they are investing heavily to try and offset their carbon exposure. Royal Dutch Shell's CEO has spoken about the company becomes one of the world's largest utilities for example.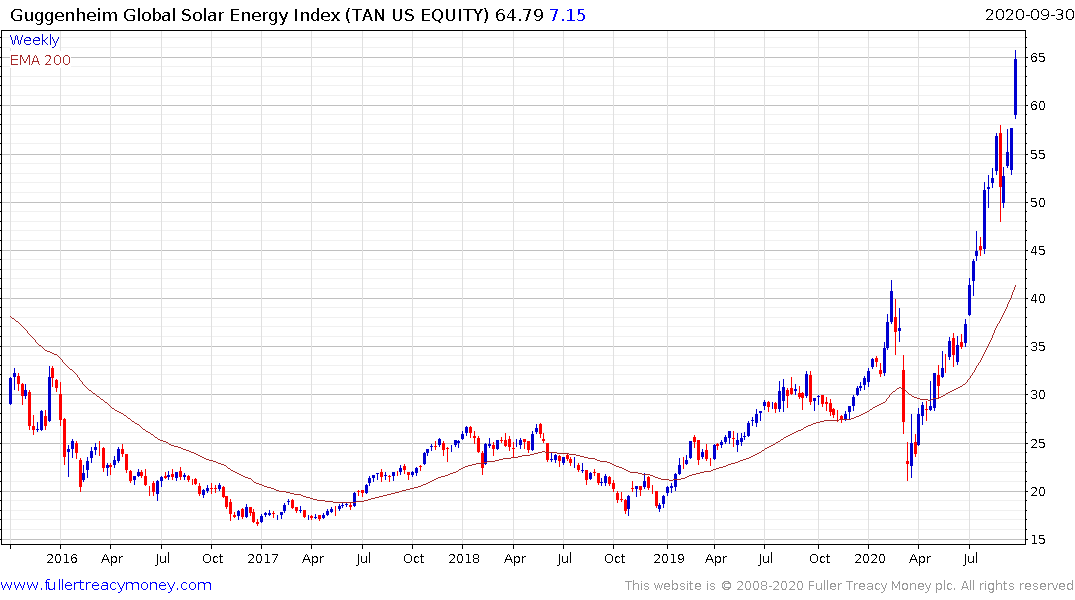 The Solar ETF continues to extend its steep uptrend and a break in the sequence of higher reaction lows would be required to check momentum beyond a pause.
Back to top