A resignation, detentions and missiles: 24 hours that shook the Middle East
This article by Tamara Qiblawi for CNN may be of interest to subscribers. Here is a section:
Saudi Arabia was still putting out the fires caused by the missile attack when state TV announced the onset of an anti-corruption crackdown led by the crown prince. Over 17 princes and top officials were arrested on graft charges, according to a list obtained by CNN and cited by a senior royal court official.

The list includes billionaire business magnate Prince Alwaleed bin Talal, who owns 95% of Kingdom Holding, which holds stakes in global companies such as Citigroup, Twitter, Apple and News Corp.

The list also includes formal head of the royal court Khaled Al-Tuwaijri, Saudi media mogul Waleed Al-Ibrahim and Prince Turki Bin Nasser.

"Some of the wealthiest figures in the Arab world are in apprehension today," said military analyst Riad Kahwaji.

"This is unprecedented. We're seeing it for the first time and it's definitely causing shockwaves across the region."
On October 19th 2015 I wrote this:

To think of Saudi Arabia as having to go to the market for money is a misrepresentation of just how much capital the kingdom has. Let's think of the country more as a feudal kingdom than the democracies we are accustomed to. It is not beyond the realm of possibility that the various princes who have accumulated impressive wealth based on the largesse of the crown could be called upon to supply the state with arms, capital or soldiers in just the same way that dukes and earls would have done in feudal Europe.

The reaction of most commentators to the evolving political situation in Saudi Arabia is to think of it as a crude grab for power. However, it is worth considering that something subtler is going on. Saudi Arabia has been fighting or financially supporting wars in Yemen, Iraq and Syria for at least three years. At the same time the oil price has been less than the country might have hoped for when faced with such large outlays.

In a feudal system, aristocrats enjoy positions of privilege because when it comes time to defend the realm against threats, both foreign and domestic, they are expected to rally around the crown and supply whatever is required to ensure survival of the status quo. The rounding up of princes, former ministers and officials, less than a week after the Davos in the Desert confab last week focusing on inward investment, is both an assertion of control and demand of fealty in a very financial sense. Historically, when an aristocrat refused to comply they were stripped of lands and title. Those currently housed at the Ritz Carlton in Riyadh would do well to remember their history.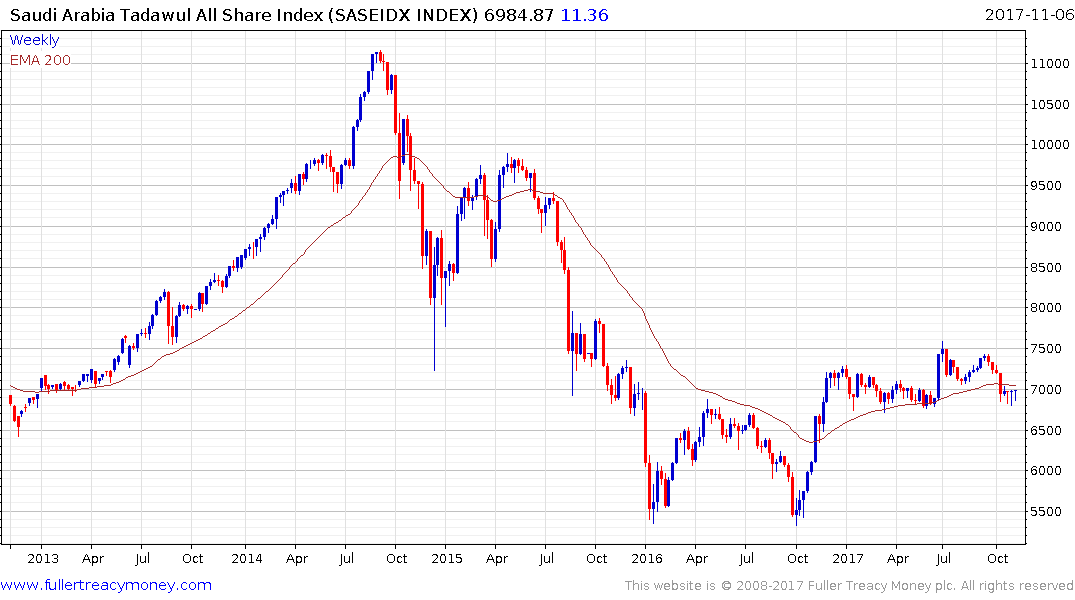 IPOing Saudi Aramco is a priority but preventing encirclement by Iran is a necessity from the perspective of the rulers of Saudi Arabia. The Tadawul Index has been ranging for most of this year and is currently firming from the lower side of its congestion area.


Brent Crude oil extended the break above $60 today and a clear downward dynamic would be required to question medium-term scope for additional upside.

In almost every video I have recorded over the last few months I have been at pains to highlight the fact that high yields spreads, unemployment data and the yield curve are all still benign, so a recession is not imminent regardless of bearish prognostications and fears about the repercussions of low volatility. However surging oil prices represent a headwind for global growth and have been one of the leading contributing causes to recessions in the past. We are not at a point, yet, where that is likely to represent a headwind, but this is a situation that merits close monitoring because of the broad-spectrum effects it can have on other asset classes.
Back to top