A New UN Push Aims to Feed the World's Rabid Hunger for Carbon Credits
This article by Eric Roston for Bloomberg may be of interest to subscribers. Here is a section:
It's a tricky proposition, though. Offset programs are notoriously difficult to execute with confidence. REDD+, launched in 2007 to much fanfare among developing nations and UN climate negotiators, but has rarely lived up to its original excitement as developed nations failed to install carbon-pricing policies that succeed in guaranteeing demand.

Global demand for offsets may outstrip supply by 2025, according to a September analysis by Fitch Ratings. Many companies, including Microsoft Corp, The Walt Disney Co, and Royal Dutch Shell Plc, have already begun either buying or planning to buy offsets. Amazon.com Inc. founder Jeff Bezos this week announced $791 million in funding for 16 environmental groups, including $100 million each to organizations with strong forestry or offsets programs—EDF, World Resources Institute, and World Wildlife Fund.

Navigating the challenges to come may require groups like Emergent to continue to act as market-making entities. Or, if markets get the boost they need from the Green Gigaton Challenge and other initiatives, "we'd be thrilled to turn off the lights, close the door," Bloomgarden said. "Impact achieved."
I was part of team that put together a proposal for a group in Alaska who were seeking to raise investment capital for a welfare/education program for their community. They were in line to sell a significant asset but instead were able to hold the asset and sell carbon credits on a stand of forest on the community's property. That delivered a long-term cashflow, they got to keep their assets and they had no plans to sell or cut the trees in any case.
This is a win/win for many capital starved communities in remote parts of the world. The challenge for carbon emitters is in sifting through the market for real projects. Since it is completely unregulated and many forests are in remote parts of the world, due diligence is a nightmare. The reputational risks for companies are inordinately high considering the ramifications of investing in the wrong project from a PR perspective.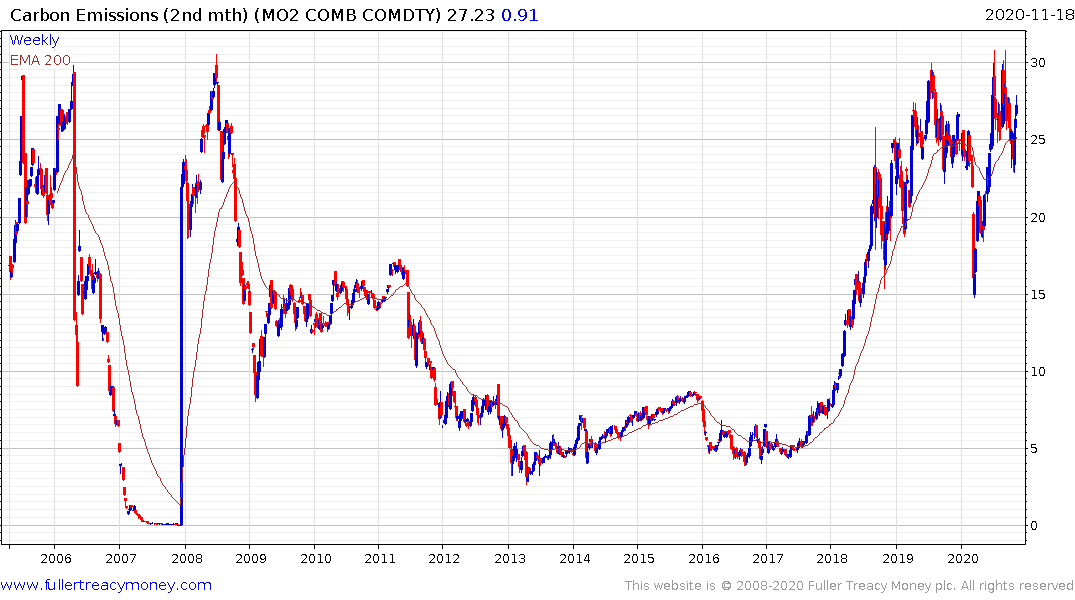 Carbon credits prices are fuelled by the perception of economic growth potential and the desire to offset carbon emissions. The intensification of social distancing guidelines is weighing on perceptions of growth potential in the short-term. However, the willingness of non-traditional emitters to fund carbon offset programs continues to grow. That is likely to provide a significant tailwind for the sector over the medium-term.
An ETF for the sector carbon credit market is planned but, in the meantime, futures are currently pausing in the region of the upper side of the all-time peaks.
Back to top