4 Million Tons a Day Show Why China and India Won't Quit Coal
This article from Bloomberg may be of interest to subscribers. Here is a section:
Meanwhile, mines across China and India have been ramping up production in recent weeks to ease a supply crunch that's caused widespread power shortages and curbs on industrial activity. China's miners have beaten a government target to raise output to 12 million tons a day, while India's daily production is close to 2 million tons.

"The power cuts since mid-to-late September show that we are still not prepared enough," Yang Weimin, a member of the economic committee of the Chinese People's Political Consultative Conference and a government advisor, told a conference in Beijing on Saturday. Additional funding is needed to ensure coal plants can be used to complement a rising share of renewables, he said.

Coal's share in global electricity generation fell in 2020 to 34%, the smallest in more than two decades, though it remains the single largest power source, according to BloombergNEF.

In China, it accounted for about 62% of electricity generation last year. President Xi Jinping has set a target for the nation to peak its consumption of the fuel in 2025, and aims to have non-fossil fuel energy sources exceed 80% of its total mix by 2060.

For India, coal is even more important, representing 72% of electricity generation. The fuel will still make up 21% of India's electricity mix by 2050, BNEF analysts including Atin Jain said in a note last month.
The focus on attention right now is on the willingness and potential of both India and China to eventually limit their use of coal. Much less attention is focused on Africa where the bulk of population growth is occurring. The next couple of billion people will mostly be born in Africa. That means increasing demand for power and higher standards of living as the continent urbanises.

Predictably the bare minimum was agreed at the COP26 negotiations in Glasgow. Both India and China only agreed to achieve decarbonization within 50 years without stating how they will achieve it. China in particular did not go much further than the measures announced ahead of the conference. For example, they will no longer build coal fired power stations overseas.
That begs the question where the electricity to support African growth is going to come from? It seems inevitable many high population emerging countries will continue to burn coal, regardless of whatever was agreed this weekend.
Meanwhile, the political will to support less energy intense solutions remains strong. That suggests continued investment in wind, solar and batteries and higher prices for competing sources.
It also suggests there will need to be a new mining investment cycle to support demand growth for copper, nickel etc.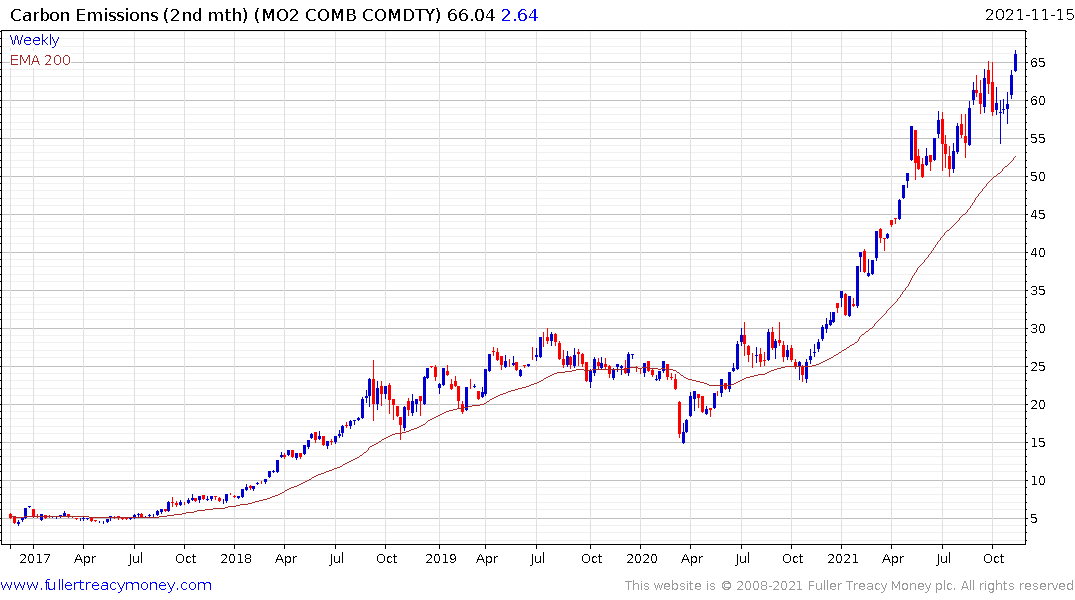 The creation of a global carbon market is perhaps the most significant result of the COP26 talks. The EU's carbon emissions price hit a new all-time high today.
Despite the fact people remain worried about the potential for accidents at nuclear power plants, they remain the most compelling zero carbon base load providers of electricity.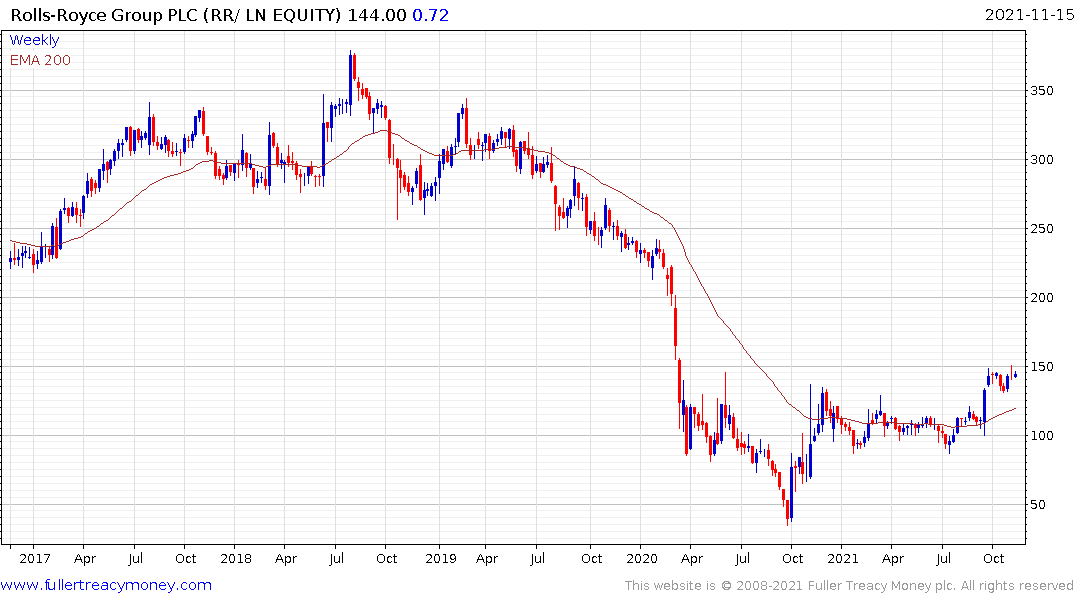 Rolls Royce is now getting into building small modular reactors with each expected to be built in a factory, occupy the size of two football fields (90% less than conventional plants) and provide power for 1 million home each. The share continues to exhibit first step above the base characteristics.
Back to top