'U' got the love - upgrading our uranium price deck
This report from Canaccord Genuity may be of interest to subscribers. Here is a section:
Here is a link to the full report.

Here is a section from it:
Government policy support has improved dramatically...Growth from non-OECD nations has always been the bedrock of our positive demand outlook, and this view has only strengthened following the release of China's 14th Five-Year Plan, which called for an ~40% expansion in its nuclear fleet to 70GWe by 2025, with an additional 50GWe under construction. Adding to this is a more constructive view around North American and European demand in the wake of (1) bipartisan support for nuclear energy in the US for the first time in 48 years, the US rejoining the Paris Agreement, and clear support for nuclear energy in the "American Jobs Plan" and (2) the European Commission announcing that it will potentially include nuclear energy in the European Union's sustainable financing taxonomy.
...and we have upgraded our demand forecasts accordingly. The acknowledgement of nuclear's critical role in providing cost-effective emissions-free baseload power has been slow in coming, but has now gained momentum. This has reduced the risk of accelerated plant closures in OECD nations and continues to drive growth in developing nations. Accordingly, we increase our demand growth to 2.6%pa to 2035 (2.3% prior), a forecast which excludes any potential positive impact from small modular reactors (>300MW), which are garnering increased attention globally.
Mine closures and unscheduled curtailments. Primary supply remains under significant pressure, a situation which has only been compounded by the shutdown of Ranger in January (produced 3.5Mlb in 2020) and Cominak in April (approximate capacity 3.9Mlb). While the re-start of Cigar Lake (18Mlb) should provide some welcome near-term relief, we continue to expect a supply deficit of ~25Mlb in the 2021 uranium market, which follows on from a 25Mlb deficit in 2020 (CGe). We estimate that over the last five years mine capacity has been reduced by ~45Mlb/year, and this is before any consideration of COVID-19 related disruptions.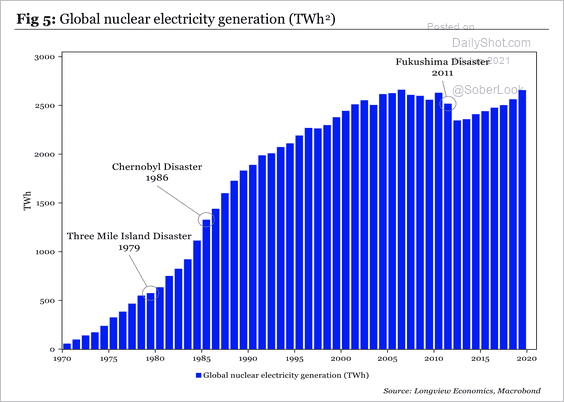 Nuclear energy is a proven reliable zero-carbon producer of electricity. The one thing that every zero-carbon solution being proposed today shares is a significant increase in demand for electricity. Against that background there is room for the nuclear industry to continue to provide base load power in a wide number of jurisdictions.
This graphic highlights the little reported fact that demand for uranium has recovered over the last five years to pre-Fukushima levels.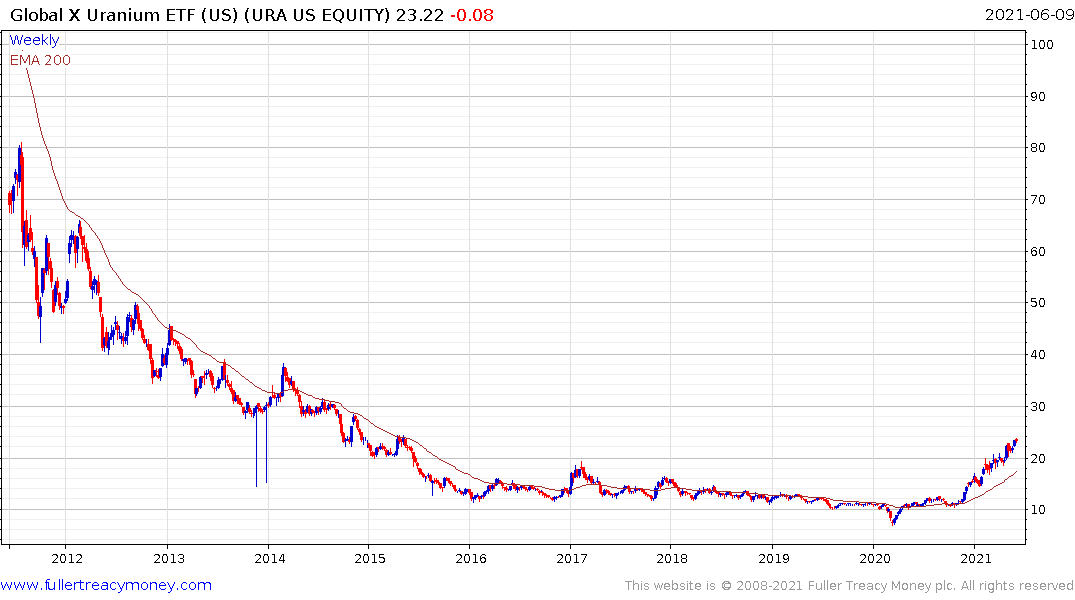 The Global X Uranium Miners ETF remains on a recovery trajectory.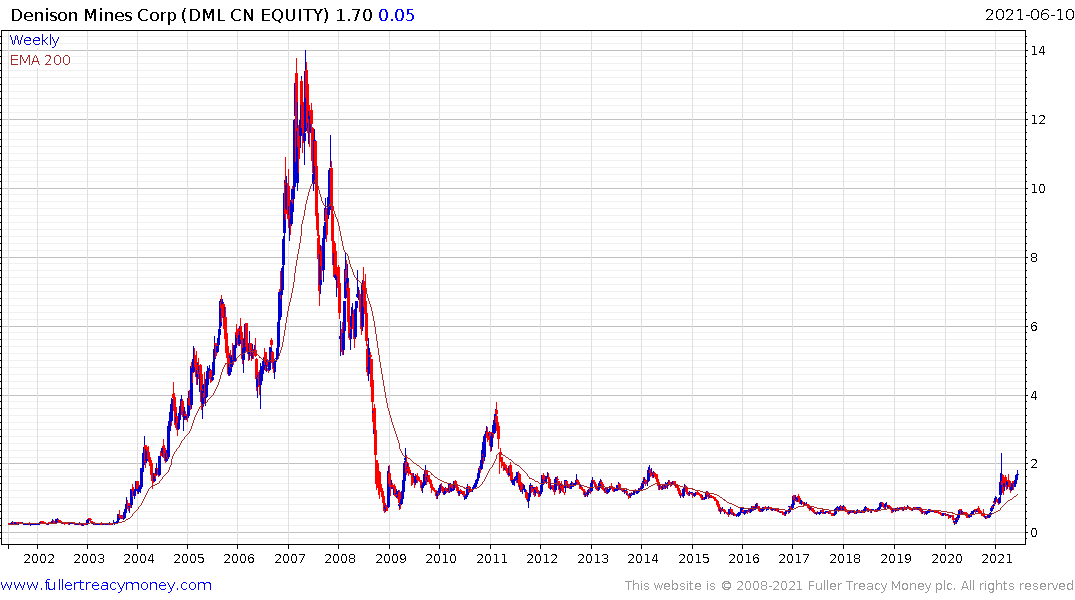 Denison Mines has first step above the base characteristics.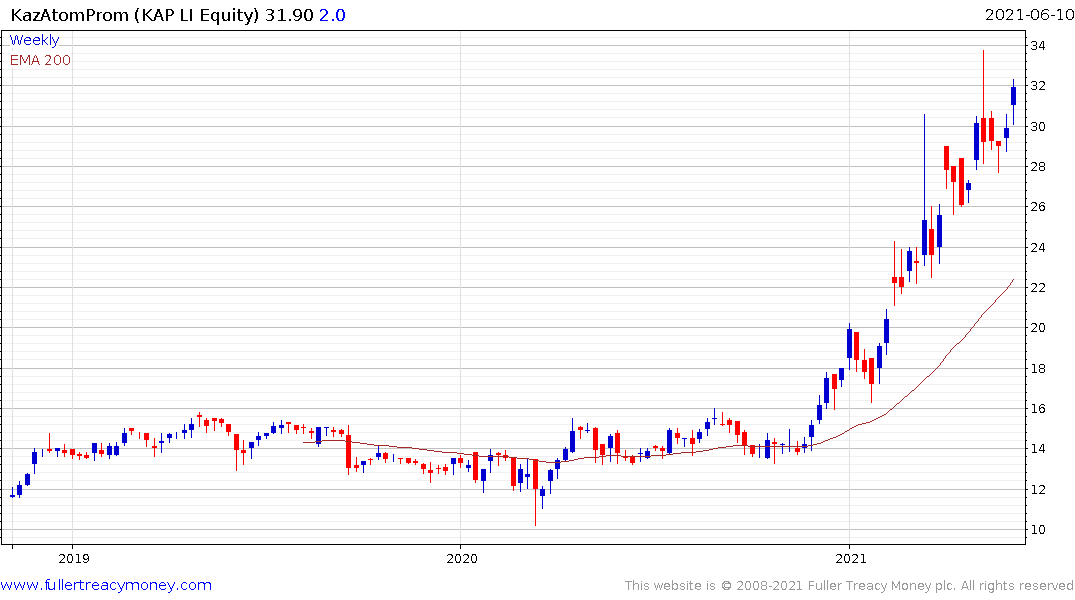 London International Exchange listed KazAtomprom remains in a consistent uptrend.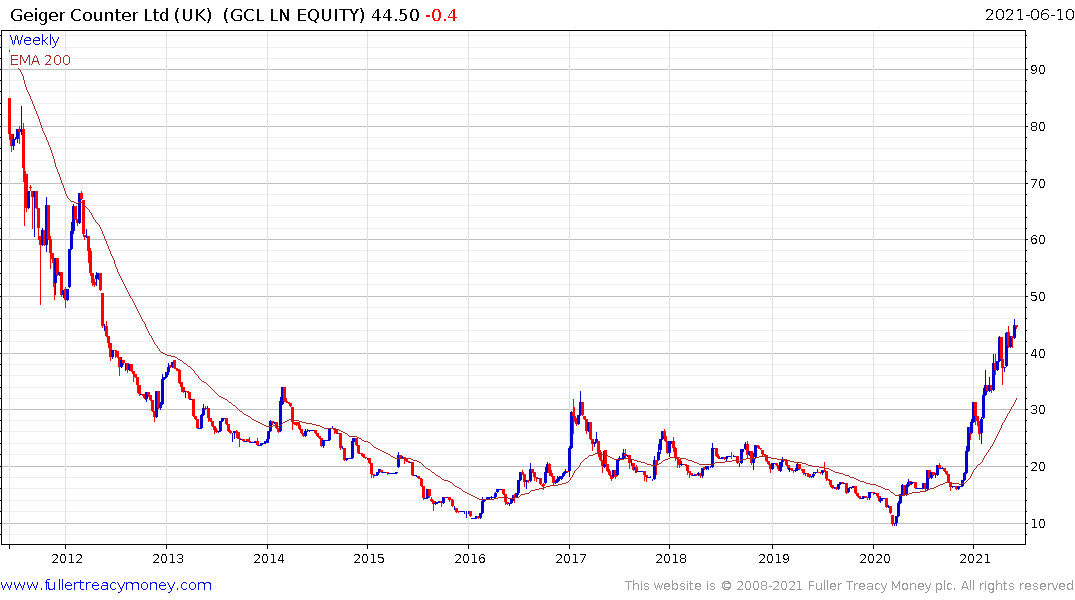 The Geiger Counter Investment Trust is trading at a premium of 5% but remains on a recovery trajectory.
Back to top