About the Strategists
Eoin Treacy
Eoin Treacy is a career analyst, writer, strategist, commentator and lecturer. Following a degree in Philosophy from Trinity College Dublin, where he first came into contact with crowd psychology, propositional and modal logic, Eoin's thirst for an intellectual challenge took him to Bloomberg where he joined the Benelux Sales team. He spent nearly four years managing a $10 million dollar account, gaining expertise in every aspect of the Bloomberg system, teaching seminars across Europe and furthering his study of market psychology and technical analysis. On joining the Dutch sales team in 2003, Eoin attended a seminar taught by David Fuller showcasing his approach to market analysis and was inspired by what he learned. He soon joined the Fullermoney Global Strategy Service, to work with David Fuller and specialise in the service's unique approach to research - combining technical, fundamental and behavioural factors - covering global stock markets, government bonds, currencies and commodities.
Eoin is a daily contributor to Fuller Treacy Money's written and audio commentary. He was instrumental in designing the service's fully customisable chart library containing more than 12,000 instruments, including stocks, bonds, commodities, currencies, just about every to stock market index as well as funds, spreads, ratios and multiples.
He took The Chart Seminar over from David in 2007 and has taken it on sell-out tours to the USA, UK, Australia and Singapore since. In more than 43 years of The Chart Seminar, there has never been a companion guide to the unique approach to market analysis showcased at the workshop. Eoin wrote Crowd Money – a Practical guide to Macro Behavioural Technical Analysis to highlight Fuller Treacy Money's methodology and to provide real world examples of how Fuller Treacy Money's long-term themes are developed.
Eoin is globally recognised for his encyclopaedic knowledge of asset classes, sectors and thematic investing. He has been quoted in the Wall Street Journal, appeared on radio stations such as the BBC World Service and Ireland's TodayFM, is regularly interviewed by Jim Puplava for Financial Sense Online and is regularly interviewed on financial news channels such as CNBC, Bloomberg TV, CNN, CNBC India, NDTV Profit and StockTube.com,
In his spare time Eoin is an avid scuba diver and has travelled the world in search of the big pelagics. He is never happier than when spending time with his wife and two young daughters.
David Fuller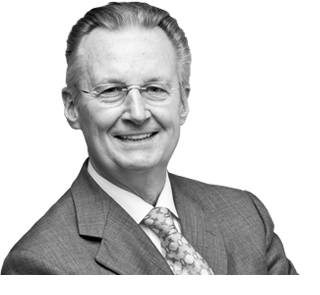 David Fuller (1942-2019) was a career analyst, writer, lecturer and investor/trader. He was one of the world's most experienced and highly regarded independent market commentators, and frequently quoted by the international press. He was chairman of Fuller Treacy Money, where he was Global Strategist and producer of Fullermoney, his unique and highly regarded online investment service - http://www.fullermoney.com//. His informative Comment of the Day is read by thousands of institutional and internationally oriented investors throughout the world.
David commenced his financial career on Wall Street with stockbrokers Harris, Upham and Co in 1967. Soon drawn to financial research and particularly technical analysis, David also taught a course on the latter subject in 1969 at the New York Institute of Finance. Head-hunted to London later that year, he became Director of Research at Chart Analysis Ltd. David bought out the company in the mid-1980s, which was later renamed Fullermarkets Ltd. The firm joined EFM Technical Research in 1999, to form a new company - Stockcube Research Ltd. Following a decade of close collaboration David and Eoin concluded a management buyout of Fullermoney in 2013 and formed Fuller Treacy Money to bring the service into the 21st century and to further enhance the quality of the user experience.
According to David, he did not really commence his learning curve and think creatively about research until questioned by delegates during his first course on Technical Analysis. Continuing the process, he conducted his own two-day workshop - The Chart Seminar - in London and occasionally at other cities around the world from 1970-2007, before handing it over to Eoin Treacy. Like many successful analysts and investors, David developed his own practical approach, which he calls Behavioural Technical Analysis, combining chart facts (rather than theories) fundamental economic filters and especially his understanding of investor psychology, to analyse the main stock, bond, currency and commodity markets. David is fascinated by interrelationships among markets and his work seeks to identify major trends and timing signals, in order to alert investors to opportunities and their corresponding risks. Fullermoney, his highly successful and occasionally iconoclastic investment commentary was launched in 1984. Fullermoney evolved into a fully online Global Strategy Service in 2003, featuring Comment of the Day, a Daily Audio recording and state-of-the-art Chart Library. Fuller Treacy Money takes Fullermoney, which has long been compulsory reading and listening for many of the world's investment managers, traders and internationally oriented private investors to the next level.
David Fuller was a hands-on practitioner, in his own words: "...educating myself by studying and writing about markets, particularly in terms of human behaviour, teaching others (while also learning from them) how to deal with the myriad challenges presented by markets, developing my research and testing it in the marketplace. It is a career-long creative outlet."
David was a fellow of both the UK Society of Technical Analysts (STA) and the Technical Analysts Society (Hong Kong) Ltd (TASHK). In his spare time, David enjoyed being with his wife of 46 years, their two married daughters and grandchildren. A devotee of London's cultural life, he was passionate about music, opera, ballet and art. A self-confessed exercise junkie, David started most working days watching the financial news in his home gym, and said he was seldom happier than when bicycling in rolling countryside with Mrs Fuller.