Stunning victory for Mahathir's party in Malaysian election
This article from Bloomberg appeared in the Edge of Singapore and may be of interest to subscribers. Here is a section:
What comes next is unclear. Mahathir helms an unwieldy four-party coalition that includes Malaysia's largest ethnic Chinese party, and he plans to step aside once de facto opposition leader Anwar Ibrahim gets out of jail on a sodomy charge. Mahathir said he would seek a pardon for Anwar.

"I have to manage four presidents of four different parties," Mahathir said. "It's going to be a headache."

Mahathir has pledged to set term limits for prime minister and reduce its power, while promising to scrap the GST within 100 days in power.

It's uncertain whether the outcome will fundamentally reshape race relations in Malaysia. Najib's party had long staked its legitimacy on providing preferential treatment for the bumiputera, or "sons of the soil," which include ethnic Malays and indigenous groups.

Mak Hon Hoe, a 46-year-old ethnic Chinese voter, on Wednesday deplored the fact that Malaysians were separated in different racial categories.

"I want to see a fairer system," he said while casting his ballot. "Race is still an issue. We want a Malaysian identity."
The 1MDB scandal has finally brought down Nijab Razak's government but it is unlikely that the figurehead of 92-year old Mahathir is going to be enough to hold together a disparate coalition of four smaller parties. The new administration is going to have to move swiftly and definitively to stamp its intent to improve governance if it is to have any hope of seeing out its term.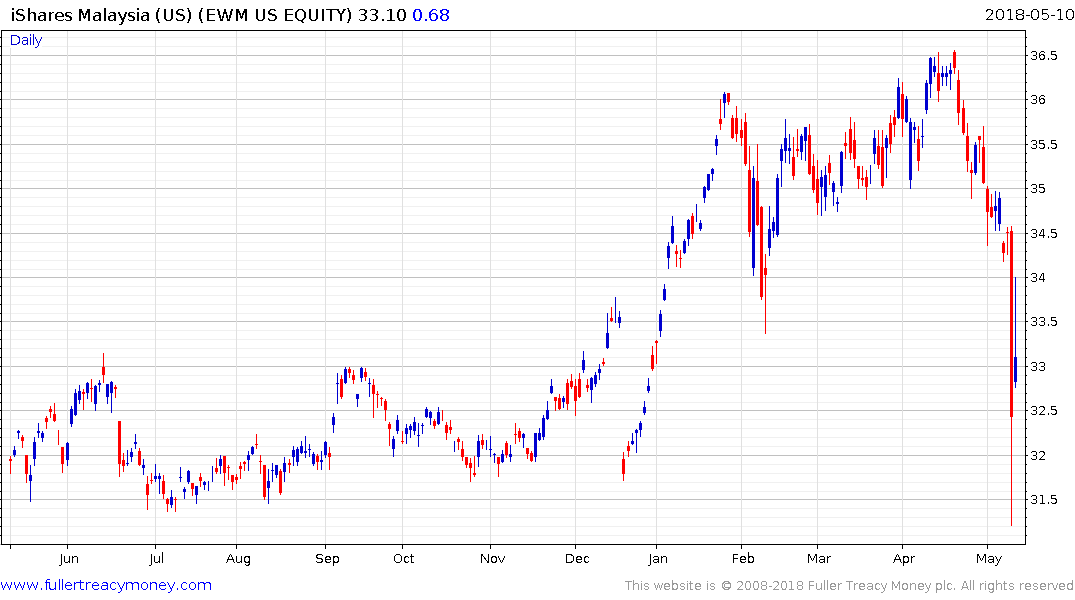 Neither the Kuala Lumpur Composite Index, government bonds nor the Ringgit have traded since May 8th but the US traded iShares MSCI Malaysia ETF pulled back sharply immediately following the open. It recouped much of the intraday loss by the close but will need to sustain a move back above $35 to signal a return to demand dominance.
Back to top