Limbo Lingers for the European Union
This article by Simon Nixon for the Wall Street Journal may be of interest to subscribers. Here is a section:
Yet Brussels has already run into plenty of opposition from across the EU. The sums involved may be small in the grand scheme of things—just 1.11% of the EU's gross national income and just €109 billion of new spending commitments—but the Brussels plan exposes every major fault line in Europe.

The Netherlands and its northern allies have already branded the proposal as unacceptable because the commission has ignored their demands to cap the budget at its pre-Brexit level of 1% of GNI and will instead tap them for substantial rises in contributions. French and Irish ministers have criticized cuts to farming subsidies. Poland argues that providing cohesion funds to address social factors rewards governments for poor structural policies.

Crucially, the commission proposal is an attempt to tilt the EU in a more federal direction in ways that are bound to make some member states uncomfortable. For example, the rule-of-law mechanism as currently proposed would hand the commission wide discretion to determine a deficiency, removing the veto rights of individual member states. Warsaw says any mechanism judging a country's rule of law should be based on objective criteria and overseen by the courts.
The rule of law is such a wonderful turn of phrase that it tends to turn up in all sorts of places. However, for those suspicious of centralized power it holds the threat of rules being made against their wishes but enforced from a far nonetheless. That was one of the primary arguments for Brexit before the issues of immigration and budget contributions became central themes and it is something that will be resonating through the capitals of all countries outside the small number of creditor nations.
The only way the EU can survive long-term is if it moves towards a Federal system but so far, the discussion has been about what countries will lose from that movement because there are no clear visions for how people might benefit. Until there is a popular leader who can make a case for how much better off everyone will be with Federalism, the progress achieved will be viewed with suspicion by those outside the bureaucracy, which, let's face it, is just about everyone.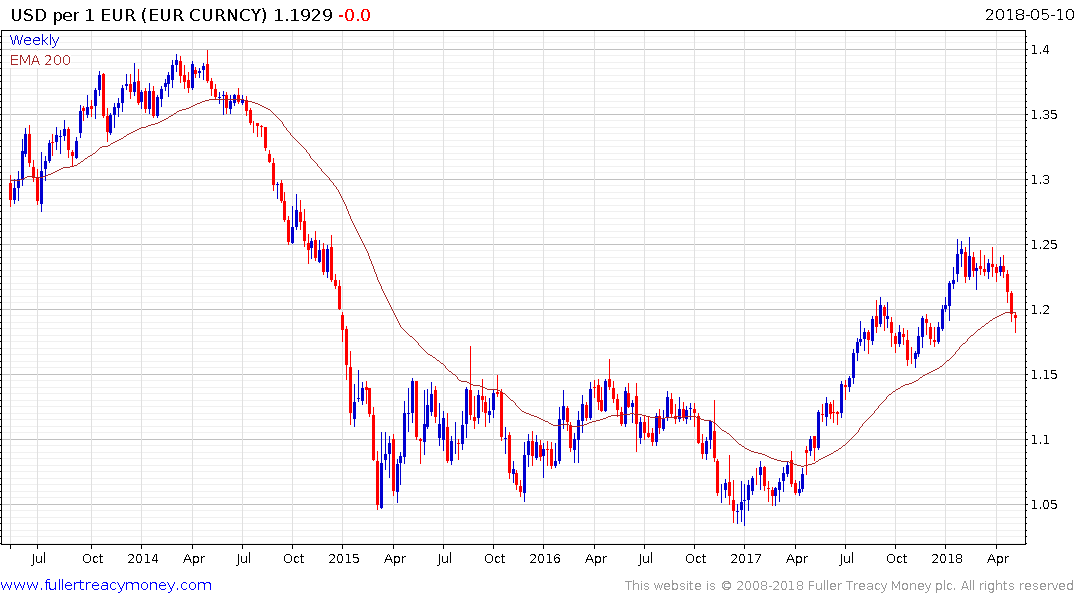 The Euro showed initial signs of steadying in the region of the trend mean against the US Dollar today but upside follow through and a higher reaction low will be required to confirm more than short-term steadying in this area.
Back to top