Guindos Says ECB Hasn't Had Serious Discussion About Bad Bank
This article by Jeannette Neumann for Bloomberg may be of interest to subscribers. Here is a section:
European Central Bank Vice President Luis de Guindos said policy makers at the institution haven't talk about creating a pan-European bad bank to manage the unpaid loans that are arising during the coronavirus crisis.

"We haven't had any sort of serious discussion about this instrument," Guindos said at a webinar hosted by the Institute of International and European Affairs

"I am a little bit surprised when I see this kind of information," he said in response to a question about a report published by Reuters

Bad banks created after the last financial crisis in Ireland and Spain were "powerful instruments to clean up the balance sheets" of lenders
The potential for the EU to create a bad bank which would warehouse the large number of legacy and new bad debts is certainly a promising potential solution to the region's systemic problems. Creation of a pan Eurozone body to issue debt and absorb regional debt would represent a significant step towards federalism. It would, however, be a massive step towards recapitalising bank balance sheets.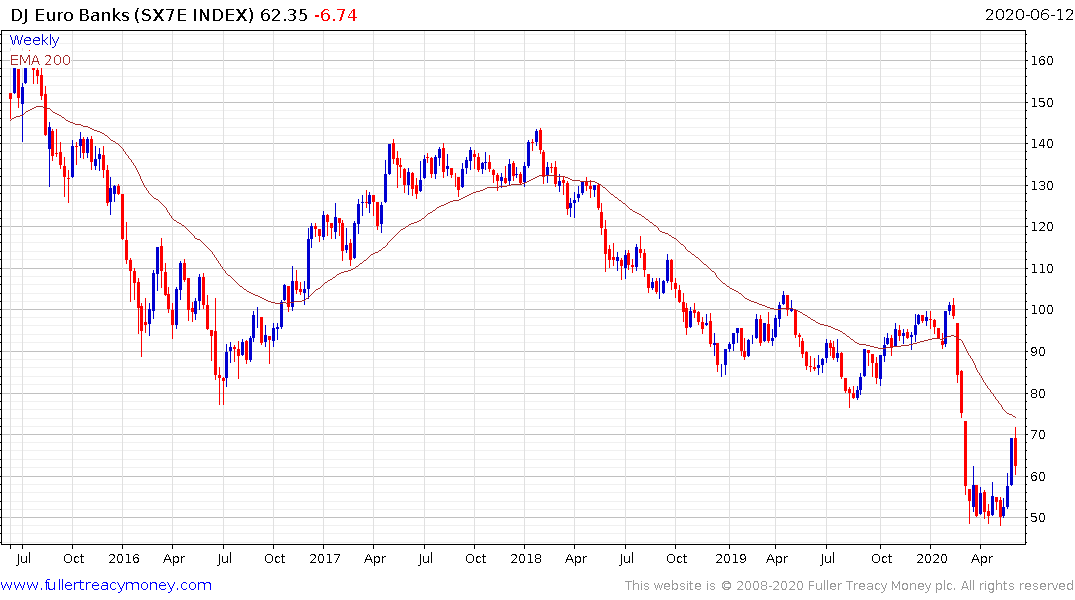 The Euro STOXX Banks Index has been labouring under the burden of negative interest rates and halved before hitting a low in March. It is now back testing the 60 area, which was the upper side of the underlying three-month range. If it can hold this level, potential for higher to lateral ranging can be given the benefit of the doubt.
Back to top