Beijing Shuts Schools to Stem Virus as Cases Spread Beyond City
This article from Bloomberg news may be of interest. Here is a section:
The costs of imposing an across-the-board shutdown are too high as Beijing's population is much larger than that of Wuhan, said Yanzhong Huang, professor at the Center for Global Health Studies of Seton Hall University.

"A city-wide lockdown in Beijing would not only reverse the process of economic and social reopening, a key policy objective of the party, but also undermine considerably the government's own narrative on the success of its anti Covid-19 campaign," Huang said. "The social, economic, and political pain might be way too high to justify a city-wide lockdown."

Beijing on Tuesday closed another food market located near the financial district after a case linked to the original cluster was discovered. Eleven other food markets have been shuttered and almost 300 others sanitized, while nearly 30 housing compounds have been put under lockdown, local officials said.
China learned quicker than everyone else that the cost of lockdowns far outweighs the benefit of containment. It is very unlikely the whole country will be locked down again regardless of how bad the infection rate gets. The emerging reality is the mortality rate is about double that of the seasonal flu. Even if the transmissibility trend tends to pressure healthcare systems that is a cost which countries will simply have to bear. Meanwhile new high potency treatment options are emerging all the time.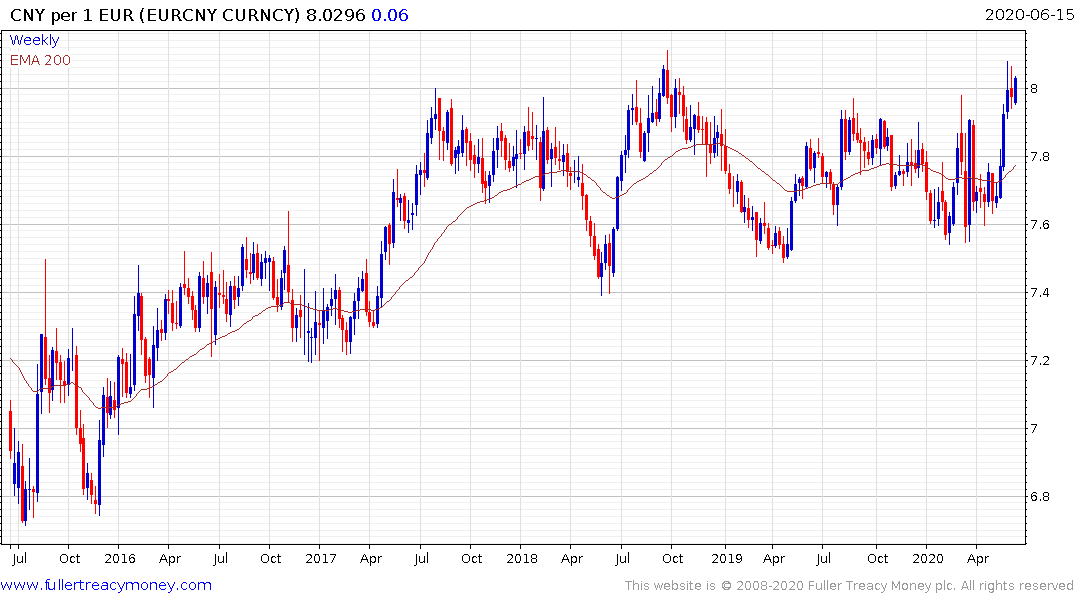 The Renminbi has been weakening over the last few months as China's efforts to support growth at home and improve it competitive position with the world, gain traction. The Euro is now testing the upper side of its three-year range. Every time it has gotten up to test the CNY8 level it has failed so this is a pivotal level where the status quo is being tested. Europe is much more dependent on China for both imports and exports than the USA and will be very alert to any measures to significantly devalue the Renminbi.
The biggest issue for China is the political fallout from having to reimpose quarantines on the capital city, where a substantial majority of the entitled elite live. I therefore do believe it is a coincidence that a skirmish on the border with India resulted in 20 dead Indian soldiers and an as yet unconfirmed 43 casualties on the Chinese side. Stoking nationalism during a time of national emergency is a classic strategy for despotic regimes.
Back to top