Musings From the Oil Patch May 19th 2015
Thanks to a subscriber for this edition of Allen Brooks' ever interesting report. Here is a section:
It is possible that what is happening in China with respect to EVs and hybrid vehicles is a precursor of how America's vehicle sales and distribution models will work. In response to air pollution and vehicle congestion in major cities, China has begun a strategic initiative to build EVs and is encouraging foreign manufacturers and their partners to join the effort. China expects as many as 40 new EV models go on sale in the country this year, triple the number of new EV models available two years ago. As described in an article in Business Week, Toyota Motors (TM-NYSE) will only market an EV in China as it is committed to hydrogen-powered vehicles as a better alternative to EVs elsewhere. In fact, its dedication to hydrogen-powered vehicles is why Toyota ended its all-electric Rav4 EV crossover partnership with Tesla Motors, Inc. (TSLA-Nasdaq).

China has new emission guidelines that call for a 28% improvement in average per vehicle fuel consumption by 2020, something that likely requires manufacturers to embrace plug-in EVs. Since China controls the permitting of new manufacturing facilities, automakers are almost forced to embrace EVs if they want to have plants capable of manufacturing new vehicles. According to an analyst with A.T. Kearney in Shanghai, China, all the new EV models coming to market may enable the industry to get 1-2 million EVs and other new energy vehicles on the country's roads by 2020. That achievement, however, will still fall well short of the government's target of five million EVs being on the road.

While China may be the model, the technology still is short of delivering a reasonably-priced EV with a traveling range similar to that of an ICE vehicle, or roughly 200 miles on a single charge. There is also the issue with fast charging of EVs, as drivers will measure charging times against the length of time they must spend at the gas pump filling up their ICE vehicle. Environmental concerns are an important consideration for EVs, but they were largely bought by people more interested in impressing their neighbors with their statement about environmental concern than their economics. The fact these clean-fuel vehicles are now being traded in for conventionally-fueled vehicles at an accelerating rate suggests that economics are clearly trumping environmental considerations. Whether this is a good thing or not remains to be seen, but the fact it is happening tells us how powerful the pocketbook is for consumer purchasing decisions. It also tells us that auto manufacturers need to address the shortcomings of EVs and hybrids if they want them to become a competitive auto market segment. Then again, those manufacturers may just elect to let the draconian U.S. fuel-efficiency standards force consumers to buy these less desirable vehicles.
Here is a link to the full report.

As the world's largest car market, China's regulatory structure will make waves around the world. If China is insisting on electric vehicles in order to contain pollution then car manufacturers will have little choice but to build them.

An additional thought with regard to range anxiety: A large number of people, at least in Southern California lease they vehicles. In order to get the best price for the vehicle at the end of the lease, mileage has to be kept low. This means that many people rent a car for long trips and use their own car for commuting. I wonder if it is conceivable that the same model will expand beyond SoCal with the advent of electric vehicles which may or may not have overcome their range issues within the next decade.

While regulatory changes may help to create a growing market for electric vehicles, innovation in battery technology to bring down their price would be much more effective at creating demand. This is Tesla's ambition in building its large battery manufacturing facility in Nevada.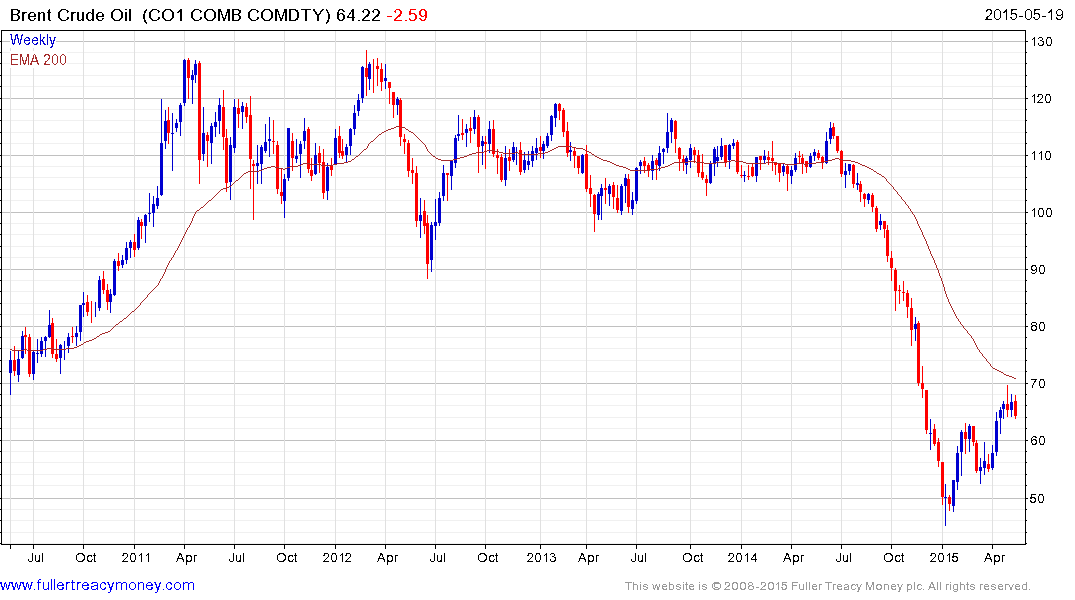 Brent Crude Oil experienced an accelerated decline between June and mid-January before stabilising near $45. It has since rallied to close the overextension relative to the 200-day MA and is now pulling back from that level. Following such a swift decline a period of support building is likely required before we can safely conclude that the January lows are going to hold.

Saudi Arabia is aggressively seeking to capture market share and its March exports were the highest in nine years. Private equity investors have amassed a sizeable war chest ready to swoop in on troubled unconventional oil producers. These conditions are delaying the supply contraction one would assume is a natural response to the low price environment.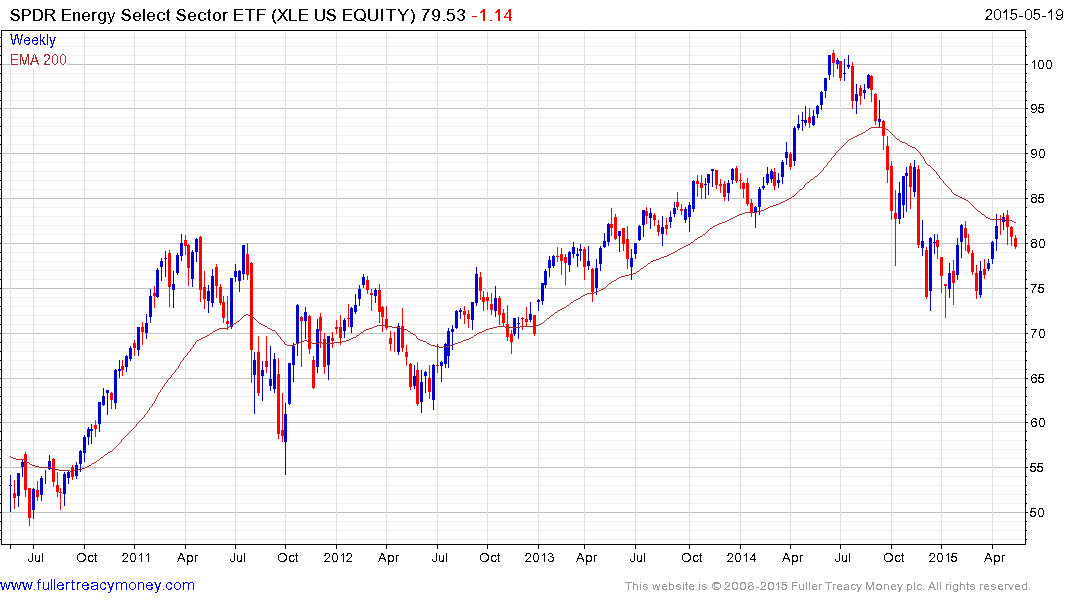 The Energy SPDR with more than $13 billion under management is now pulling back from the region of the 200-day MA and a clear upward dynamic would be required to question potential for additional weakness. The vast majority of energy related shares are easing following tests of these respective 200-day MAs.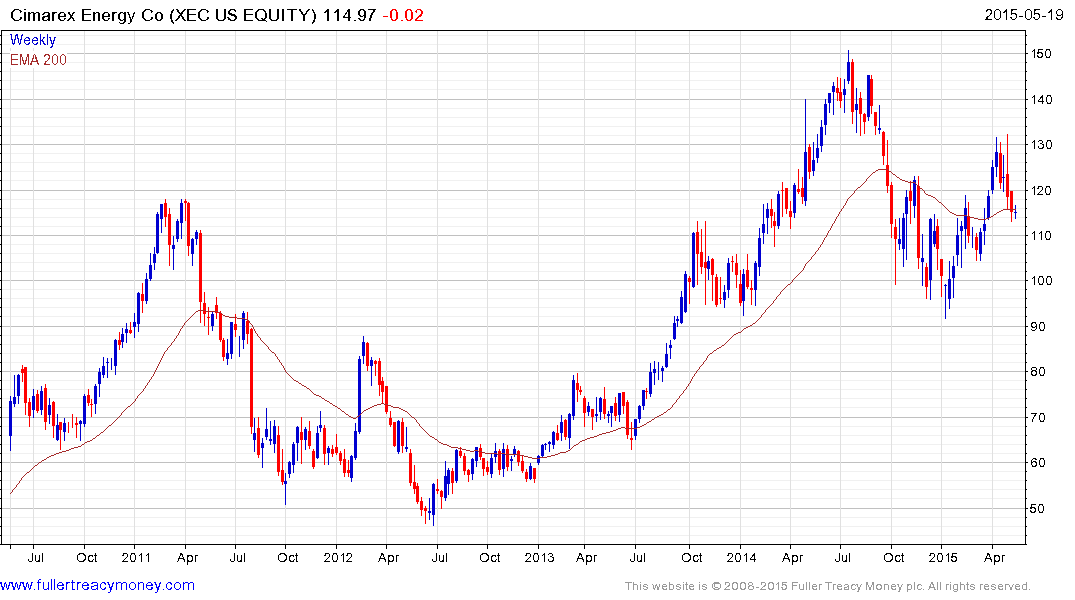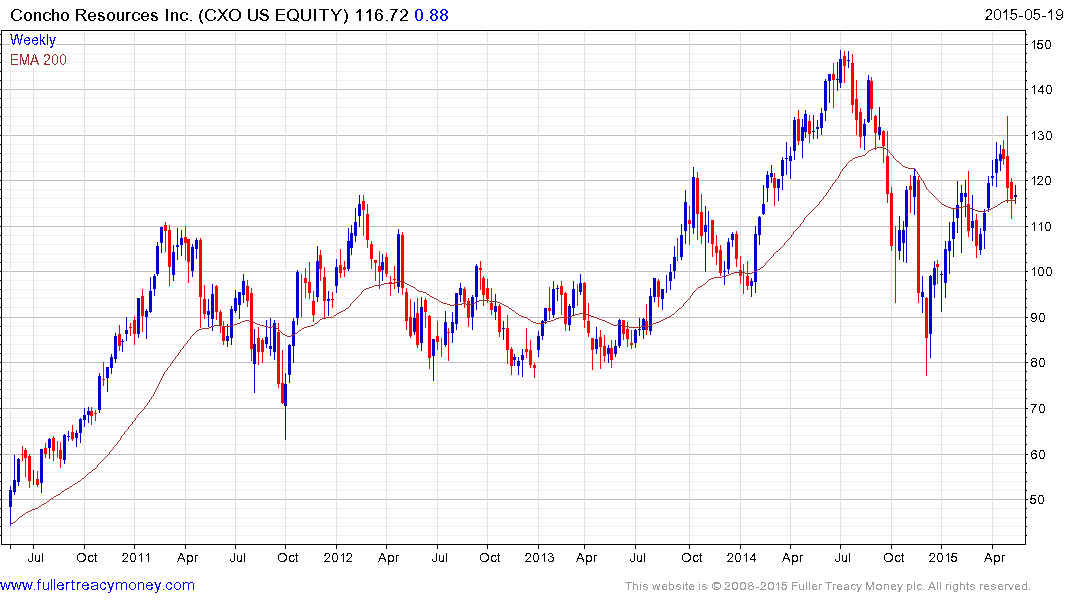 Among the sector's better performers Cimerex and Concho Energy need to hold in the current area if medium-term potential for additional higher to lateral ranging is to be given the benefit of the doubt.
Back to top