Draghi Says Volatility Here to Stay as Global Bond Rout Deepens
This article by Susanne Walker Barton and David Goodman for Bloomberg may be of interest to subcsribers. Here is a section:
Draghi suggested several reasons for the rout in bonds across the region, including an improving economic and inflation outlook in the euro area, heavier issuance, volatility, poor market liquidity and an absence of certain investors. He also said that as shorter-term German bond yields rose through the ECB's minus 0.2 percent deposit rate, making them eligible for purchases by the central bank, buying of longer-dated bonds was reduced.

Price Swings

"We should get used to periods of higher volatility," Draghi said at a press briefing in Frankfurt on Wednesday. "At very low levels of interest rates, asset prices tend to show higher volatility. The Governing Council was unanimous in its assessment that we should look through these developments and maintain a steady monetary policy stance."
Eoin Treacy's view -

Today saw a big move right across the government bond sector and across geographies. Rather than forecast where it may trade, the more important consideration is that Bund's yearlong downtrend has been broken, support has been found in the region of the trend mean and that potential for additional expansion can be given the benefit of the doubt in the absence of a countermanding downward dynamic.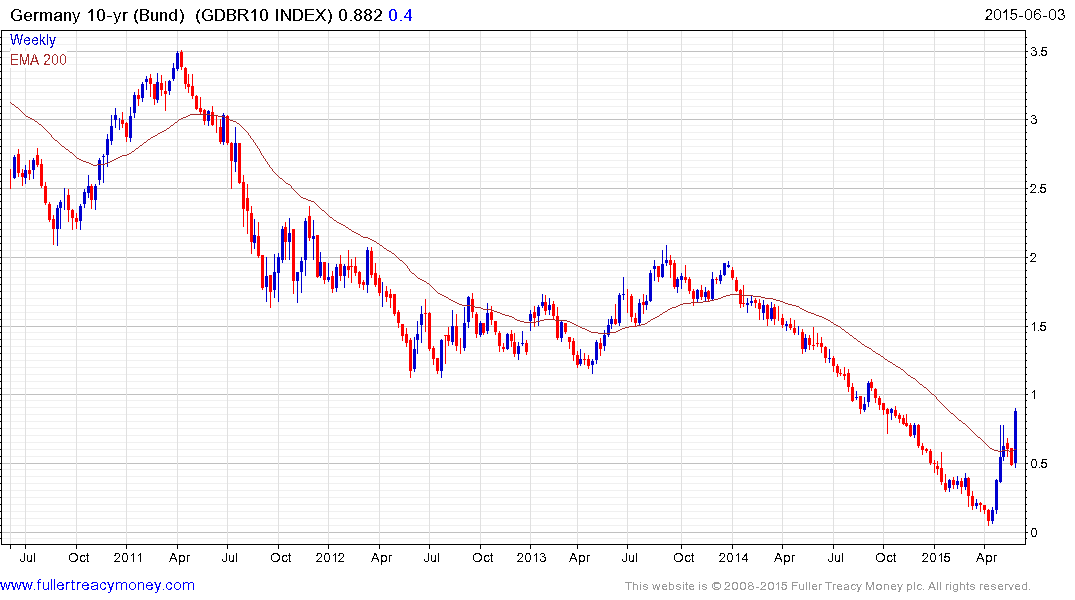 This section continues in the Subscriber's Area.
Back to top