Xi Tells Blinken 'Very Good' That Progress Made on US-China Ties
This article from Bloomberg may be of interest. Here is a section:
Chinese President Xi Jinping told Secretary of State Antony Blinken it was "very good" the two sides had made progress in steadying ties between the world's two largest economies during his trip to China.

"I hope that through this visit, Mr. Secretary, you will make more positive contributions to stabilizing China-US relations," Xi told the US diplomat in Beijing on Monday, according to a Chinese Foreign Ministry statement.

"The two sides have also made progress and reached agreements on some specific issues. This is very good," he said in a video clip of the meeting posted by state broadcaster China Central Television, without elaborating.
The exchange of views between US and Chinese diplomats has been described in several outlets as candid. This interview of Rahm Emanuel, former White House chief of staff and current ambassador to Japan, is a good example of just what candid means.

The USA is still holding to the policy of strategic ambiguity and is hoping China will continue to do that same. The bet is China's administration understands they have more to lose than gain from forcibly taking Taiwan.
Nevertheless, Xi has to demonstrate some clear justification for demanding and receiving leadership for life. The understanding among the nationalist faction was he would accelerate reunification with Taiwan.

Emanuel's admonishment of the Chinese administration amid high youth unemployment reflects the wish China will go back to prioritising economic and credit growth over global domination.
The most likely scenario remains that China has reached the point where more credit will cause more harm than good. The volume of assistance funds will be lower than past cycles. That also creates the impression within the Party that time to achieve long-held goals is running short. It is still a potentially volatile situation.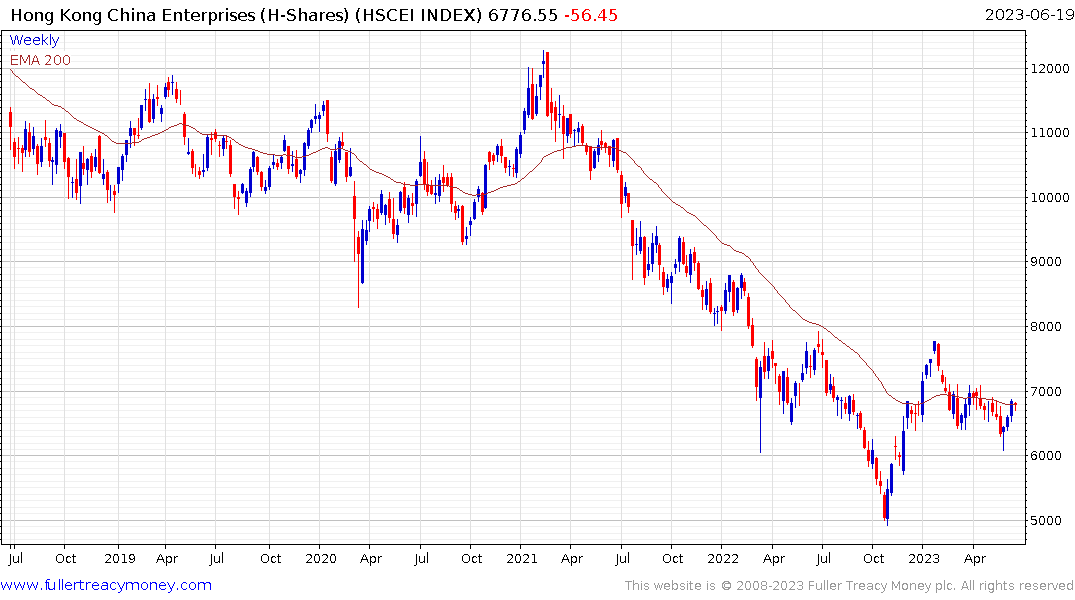 The H-shares Index is currently testing the region of the 200-day MA and the six-month sequence of lower rally highs. A sustained move above 7000 will be required signal a return to demand dominance beyond short-term steadying.
Back to top