World's First 30-Year Bond With Zero Coupon Flops in Germany
This article by John Ainger for Bloomberg may be of interest to subscribers. Here is a section:
"This shows that there is less demand for 30-year bonds at negative yields," said Marco Meijer, a senior fixed-income strategist at BNP Paribas SA. Still, Meijer doesn't "see yields rising a lot in Europe."

​The whole of Germany's yield curve is now below zero -- the first major market exhibiting such a trait -- meaning the government is effectively being paid to borrow out to 30 years. That's a reflection of dwindling expectations for inflation and growth over the coming years, while the European Central Bank is widely forecast to introduce a new wave of monetary stimulus next month.

The sale comes as Germany is priming the pumps for extra spending should an economic crisis hit. While the nation is confined to strict laws on running a fiscal deficit, Finance Minister Olaf Scholz suggested Germany could muster 50 billion euros ($55 billion) should a recession hit. The economy contracted in the second quarter.
Bond market investors are not quite yet willing to be the Turkeys that vote for Christmas. Even the most bullish of momentum traders can see that locking in a zero return, at best, for maturities out to 2049 does not make for sense for long-term investors. However, it is also worth remembering that this situation is occurring in a global slowdown where growth is still positive. It portends even lower yields during a contraction.
The people who buy bonds every day of the week, mostly pension funds, have long-term liabilities that require a ladder of bond maturities to guarantee there can make the pay-outs they are committed to. That's near impossible with negative yields. As if it were not obvious already, the compression in yields is robbing savers and is putting the pensions sector in a truly parlous situation. Not only are many pensions underfunded but the assets they rely on for stability are now more prone to volatility than equities. That is going to create a significant issue as the number of retirees continues to grow.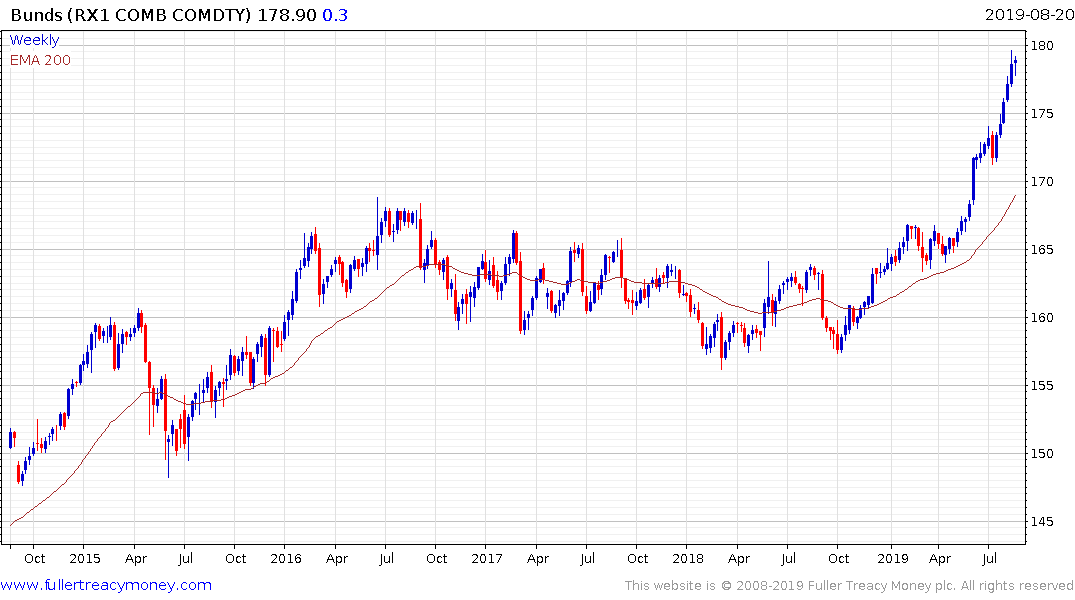 Bund prices are really quite overextended as they test the 180 level and are susceptible to at least some consolidation.
Back to top