World Fish Stocks Are in Worse State Than Expected, Study Shows
This article from Bloomberg may be of interest to subscribers. Here is a section:
The world's fish population is in a dire state, with about half of assessed stocks being overfished,
according to a study backed by Australian billionaire Andrew Forrest.

The rate of depletion is worse than previous estimates of just over a third, Forrest's Minderoo Foundation said in a report Sunday. A tenth of fish stocks worldwide is now on the brink of collapse, reduced to 10% of their original size, the study shows.

The findings are based on 48% of the total global catch for which there's sufficient data, according to the report. The other half lacks information to say if they are sustainable or not. More than 1,400 stocks were assessed from 142 countries.

The journey to replenishing fish numbers isn't easy. The report noted that it could take between three and 30 years for stocks to recover, and in many places that would require a major overhaul. The foundation recommended increased intervention and investment from governments, as well as better auditing and management practices from businesses.
Two important characteristics to the global fishery are worth considering. The first is overfishing which is a current problem and will likely get worse. The second is cyclicality. We have enough back data to conclude the Pacific goes through long warming and cooling cycles. Together with intense fishing, the current time is when we would expect to have lower catches of small pelagics like sardines and anchovy.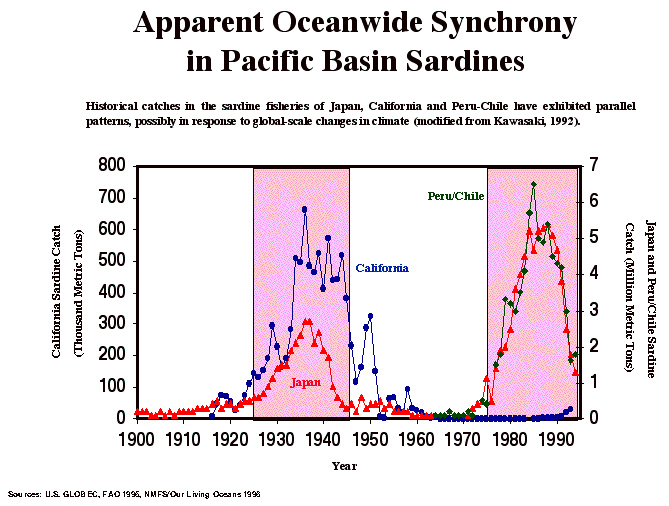 This note from NOAA includes some useful graphics and this report from scielo.org.mx includes more recent data about catches.
The role of small pelagic fish in the marine ecosystem cannot be overstated. Fish meal is a major feed stock for livestock and for fish farms. The collapse of major fisheries for these small fish represents a significant inflationary impetus and is one more factor that lies outside the ability of central banks to deal with.
Back to top