Why Italian Elections Matter: A New Type of Populism Is Rising
This article by Giovanni Legorano for the Wall Street Journal may be of interest to subscribers. Here is a section:
The election is likely to prompt a question that could force 5 Star to define its future—and potentially that of Italy, too. Is it a governing force or simply a protest movement?

On one side are members, including Luigi Di Maio, the party's 31-year-old candidate for premier, who are pushing it to join an alliance with mainstream parties. According to polls, 5 Star would receive about 27% of votes—not enough to govern alone, but potentially enough to play a major part in a coalition government.

Mr. Grillo has roundly rejected that scenario, saying that unless 5 Star wins an outright majority, it should remain an opposition party. Joining a coalition government is "like saying that a panda can eat raw meat," he said in January. "We only eat bamboo."

If no single party or coalition emerges with a parliamentary majority, Italy's president could ask parties to attempt to form a grand, cross-party coalition that could have a limited lifespan.
This history of protest parties that enter government as part of a coalition is not favourable so Grillo is exhibiting political savvy in eschewing the temptation to enter power without a majority. However, Italy's political system is so fractured that receiving a majority is a tall order which suggests the most likely scenario is another coalition that supports the status quo or limited reform at best. Nevertheless, until the event has passed it will continue to represent an uncertainty.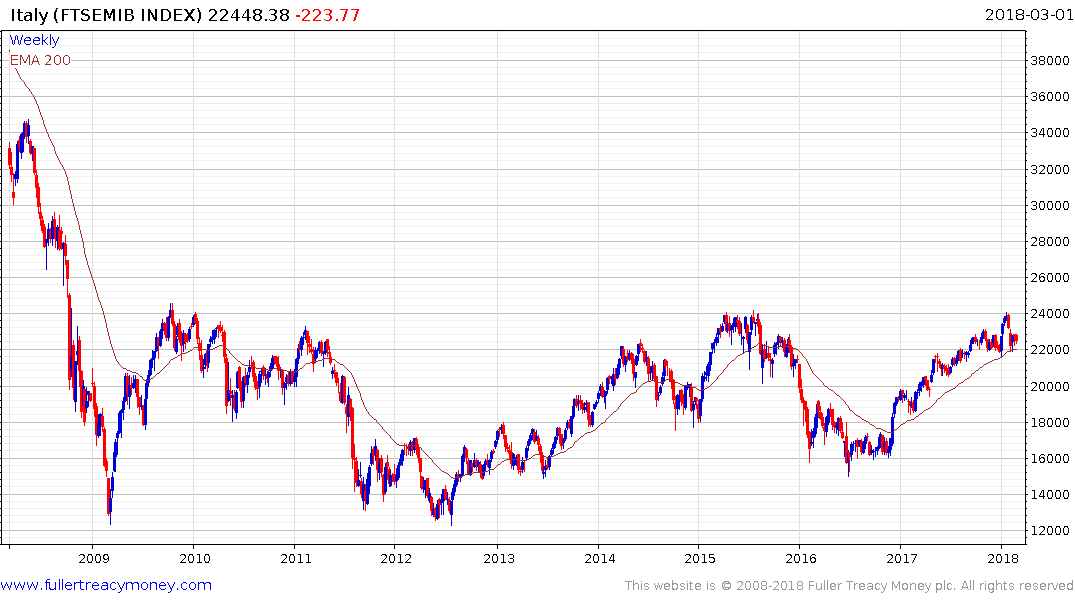 The Italian Index has been ranging below the psychological 25,000 level since 2009 and is now falling back to test the region of the trend mean. It will need to find support so if the progression of higher reactions low it has held since 2016 is going to be sustained.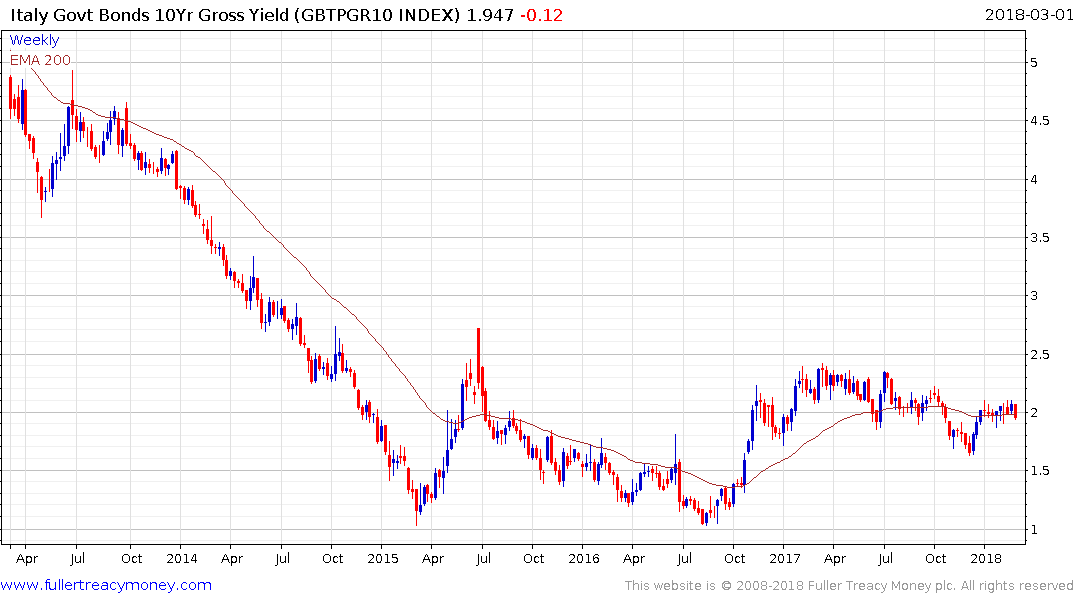 Italian government bond yields are almost artificially inert and have been contracting for the last five consecutive sessions. A clear move above 2.1% would be required to question the ECB's resolve in helping to suppress selling pressure.
Back to top