Wal-Mart's next move against Amazon: More warehouses, faster shipping
This article from Reuters may be of interest to subscribers. Here is a section:
The world's largest retailer is now on track to double the number of giant warehouses dedicated to online sales to 10 by the end of 2016, according to Justen Traweek, vice-president of e-commerce supply chain and fulfillment.

That pace is faster than the 8 large warehouses that industry consultants expected Wal-Mart to build by the end of 2017.

At the same time, Wal-Mart in the last year has installed new technology such as automated product sorting and improved item tracking that for the first time puts them on par with Amazon's robot-staffed facilities, according to supply-chain consultants.

"We have doubled our capacity in the last twelve months and that allows us to ship to a majority of the U.S. population in one day," Traweek said.

Wal-Mart is holding its annual investor day on Thursday when, among other topics, it is expected to update on the progress it has made in its e-commerce business.

Wal-Mart, which has about 4,600 stores in the United States and over 6,000 worldwide, has been investing in e-commerce for 15 years, but it still lags far behind Amazon.

"These additions definitely give Wal-Mart the opportunity to compete better than other companies going head-to-head with Amazon," said Steve Osburn, director of supply chain with consultancy Kurt Salmon, referring to the likes of Target (TGT.N) and others. "Having said that, choosing to race with Amazon is different than catching up with them."
As the number 1 online venue for shoppers Amazon is the obvious target for aspirational brick and mortar retailers who wish to leverage their own customer bases. Amazon is no longer concentrating on being the cheapest venue, having succeeded in developing a large loyal following of consumers by offering outstanding quibble free customer service. Wal-Mart on the other hand will have to deal with its caché of appealing to the lower income consumer if it wants to compete with Amazon Prime.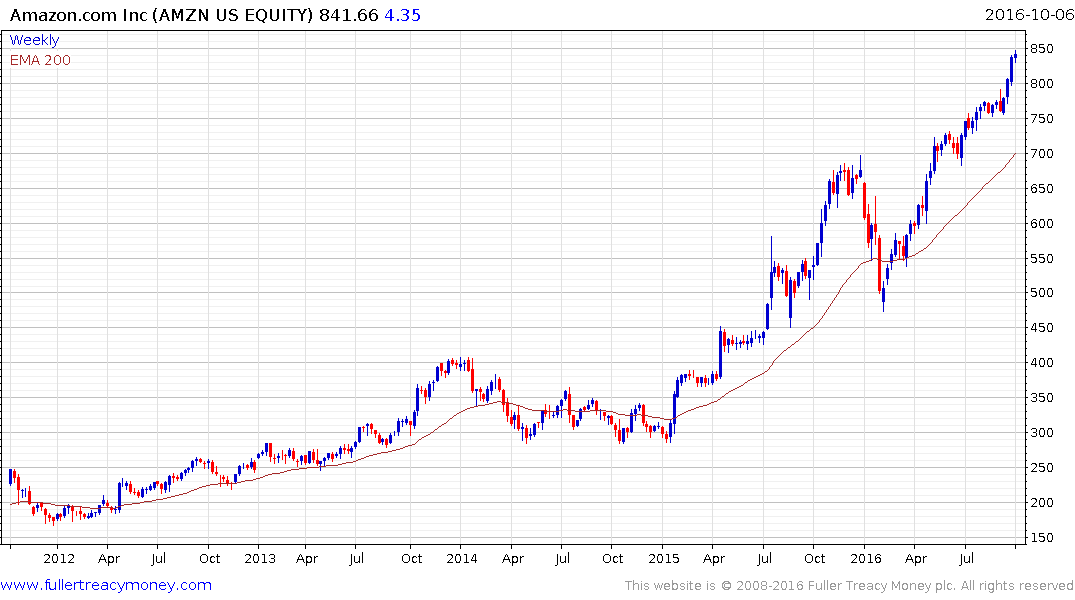 Amazon is trading on an estimated P/E close to 150 yet the share price continues to trend persistently higher. It is currently more than $150 above the trend mean but a break in the progression of higher reaction lows would be required to signal mean reversion is underway.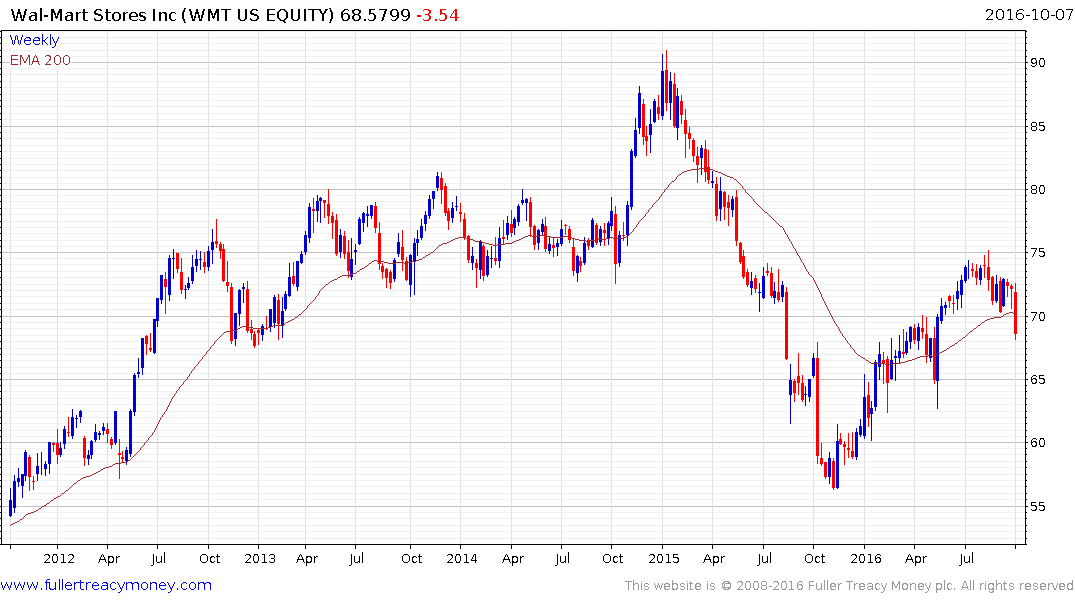 Wal-Mart has been committing increasing quantities of capital to developing its online presence and the recent acquisition of Jet.com is a further iteration of that policy. The share pulled back for most of last year but had recouped about half the decline by the August high. It has now posted an equal sized reaction to that posted in May and will need to find support soon if potential for higher to lateral ranging is to be given the benefit of the doubt.

The wide disparity between the two companies highlights how difficult it is to transition successfully to an online strategy since it is an entirely different business model and online continues to eat into physical locations' traffic.
Back to top