Vodafone Shares Jump After Betaville 'Uncooked Alert'
This note from Bloomberg may be of interest to subscribers. Here it is in full:
Vodafone shares rose as much as 3.3% following a so-called "uncooked" mention in a Betaville report regarding potential private equity interest in the telecom operator. Shares pared gain to 1.8% as of 4:18 p.m.

Representatives for Vodafone were not immediately available to comment when contacted by Bloomberg via phone and email
Betaville says there is speculation that one of Europe's largest private equity firms is looking at all of some of Vodafone, citing people following the situation
NOTE: The speculation is described as "uncooked," a term the Betaville blog often uses to refer to market gossip
NOTE: Vodafone shares have declined 5.9% YTD vs Stoxx Telecoms Index's 9.5% gain
READ: Private Equity Rummages in the Telco Bargain Bin: Chris Hughes
One of the biggest questions for investors today is how to hedge a portfolio against inflation. The answer is not easy. Finding a business that has strong cash flows with the possible of passing on incremental price increases is a strong contender for the most attractive contender.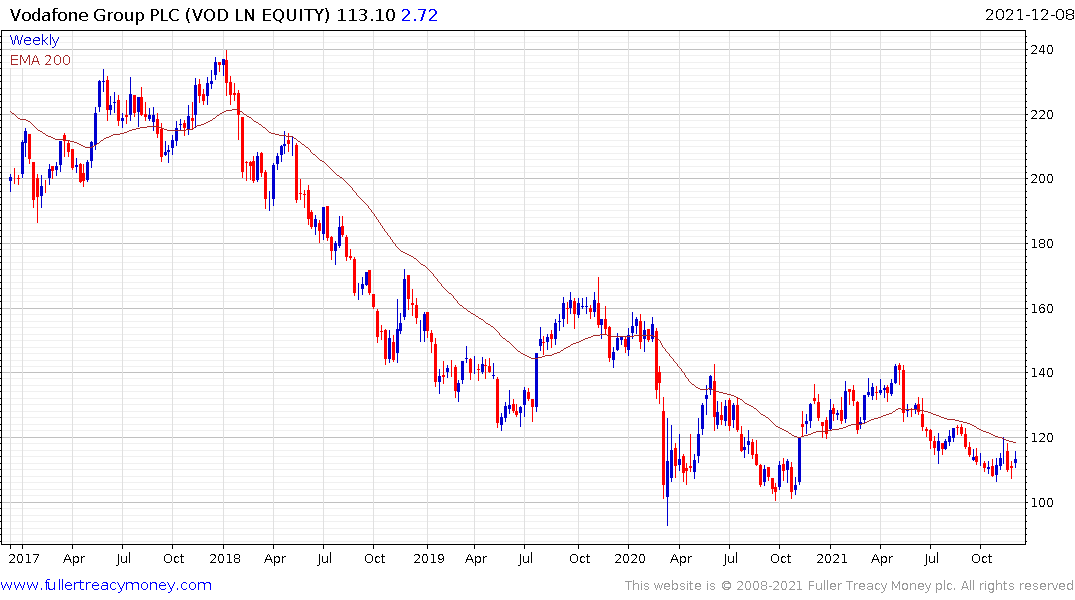 Vodafone, along with many other major network owners, has languished over the last few years. The share bottomed following a seven-year downtrend in 2020 and has been forming a base since. A sequence of higher reaction lows remains in place which lends a mild upward bias to the chart. The price is currently firming from the most recent low.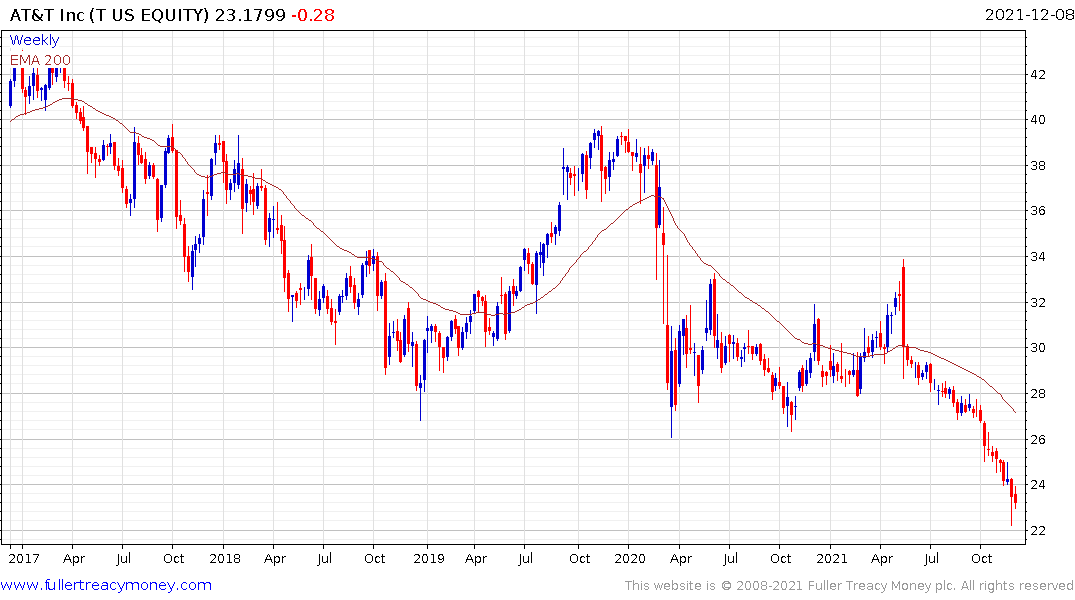 AT&T is pricing in the high potential for a dividend cut in the aftermath of completing the demerger of Warner Media and merger with Discovery. AT&T will then retail ownership of 40% of the combined entity. The share bounced last week from the $22 area and has so far held that low. As we approach the end of the year, investors may begin to accumulate oversold stocks like this in the hope that bargain hunters will return at the beginning of 2022. (Also see Comment of the Day on November 15th 2021).
Back to top