Video Game Software Industry Primer; Surpassing $100bn in 2017
Thanks to a subscriber for this report from Bank of America/Merrill Lynch. Here is a section:
Sony maintaining lead over Microsoft, Nintendo rebounding Sony has enjoyed a strong lead over Microsoft with 50mn estimated PS4 units sold vs. 23mn sold for the xBox as of 2016. We expect Sony to maintain this lead, but will likely lose some market share to Nintendo given the success of the Switch. We forecast total hardware unit sales in this cycle to reach approximately 46mn for the xBox, 112mn for the PS4 and 55mn for the Switch by 2020. With the Sony PS4 Pro driving a modest increase in retail sales, and the xBox One to come, we expect the high-definition console base (which is key to US publishers) to remain relatively stable over the next four years. We assume a higher obsolesce rate as consumers upgrade their existing consoles, but the overall active PS4/xBoxOne console base to remain steady at around 100-105mn units.

We think that the Switch will have appeal with casual players who do not currently game on PS4 and xBox One and are fans of Nintendo franchises (Mario, Zelda, etc). Based on these assumptions, we are forecasting the total console base to grow to 155mn by 2020, with Gen 9 base flattening and the Gen 10 (Switch) casual user base driving growth.

Looking out to our 2020 forecasts, we expect Nintendo to drive over 39% of hardware unit shipments in '17-'20. We believe Sony could come out with a new or upgraded console by 2019 or 2020 to compete with the xBox One X if the One X gets traction.
Here is a link to the full report.

I spent much of Saturday at Stan Lee's ComicCon in Los Angeles where my daughters were in 7th heaven meeting up with Youtube artists they watch, meeting up with cosplayers and have their photo taken with them. My eldest was delighted to have one of her questions answered by the actor who did the voiceover for one of the characters in her favourite game, Overwatch.

It was abundantly clear how well organized the gaming industry is compared to what is often a sedate pace in the entertainment industry. That was confirmed by a friend who works in marketing and deals with Bethesda, another major game publisher. Gaming overtook Hollywood in revenue in the last decade and shows little sign of pausing.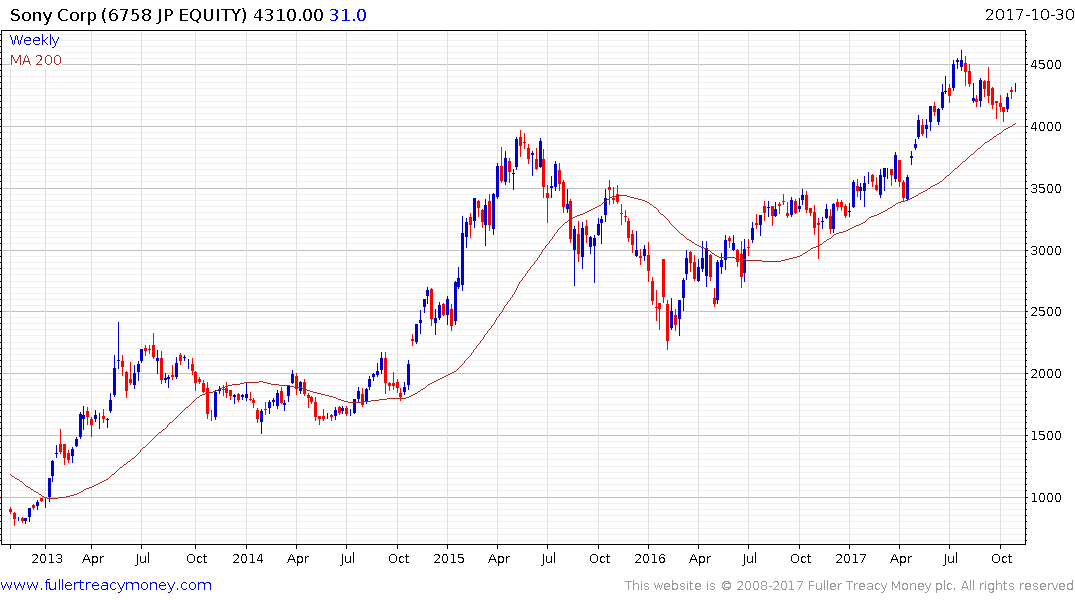 Sony found support in the region of the trend mean earlier this month and a sustained move below it would be required to question medium-term scope for additional upside.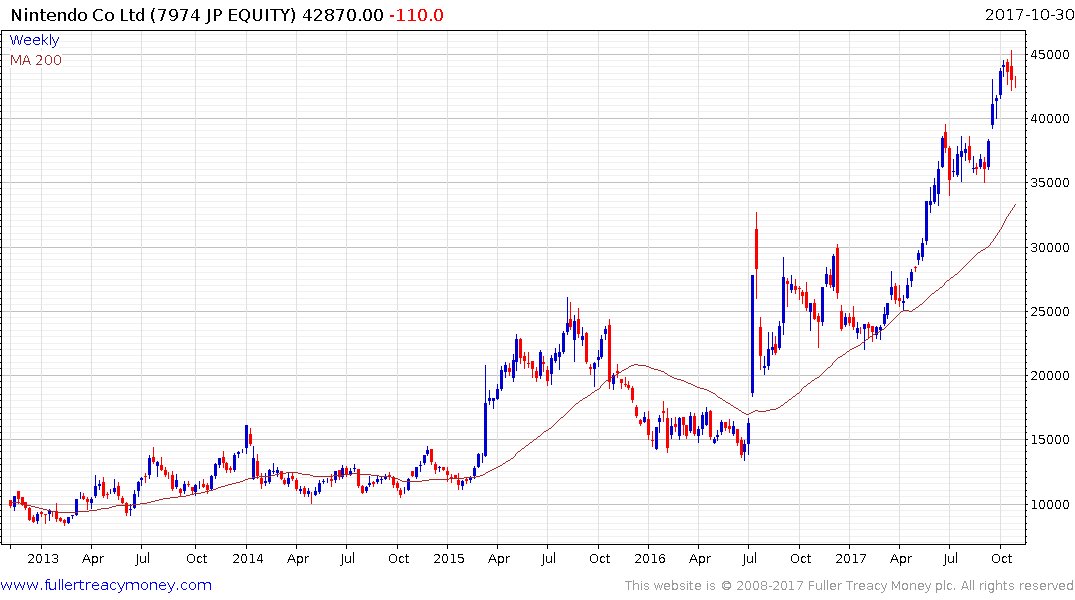 Nintendo paused in the region of 45000 last week, suggesting some consolidation is likely, but a sustained move below the trend mean would be required to question medium-term scope for additional upside.

Back to top