US has fewer listed public companies than China
Thanks to a subscriber for this article by Robin Wigglesworth for the Financial Times. Here is a section:
Chalk one up for Beijing in its long battle with Washington: the US now has fewer listed public companies than China.

A spate of shelved and fizzling initial public offerings has recently cast a pall over the US equity market, with WeWork scrapping plans to sell shares after investors balked at its valuation and corporate governance structures.

Yet the number of listed US companies has been shrinking for more than two decades, as private equity firms and acquisitive companies have gobbled up many public groups. At the same time, ample venture capital and buoyant debt markets have allowed other fast-growing groups to stay private for much longer than in the past.

That has crimped the number of public American companies from a peak of more than 8,000 in 1996 to about 4,400 currently, according to data compiled by JPMorgan Asset Management.
Ultralow interest rates, abundant liquidity and increasingly onerous reporting requirements mean it is much less attractive to be a public company today in the USA than it used to be. For China it is more a story of trying to create additional funding avenues for companies beyond the government and state-owned banks.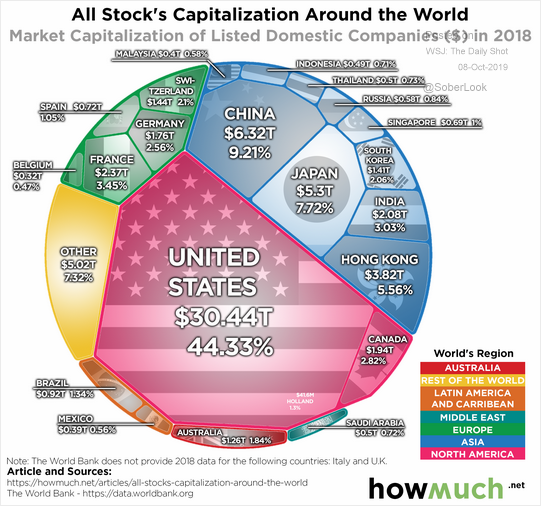 Meanwhile the USA's capital markets are almost three times larger than China's. If that removal of supply of new companies is to have an effect on the market it would have to coincide with a reduction in the number of shares outstanding. There was research published last year which highlighted the fact that the granting of stock options more than made up for the reduction in shares due to buybacks. That suggests the rise in the nominal value of stocks is influenced by liquidity and earnings growth.
The plan to force more Chinese companies to list at home was shelved last year because of the effect such large companies suddenly soaking up demand would have on the domestic stock market. That suggests the market is not nearly as deep as the number of companies listed would suggest. Sometimes it is more about quality than quantity.
Back to top