U.K. Is Said to Drop Brexit Demand on Irish Border to Ease Deal
This article by Tim Ross, Ian Wishart and Dara Doyle for Bloomberg may be of interest to subscribers. Here is a section:
The problem for pro-Brexit camp in May's Cabinet is that what is agreed as a fix for the Irish border could morph into a long-term status quo for the whole U.K. Businesses have long called for the U.K. to remain in the customs union to ease trade with the bloc, an option EU chief negotiator Michel Barnier has repeatedly offered as a way out of the stalemate. In parliament, the main opposition Labour party is also pushing for a customs union.

The thorny question of how to avoid a hard border between the U.K. and the Irish Republic has held up progress in Brexit talks since March. Time is running out for the EU and the U.K. negotiating teams to settle the terms of the divorce and sketch out the future trading arrangements before Britain leaves the bloc on March 29.

A summit of EU leaders in Brussels this week had been billed as the moment when the exit agreement would be struck but instead broke up with major issues still unresolved. The key question remains how to come up with a backstop for the Irish border.
UK business needs have to have some confidence in what its trading relationship with the EU is going to be post Brexit. The EU needs to blunt the threat the UK will set itself up as a freewheeling capitalist enclave that would compete and win inward investment. Therefore, both parties have a clear interest to reach a deal but the result of the negotiations are not going to be what many people thought they were voting for when they approved Brexit.
The constant need to talk about a backstop is because the EU needs some security that the UK will not adopt a more aggressive negotiating strategy at some point in future, when electoral math is more secure. The problem now for the pro-Brexit camp within the Conservative Party is they have to refuse to support the government if the open-ended customs union is indeed adopted. To do less would be to lose all credibility because the net result will be Brexit in name only which is tantamount to the dreaded scenario of being a rule taker than a rule setter.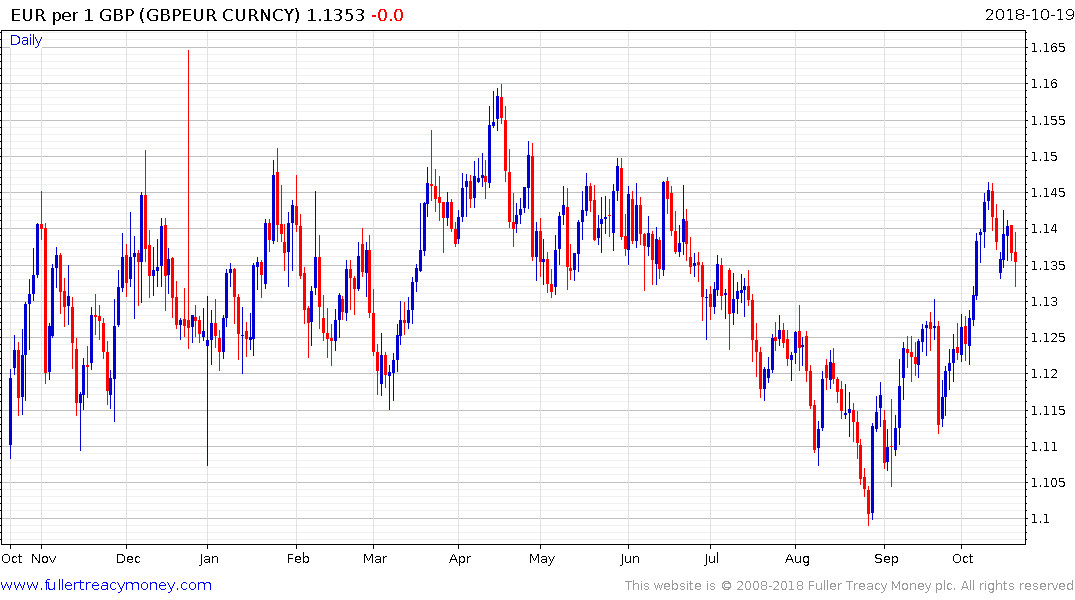 That suggests we can expect a vote of no confidence in the May administration within the next couple of weeks. The Pound is now looking at little tired versus the Euro and some consolidation appears likely.
Back to top