U.K. Election Threat Looms as Johnson Fights Tory Brexit Rebels
This article by Tim Ross, Kitty Donaldson and Alex Morales for Bloomberg may be of interest. Here is a section:
Talk of an early election highlights the make-or-break nature of this week for Johnson's leadership and for the country as a whole. Since he became prime minister in July, Johnson has made it his mission to prepare the U.K. to leave the EU by the Oct. 31 deadline even if that means tumbling out of the 28-country bloc with no deal to cushion the blow to trade.

Many politicians inside his own Conservative Party are unwilling to go along with this plan, believing it will hit the economy, sparking a recession and a crash in the currency and house prices. They have been trying to work out a way to stop the premier forcing through a no-deal Brexit that would damage the economy and leave businesses and citizens facing legal chaos.
I will repeat my view that the only way for the UK to get what it wants from negotiations is to present a credible case for leaving without a deal. You have to be willing to walk away unless you get what you want. Even if it is a bluff, it needs to be even more credible. The problem is in a parliament riven by indecision, competing allegiances and electrical arithmetic there is no consensus even on what the best negotiation tactic is.
Therefore, what the UK needs is a new parliament. In any upcoming election, the choice needs to be starkly proposed. The new government will pursue a no deal Brexit or the new government will support ignoring the referendum and remain within the EU. If the UK is to leave it will need to be supported by a raft of free trade initiatives, tax competitiveness and regulatory relaxation.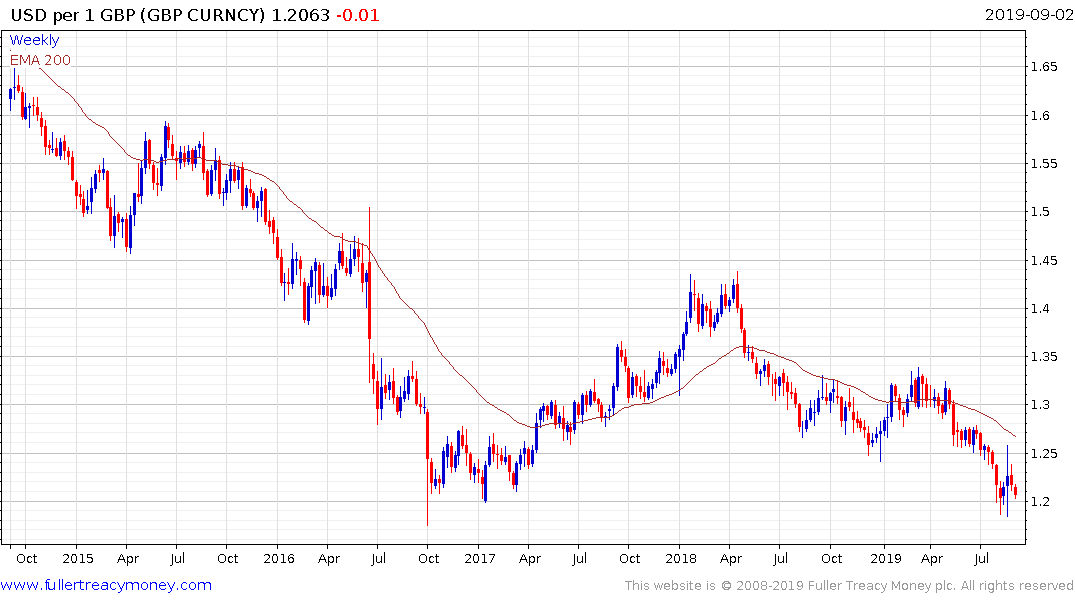 This all represents a fresh source of uncertainty and the Pound pulled back to test its lows near $1.20 today. A sustained move above $1.23 will be required to confirm from that temporary support in this area.
It is worth considering that the lower the Pound goes the better supported nominal prices for UK assets will be. The UK has a history of allowing the Pound to take the brunt of selling pressure and nothing has occurred to question that view.
Back to top