Twitter announces paid Super Follows to let you charge for tweets
This article from The Verge may be of interest to subscribers. Here is a section:
Twitter announced a pair of big upcoming features today: the ability for users to charge their followers for access to additional content, and the ability to create and join groups based around specific interests. They're two of the more substantial changes to Twitter in a while, but they also fit snugly into models that have been popular and successful on other social platforms.

The payment feature, called Super Follows, will allow Twitter users to charge followers and give them access to extra content. That could be bonus tweets, access to a community group, subscription to a newsletter, or a badge indicating your support. In a mockup screenshot, Twitter showed an example where a user charges $4.99 per month to receive a series of perks. Twitter sees it as a way to let creators and publishers get paid directly by their fans.

Direct payment tools have become increasingly important for creators in particular in recent years. Patreon has been hugely successful, and other platforms including Facebook, YouTube, and even GitHub have all launched direct creator payment features. Twitter will presumably take a cut — the company has been hinting at subscriptions features that would offer it a new source of revenue — though it doesn't appear to have said yet what that fee will be.
This announcement suggests Twitter is serious about starting to make money. The creation of a sales funnel so members with substantial followings can monetise that interest is a business model that has grown in popularity during the pandemic.
Patreon, OnlyFans and others exist purely on a tipping model. Amazon's Twitch game streaming service also deploys tipping. Many free online letters like Stratechery, Macro Tourist, Futurism, NewAtlas, Zerohedge and others have recently moved to a freemium and subscription model.
Almost twenty years ago, the most successful (in sales) newsletter writers like Bill Bonner, John Mauldin and the Motley Fool deployed the sales funnel model to great effect. As Twitter migrates to this business model it has the capacity to multiply sales.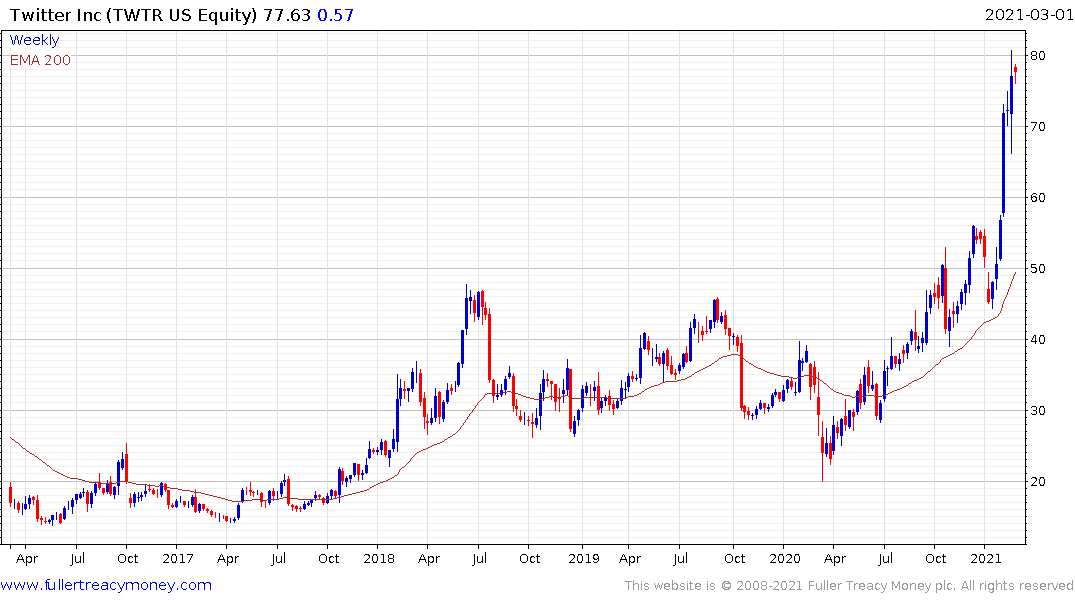 The share is responding that potential and surged to new highs over the last week.
Back to top