Trump Says China Talks Back on as Beijing Downplays Breakthrough
This article from Bloomberg News highlights the ebb and flow of commentary on the trade war. Here is a section:
"You can say we're having very meaningful talks, much more meaningful than I would say at any time frankly," Trump said while meeting with German Chancellor Angela Merkel on Monday. "Maybe I'm wrong but we're in a stronger position now to do a deal, a fair deal for everyone," he added.

Still, a spokesman for China's foreign ministry wasn't able to immediately confirm the details of the phone calls on Monday. Later, Hu Xijin, editor-in-chief of China's Global Times newspaper, said in a tweet that top trade negotiators hadn't spoken by phone in recent days and that Trump was exaggerating the significance of the trade contacts.

Trump later, at a separate bilateral meeting, insisted that calls were had at the highest level and was not aware that China was disputing them. U.S. Treasury Secretary Steven Mnuchin, also in Biarritz, said "there were discussions that went back and forth and let's just leave it at that."
Let's look past the rhetoric and repeated announcements of progress and focus instead on the purpose of the trade war. The USA is the current global superpower and China has clearly stated they wish to overtake the USA economically, technologically and militarily. That suggests there is little prospect of relation returning to the status quo of the last 30 years. The question is primarily about the degree of separation which can be achieved without sparking a broader conflict.
Over the weekend President Trump suggested corporations should extract themselves from China. I suspect that statement was in direct response to China's clear messaging to companies they need to toe the party line. Here is a section from a related article from Bloomberg:

Multinational businesses have no good options. If they are too easily pushed around and can't select their own management, they will lose credibility with staff, investors and customers. if they resist Chinese pressure, they risk losing access to a huge and still fast-growing market.
Investors used to see companies such as Cathay Pacific and HSBC Holdings Plc, which angered the government by cooperating with U.S. prosecutors investigating telecoms group Huawei Technologies Co., as lucrative bridges between China and the West. Now these bridges have become contested border zones, where snipers can take potshots. The Global Times, a nationalist tabloid owned by the People's Daily, led the campaign against Cathay Pacific and now has the Big Four accounting firms in its sights because of ostensible democratic sympathies among their Hong Kong employees.
The clear message here is that China is an increasingly dangerous place to be a foreign company. China remains eager to absorb foreign capital but amid conclusions that China offers better yields and opportunities investors need to consider the risk of eventually being able to realise profits. Sometimes it is about the return of capital rather than the return on capital. That suggests to me China is a trader rather than an investor's market. The Hang Seng firmed from its intraday low today and upside follow through tomorrow would confirm at least near-term support.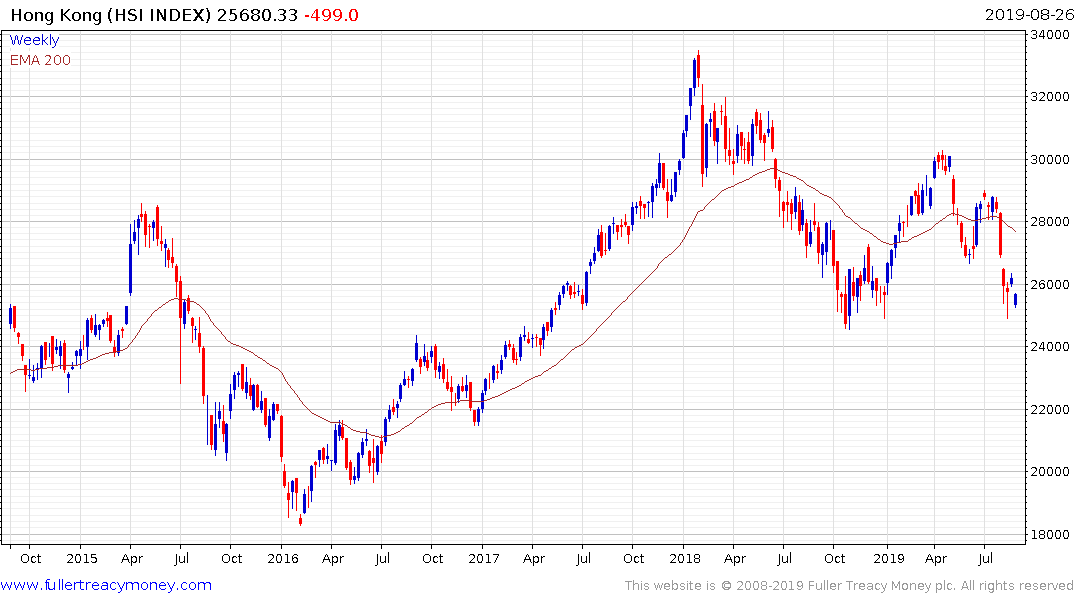 Back to top