Top 10 Emerging Technologies of 2015
This article from the Scientific American may be of interest to subscribers. Here is a section:
Neuromorphic technology
Computer chips that mimic the human brain

Even today's best supercomputers cannot rival the sophistication of the human brain. Computers are linear, moving data back and forth between memory chips and a central processor over a high-speed backbone. The brain, on the other hand, is fully interconnected, with logic and memory intimately cross-linked at billions of times the density and diversity of that found in a modern computer. Neuromorphic chips aim to process information in a fundamentally different way from traditional hardware, mimicking the brain's architecture to deliver a huge increase in a computer's thinking and responding power.

Miniaturization has delivered massive increases in conventional computing power over the years, but the bottleneck of shifting data continuously between stored memory and central processors uses large amounts of energy and creates unwanted heat, limiting further improvements. In contrast, neuromorphic chips can be more energy efficient and powerful, combining data-storage and data-processing components into the same interconnected modules. In this sense, the system copies the networked neurons that, in their billions, make up the human brain.

Neuromorphic technology will be the next stage in powerful computing, enabling vastly more rapid processing of data and a better capacity for machine learning. IBM's million-neuron TrueNorth chip, revealed in prototype in August 2014, has a power efficiency for certain tasks that is hundreds of times superior to a conventional CPU (central processing unit), and more comparable for the first time to the human cortex. With vastly more computing power available for far less energy and volume, neuromorphic chips should allow more intelligent small-scale machines to drive the next stage in miniaturization and artificial intelligence.

Potential applications include: drones better able to process and respond to visual cues, much more powerful and intelligent cameras and smartphones, and data-crunching on a scale that may help unlock the secrets of financial markets or climate forecasting. Computers will be able to anticipate and learn, rather than merely respond in preprogrammed ways.
IBM was a major contributor to the above article and as a result it mentions a number of areas where the company has a competitive advantage. We have all marvelled at the ability of its Watson program to compete against humans in real life tests of mental agility and at the company's continued ability to develop cutting edge technology. However there has been a gap between development and delivery that has resulted in a lacklustre performance.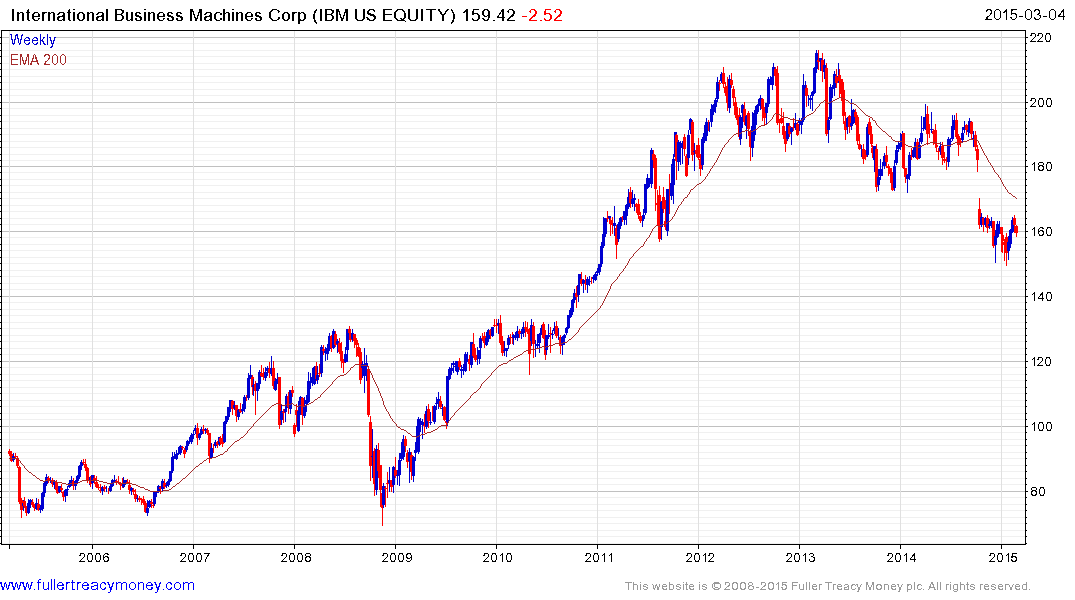 The share broke out of a long range in 2011 but lost momentum from 2013 and encountered resistance in the region of the 200-day MA last year. The $140 area may offer an area of support but it will need to sustain a move back above the trend mean to begin to indicate a return to demand dominance beyond the short-term.
Elsewhere among chip designers: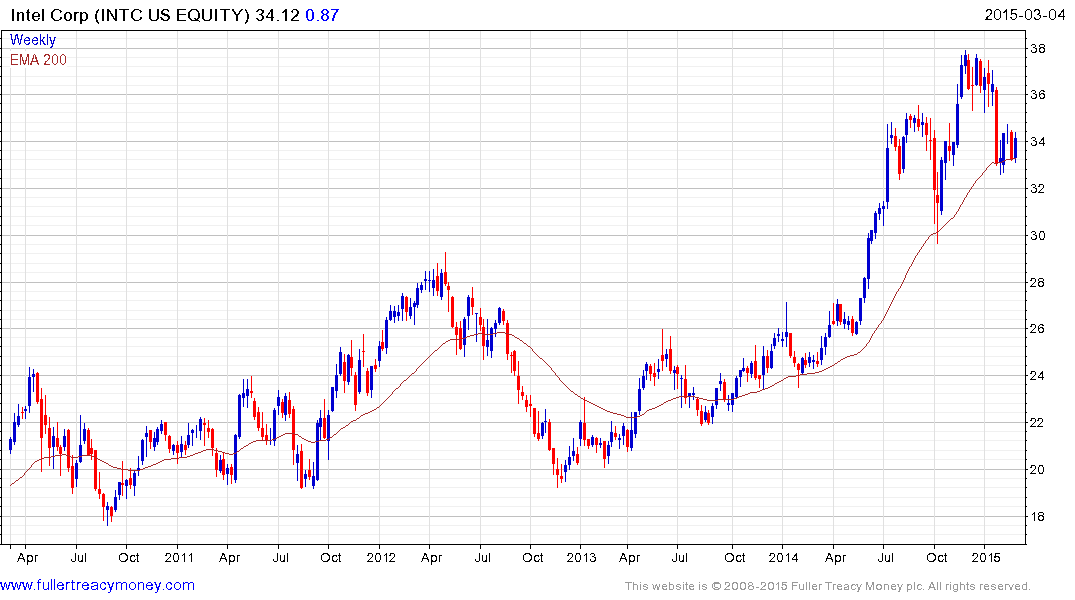 Intel has returned to test the region of its 200-day MA and an area of potential support.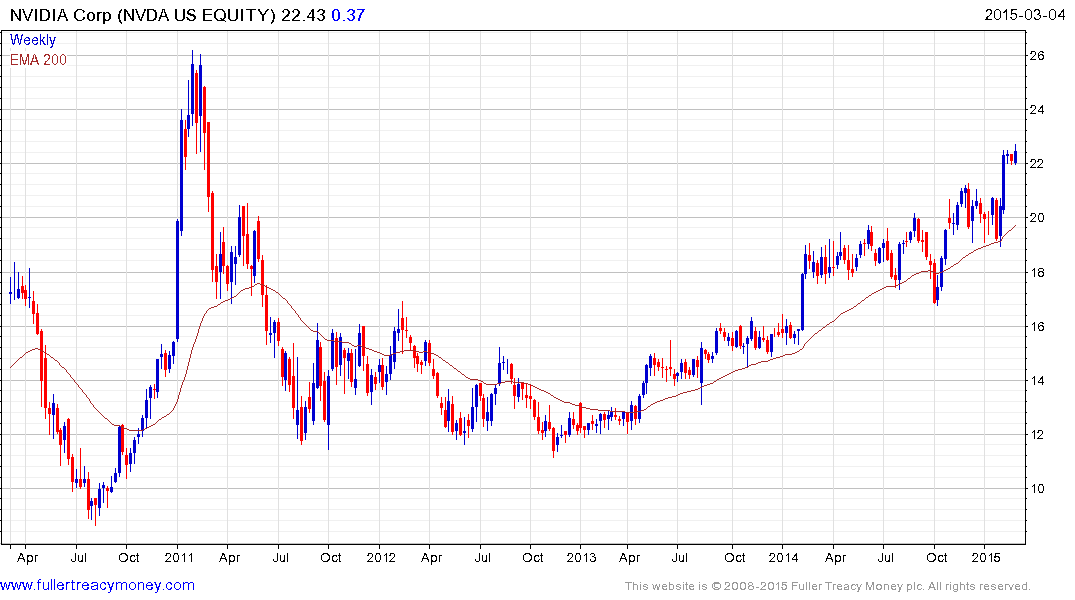 The pace of Nvidia's uptrend has picked up over the last month but a sustained move below the 200-day MA would be required to question medium-term scope for additional upside.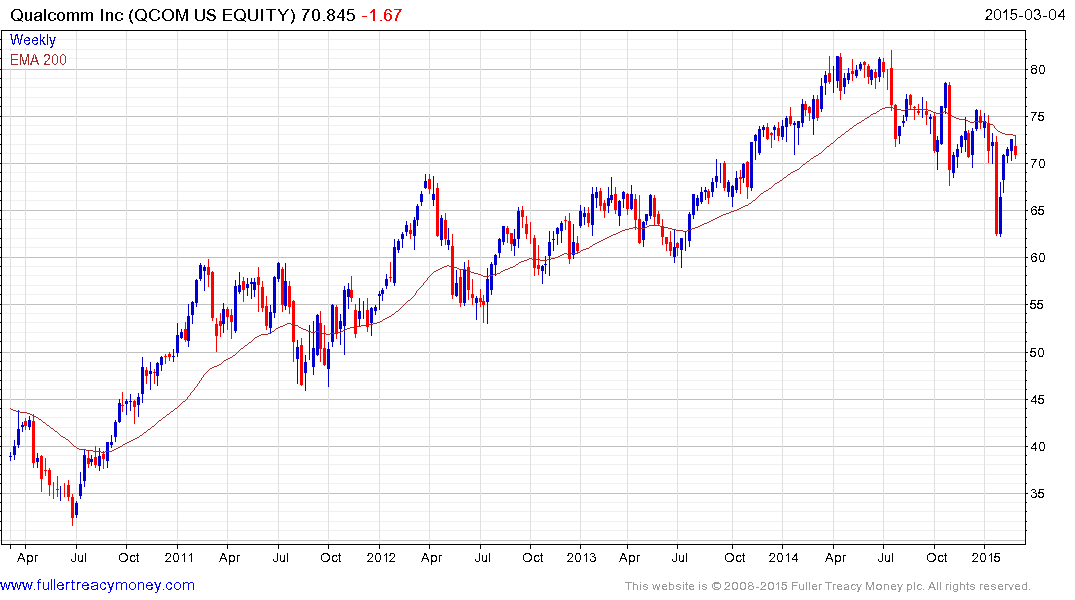 Qualcomm has exhibited a progression of lower rally highs since July and retested the region of the 200-day MA this week. A sustained move above $75 will be required to signal a return to demand dominance beyond the short term.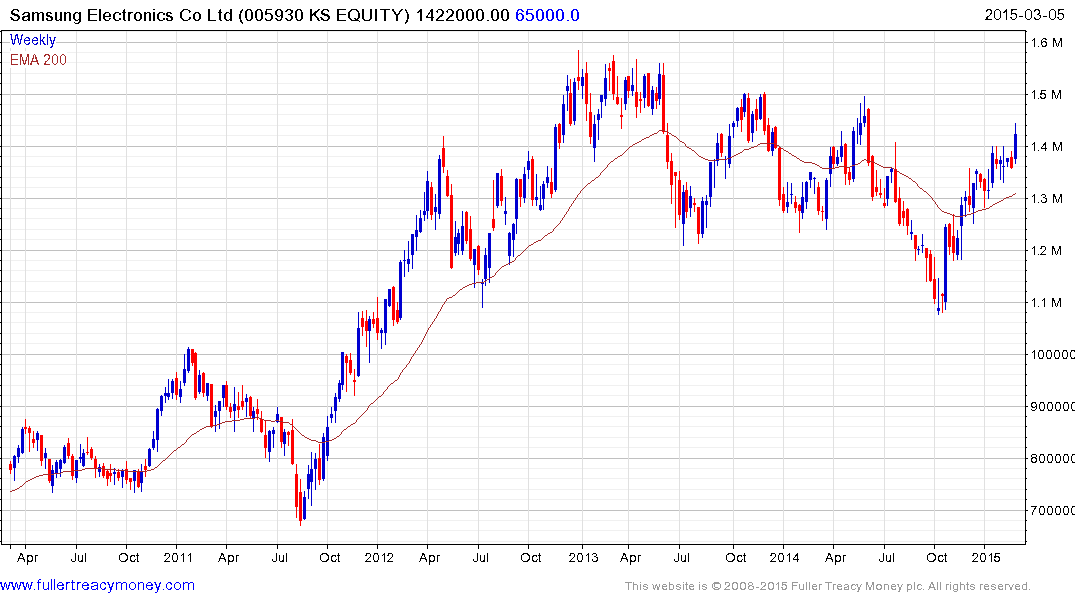 South Korean listed Samsung Electronics has returned to test the two-year progression of lower rally highs and will need to sustain a move above KRW1.5 million to signal a return to demand dominance beyond the short term.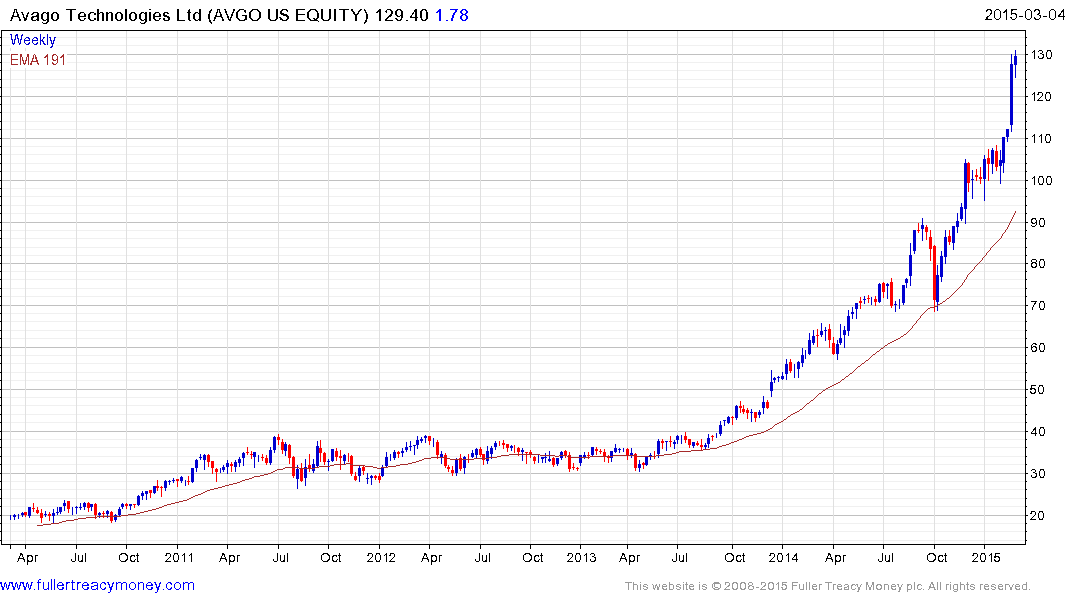 Both NXP Semiconductors and Avago Technologies are accelerating higher and increasingly susceptible to mean reversion.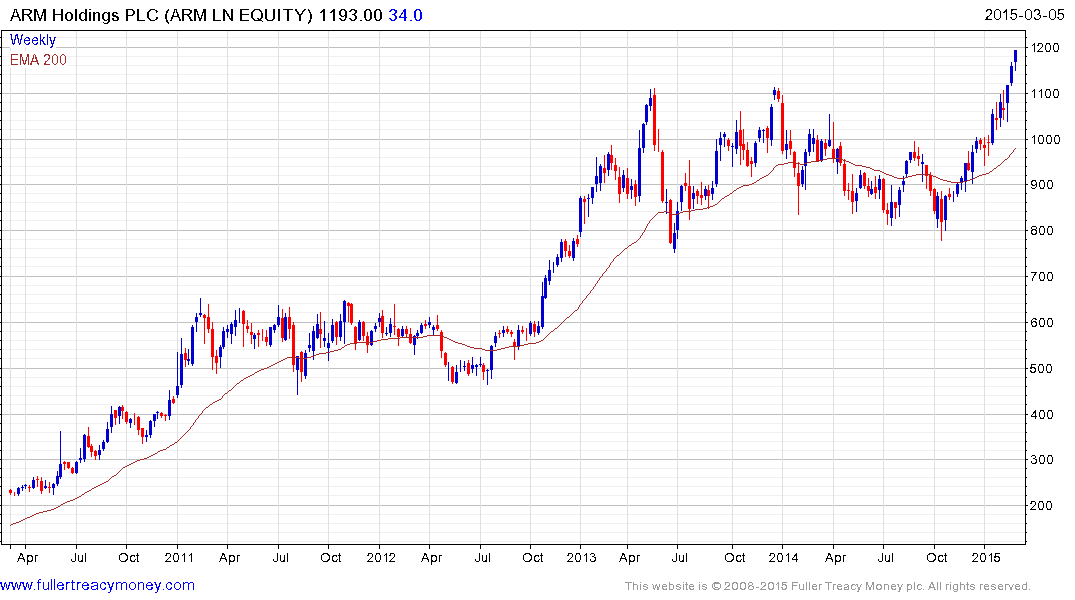 UK listed ARM Holdings spent almost two-year ranging and broke out last week to reassert its medium-term uptrend.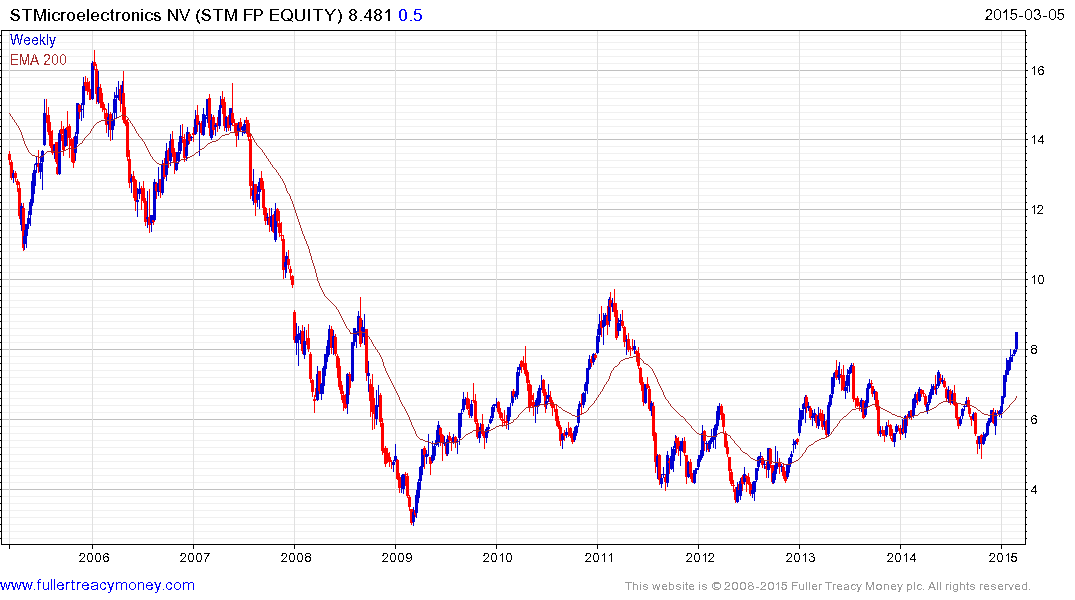 French and Italian listed STMicroelectronics appears to be in the process of completing a six-year base.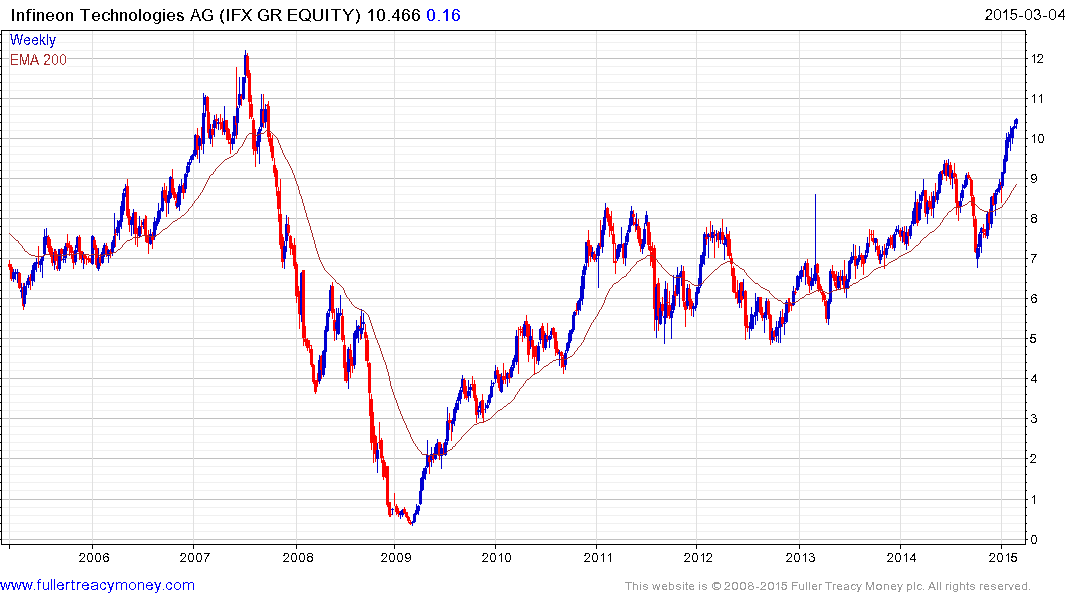 German listed Infineon Technologies continues to extend its uptrend but is becoming increasingly overbought in the short term. The first clear downward dynamic is likely to signal the onset of mean reversion.
Back to top