This Chemistry 3D Printer Can Synthesize Molecules From Scratch
This article from popularmechanics.com may be of interest to subscribers. Here is a section:
Burke's machine simplifies the complex process of synthesizing chemical into a series of generalizable steps. Whether you're trying to form a ring of carbon atoms or strip away hydrogen atoms, each step requires a dose of starting chemicals, which Burke separates into distinct building blocks. Think of them as simple groups of chemical compounds like O2 or CO2 that snap together.

To perform each step, the machine connects a building block and then induces a chemical reaction and washes away the reaction's byproducts—slowly building each molecule from the ground up. The building blocks are snapped together like LEGOs, allowing the chemicals to mix and a reaction to take place.

Using this process, Burke showed that his machine could manufacture thousands of different chemicals in 14 distinct classes of small molecules, including known medicines to several molecules used in LEDs and solar cells. The amount of time each molecule's synthesis requires is a matter of hours, depending on how many steps are involved.

To answer the question of why such a cool technology is only now becoming available, Burke says the hard part was figuring out the new cleanup method that happens after each chemical reaction. (Some of the information is proprietary, but Burke says he and his colleagues found a universal way to isolate out the molecules they want to keep when washing away the byproducts.)
R&D is expensive which is why corporations are very picky about what they fund and why it is often the division that gets axed first during a rationalisation. Reducing the cost of building compounds can only be good news for the biotech, nanotech and chemical sectors because it will help reduce the time between when an idea germinates and when it can be tested in practice.

Taking this a step further, companies have been busy increasing the speed with which they can sequence genomes and have been reducing the cost. The corollary is that as we learn more about genetics, the ability to build proteins and compounds from scratch means that tailored solutions become much more realisable. 3-D printers are already printing copies of organs such as bladders and even kidneys. Totally customisable solutions appear to be where the medical sector is heading in the coming decades. Nevertheless, a good deal of this good news is already in the price.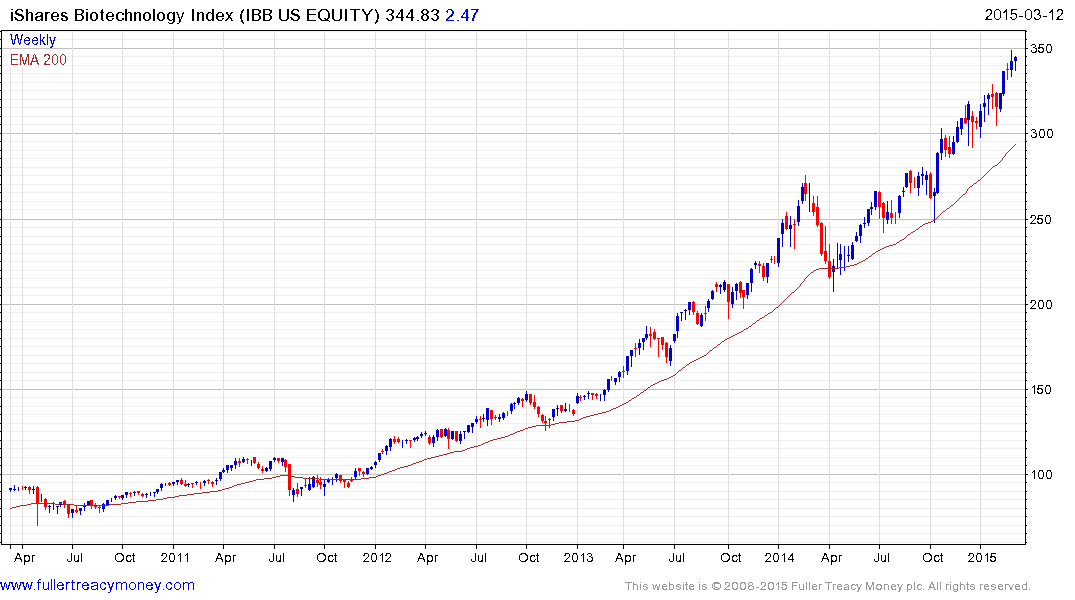 The iShares Nasdaq Biotechnology ETF has paused in the region of the $350 and is looking increasingly susceptible to mean reversion.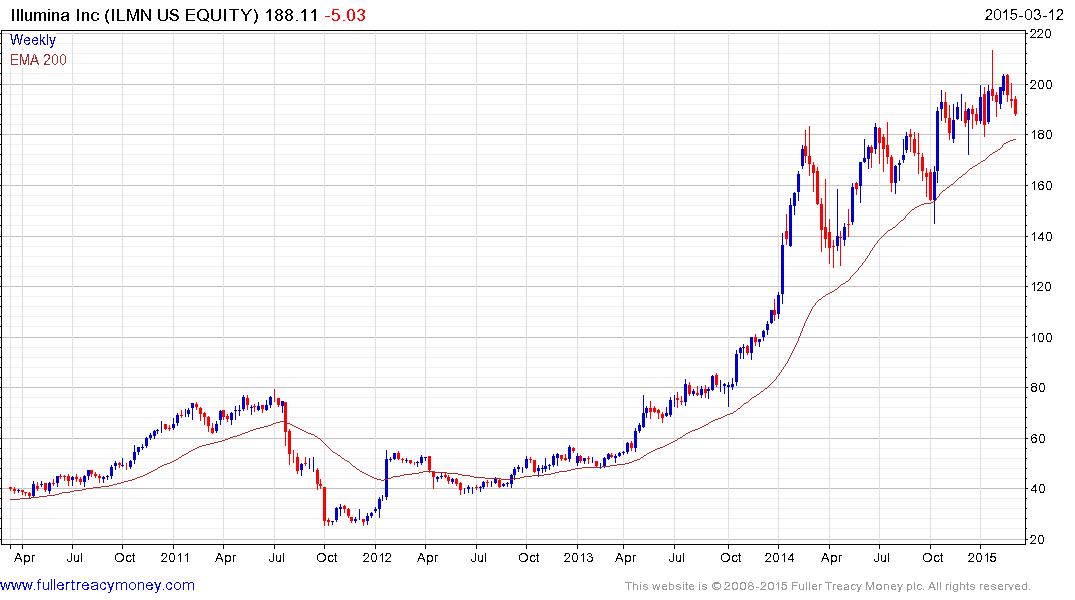 Illumina remains the leader in genetic testing machines. The share has lost momentum since accelerating higher in early 2014 and is now closing an overextension relative to the 200-day MA. It will need to find support in the region of $175 if medium-term scope for continued higher to lateral ranging is to continue to be given the benefit of the doubt.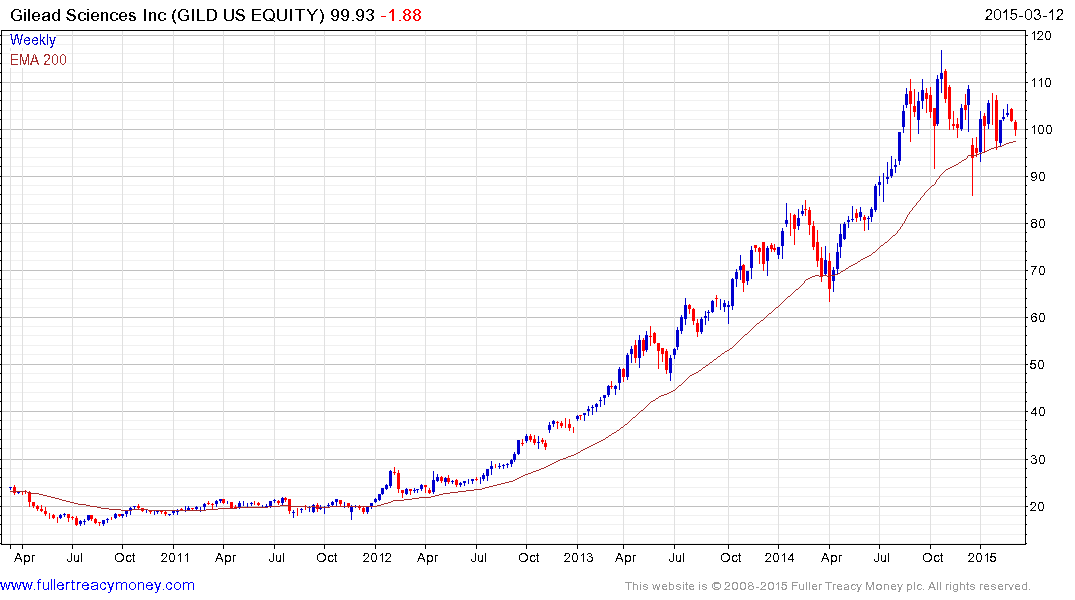 Elsewhere in the biotech sector Gilead Sciences has held a progression of lower rally highs since hitting a medium-term peak in October. It will need to demonstrate support in the region of $97 to avoid top formation characteristics.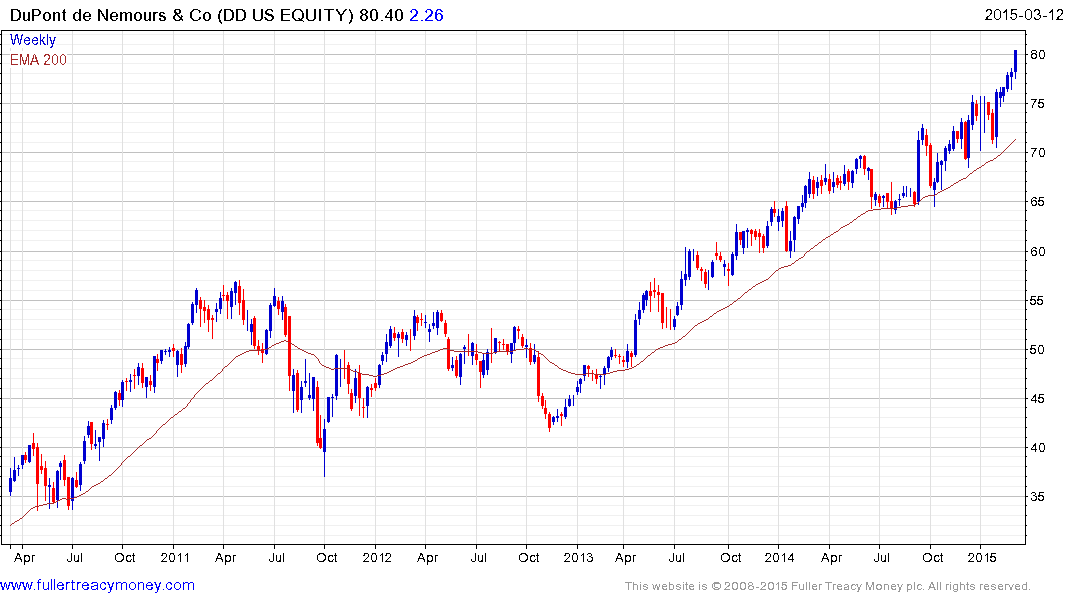 In the chemical sector DuPont has rallied over the last year to test the region of its all-time peak. Some consolidation of recent gains is possible in this area but a sustained move below the 200-day MA would be required to question medium-term scope for additional upside.
Back to top