The Frozen Concentrated Orange-Juice Market Has Virtually Disappeared
This article by Julie Wernau for the Wall Street Journal may be of interest to subscribers. Here is a section:
Americans drank less orange juice in 2015 than in any year since Nielsen began collecting data in 2002, as more exotic beverages like tropical smoothies and energy drinks take market share and fewer Americans sit down for breakfast.

When they do drink orange juice, they aren't drinking it from concentrate.

Frozen concentrated orange juice was invented in Florida in the 1940s, primarily as a way to provide juice for the military, readily storable and easy to ship. But frozen juice has been losing favor for years.

Not-from-concentrate orange juice surpassed the concentrated orange-juice market in the 1980s. Now, the 1.4 million gallons of frozen concentrate that Americans drink each month pales in comparison to the 19.1 million gallons of fresh juice consumed each month, Nielsen said.

Louis Dreyfus Co. is scaling back the one citrus facility in Florida that is devoted entirely to concentrated orange juice. The commodities giant is laying off 59 of the plant's 94 workers as its sells the operation that packs frozen concentrated orange juice into cans for retail.
Changing consumption habits where people are more concerned not only with the taste but the quality of the foods they consume are having wide ranging effects on the commodity markets. To most people frozen orange juice does not taste as good as a freshly squeezed navel or Valencia orange. However since squeezing one's own oranges is both time consuming and expensive the vast majority of orange juice consumed comes from either concentrate or is pasteurized.

This educational article from civileats.com which highlights just how processed "not from concentrate" orange juice might come as a surprise to consumers but it is also an example of how successful major corporations have been in marketing the products they have created. Both PepsiCo and Coca Cola also have dominant positions in the smoothie market through their Naked and Odwalla brands.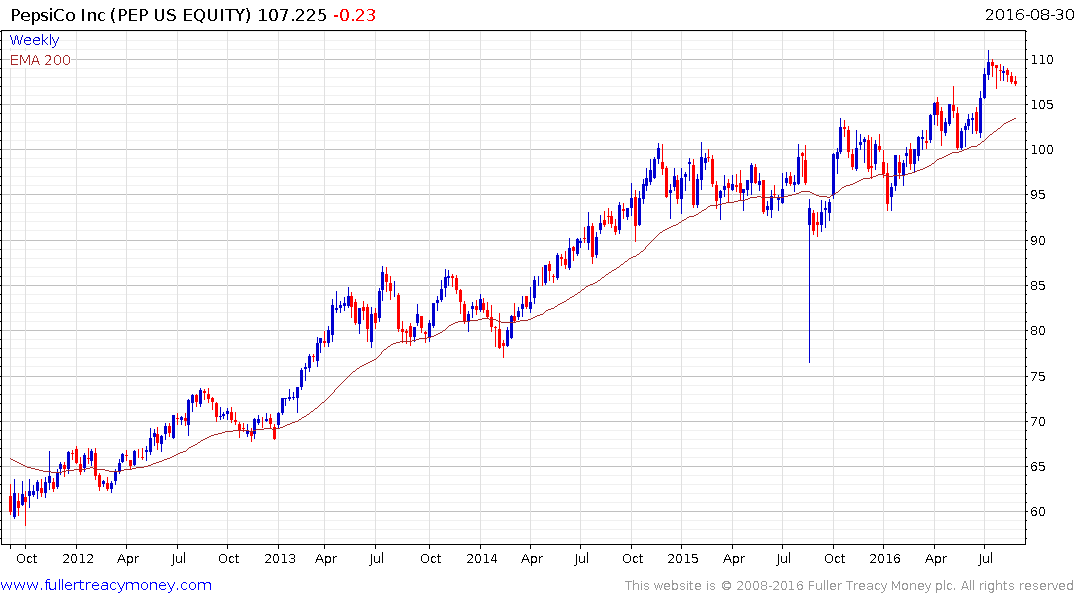 PepsiCo (Est P/E 22.59, DY 2.8%) broke out to new highs in July and has been consolidating that move for much of the last month. A sustained move below the trend mean would be required to question the medium-term upward bias.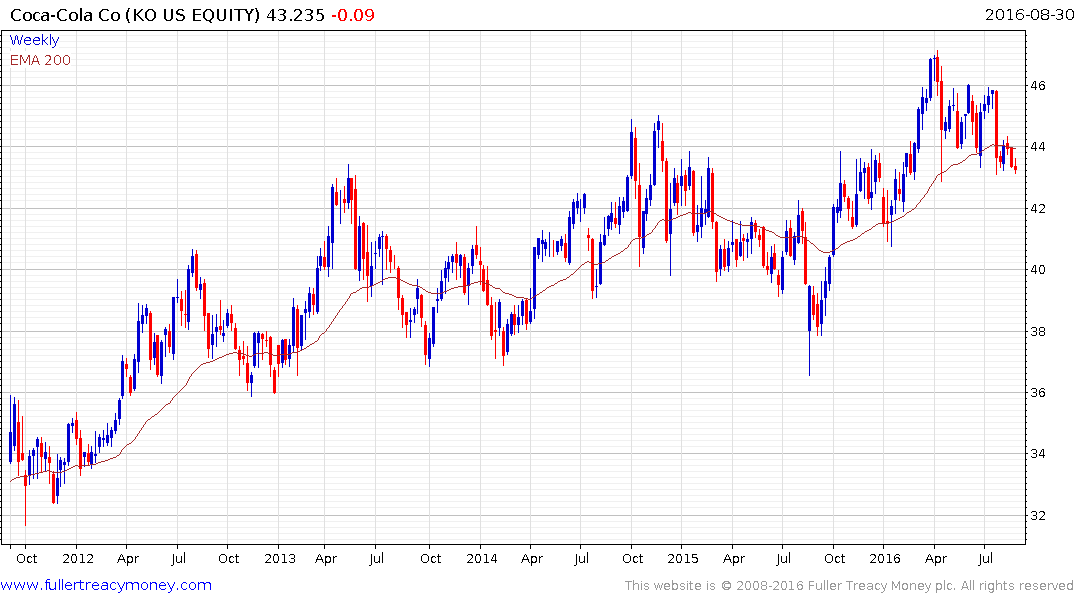 Coca Cola Est P/E 22.68, DY 3.23%) has been ranging higher in an inconsistent manner for nearly four years and is now testing the lows of the last six months. Over the last six years every time the dividend yield has tested the 3.5% area the share has rallied; suggesting the best time to enter positions is following occasional pullbacks.

Juices and smoothies so far appear to have been largely immune to the fight against concentrated fructose which fruit juices represent. I found it interesting when flying home from Las Vegas last month that two young men sitting next to me were talking about how popular it was to adopt a vegan diet when moving to Los Angeles. It occurred to me that the majority of foods marketed as vegan, I have come across, are loaded with sugars There is a growing trend towards labelling the myriad different types of sugar clearly in ingredients lists, which is to be welcomed from a health perspective, but that is unlikely to overcome the simple fact that sugar tastes good.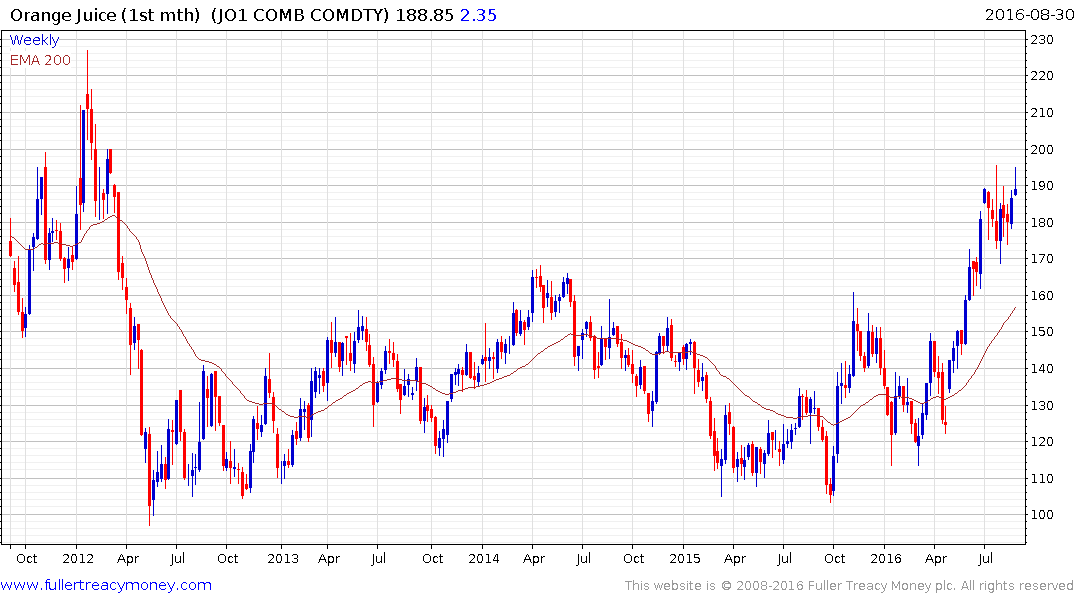 With so much of the market for orange juice dominated by a small number of companies it is questionable whether the futures contract can be reformulated in a fashion similar to what was achieved for gasoline and robusta coffee when quality standards evolved. Meanwhile Orange Juice has paused in the region of the 2011/12 peak below 200¢ and some additional consolidation looks likely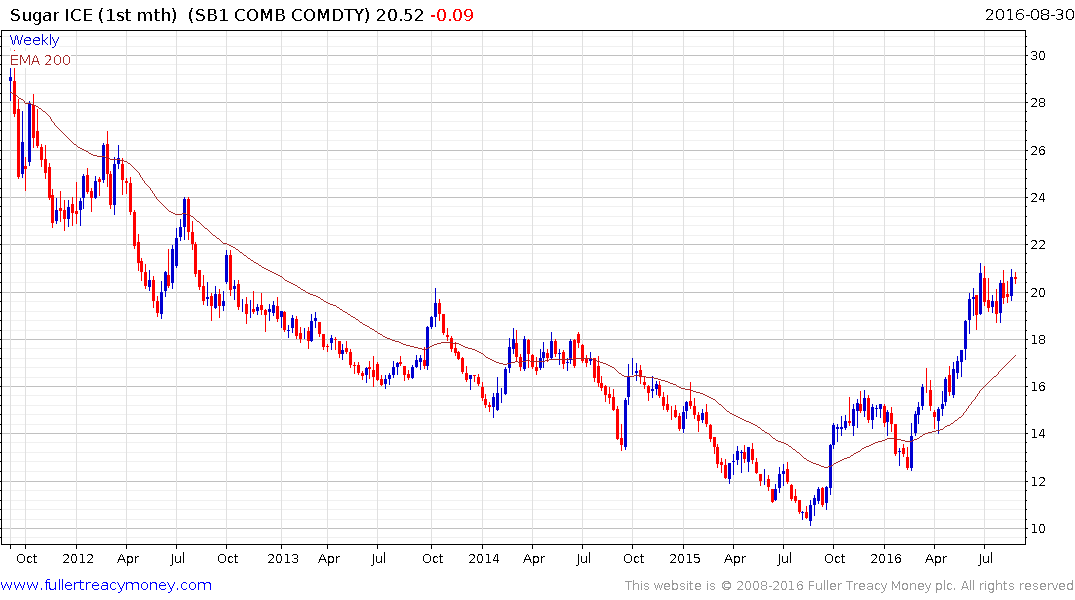 Sugar contracts are also consolidating earlier gains and a sustained move below the trend mean would be required to question recovery potential.
Back to top