Terry Gou's Pitch for Presidency Is Massive Boost for His Stocks
This article from Bloomberg News may be of interest to subscribers. Here is a section:
The Taiwanese billionaire said on Wednesday he would seek the nomination of the China-friendly opposition Kuomintang party in next year's election, a process expected to play out in the coming weeks. Current President Tsai Ing-wen's Democratic Progressive Party advocates a more decisive break from the mainland.

"We are upholding our view and we are treating Gou's bid neutrally for now," Daiwa Securities Capital Markets analyst Kylie Huang said. "We will wait and see whether Gou's move may lead to him to leave the company board and quit as chairman and if that happens, whether investors will be comfortable with management reshuffle."
Mrs. Treacy told me last month that Guo Wengui had predicted Terry Gou would run for president of Taiwan, so this may be surprising news but it was a well-known possibility in some circles.
Terry Guo is a highly successful business man but his entire fortune is reliant on China's manufacturing base. That has to raise serious questions about where his true loyalties lie. That's an enormously important question considering the intellectual property and chip manufacturing capability that resides in Taiwan.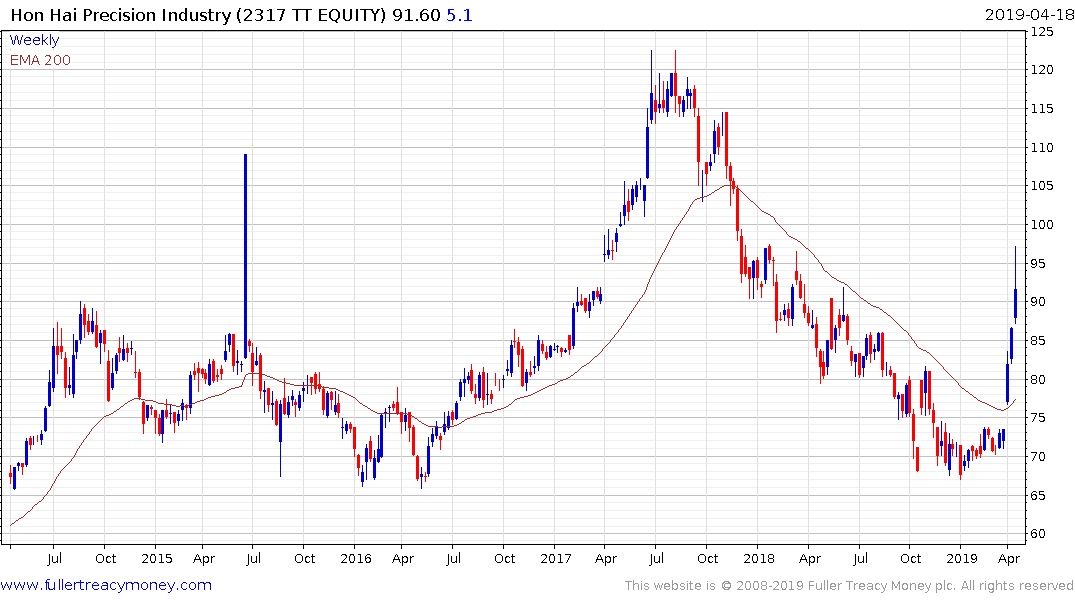 Hon Hai Precision has been one of the biggest victims of the trade war. The share has now broken its downtrend and while short-term overbought remains a recovery candidate.
Back to top