Sushi Robots and Vending-Machine Pizza Will Reinvent the Automat
This article by Leslie Patton for Bloomberg may be of interest to subscribers. Here is a section:
"I get it. But this is not a vending machine, it's an automated restaurant," he said. "There are real humans making the burritos. Everything is handmade."

No, those humans are not super-small and no, they don't toil in the machines. The burritos are made in kitchens that also supply restaurants, sometimes flash-frozen, and then shipped to the boxes. They're defrosted before going into the machines. An employee checks the boxes once a day to make sure there's fresh inventory.

The vending machines harken back to the Automat, a 20th- century fast-food restaurant that featured cubbyholes with food items behind glass doors. Put coins in a slot and the door would open for a gratuity-free snack or meal.

The bright orange Burritoboxes are higher tech. They have a touch screen, mobile-phone charging station and live-chat customer service in case there's an issue. It takes about 90 seconds to heat a complete meal, including Cinnabon-brand gooey bites for dessert. Customers can watch music videos on the touch screen while waiting.

Unlike Burritoboxes, the pizza machines are unbranded so local pizzerias and packaged-food companies can label and fill the machines with their own pies. Pizzerias in Sarasota, Florida, and Chicago are experimenting with them. Each one holds 108 slices and reheats them in a conveyor oven in about one minute and 40 seconds.

Lynnie Cook, 65, the founder of 24/7 Pizza Box, said he has orders for more than 100 of the $29,920 machines. He expects to sell 2,500 in 2017.

"Our time is getting more precious," Cook said. "You're going to have people bringing food to where the businesspeople are working, or just making it more convenient."

Robotics have made their way into the back of restaurants.

?Sushi Station, a conveyor-belt-style sushi restaurant in Elgin, Illinois, has two sushi-roll makers from manufacturer Autec. Add rice paper, press a button, add a filling, and voila. The robot costs $19,000. There's also a machine that makes perfectly shaped rice for nigiri. The robotics help the restaurant supply the roughly 1,000 rolls it sells each day.
On Star Trek everybody just went to the hole in the wall to order whatever they wished from the replicator. Vending machines defrosting burritos and pizzas isn't quite on that level but the convenience of obtaining snack foods without having to spend time inside the restaurant will have appeal for a broad swathe of the population.

Labour costs represent the highest input in fast food pricing so anything that reduces the number of people required to take orders, return change, prepare and serve meals and clean up is going to benefit the bottom line in both labour and real estate costs. A $15 minimum wage will act as an incentive for companies to displace workers.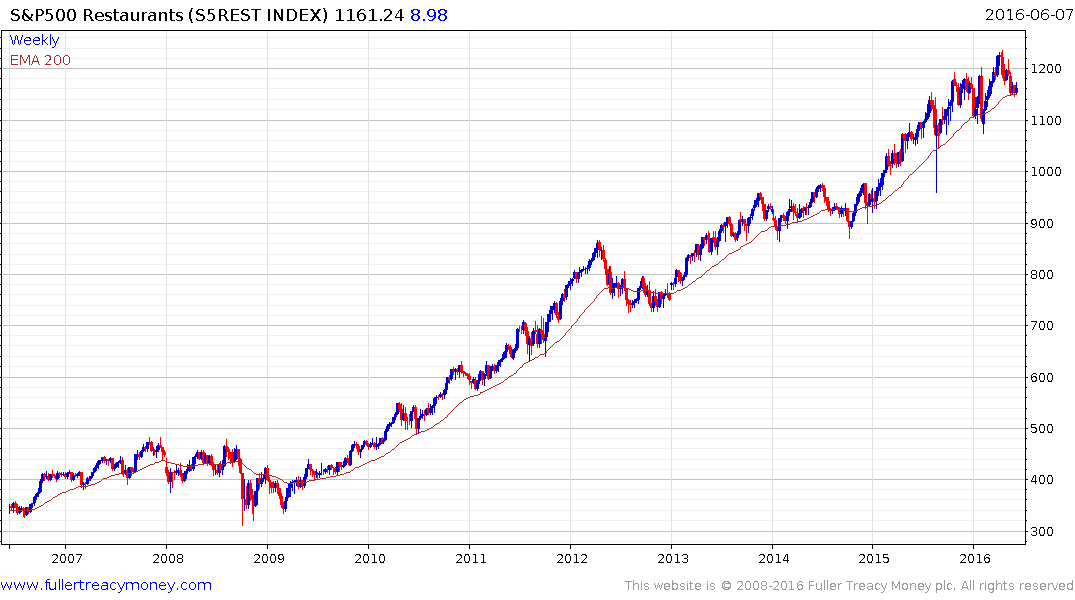 The S&P500 Restaurants Index is comprised by household names like McDonalds, Yum Brands, Starbucks, Chipotle and Darden Restaurants (Red Lobster, Longhorn Steak). The share has found support in the region of the 200-day MA on successive occasions since the 2009 lows and is now testing that area once more. A sustained move below it would be required to question the consistency of the medium-term uptrend.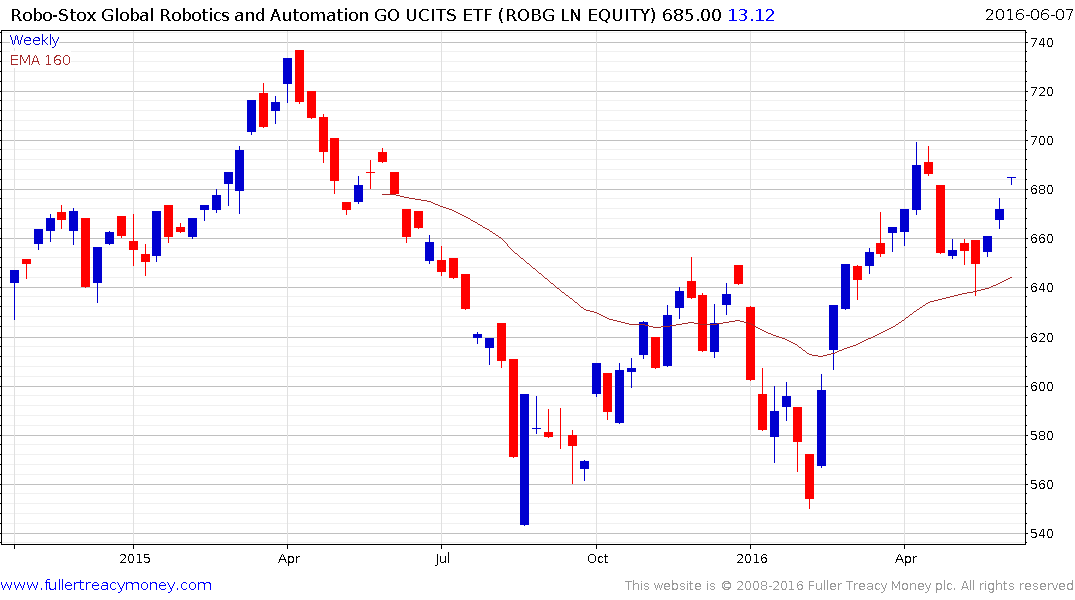 The Robo Global Robotics and Automation ETF found support near $20 in January and continues to hold a progression of higher reaction lows. A sustained move below $24 would be required to question potential for continued higher to lateral ranging.
Back to top