South African Assets Rise as Ramaphosa Wins ANC Leadership Vote
This article by Paul Wallace for Bloomberg may be of interest to subscribers. Here is a section:
Improve the education system|
The plan would get the government to work with teacher unions to improve the quality of schooling, especially in townships and rural areas. Teachers will be given additional training and support. It may be made compulsory for students to study mathematics and science until they complete school. The state would also take steps to provide free tertiary education to the poor.

Improve the management of state companies|
​State companies must be properly governed, managed and operated for the benefit of the public, and suitable boards and executives with the appropriate skills and experience should be appointed immediately. The firms should consider co-investing with private companies or forming strategic partnerships with them to improve their balance sheets and ability to deliver services. The government will consider forming a company to manage all its investments in state-owned enterprises.

Clamp down on graft
A judicial commission of inquiry will be established to investigate allegations that public institutions have been looted and that private companies and individuals have gained undue influence over the state. Law-enforcement agencies will be strengthened and critical state institutions will be rebuilt.

Officials who have facilitated or been involved in graft will be immediately be removed from their posts and face prosecution. Stolen funds will be recovered and deposited in a special fund that will be used for youth training and employment.
The fact the ANC has voted against allowing Zuma's ex-wife to lead the party after 2019 is a positive and Ramaphosa will have more than a year to figure out how he can curb corruption before the market will have a chance to judge whether his efforts are successful. Nevertheless, his victory has been greeted enthusiastically by markets.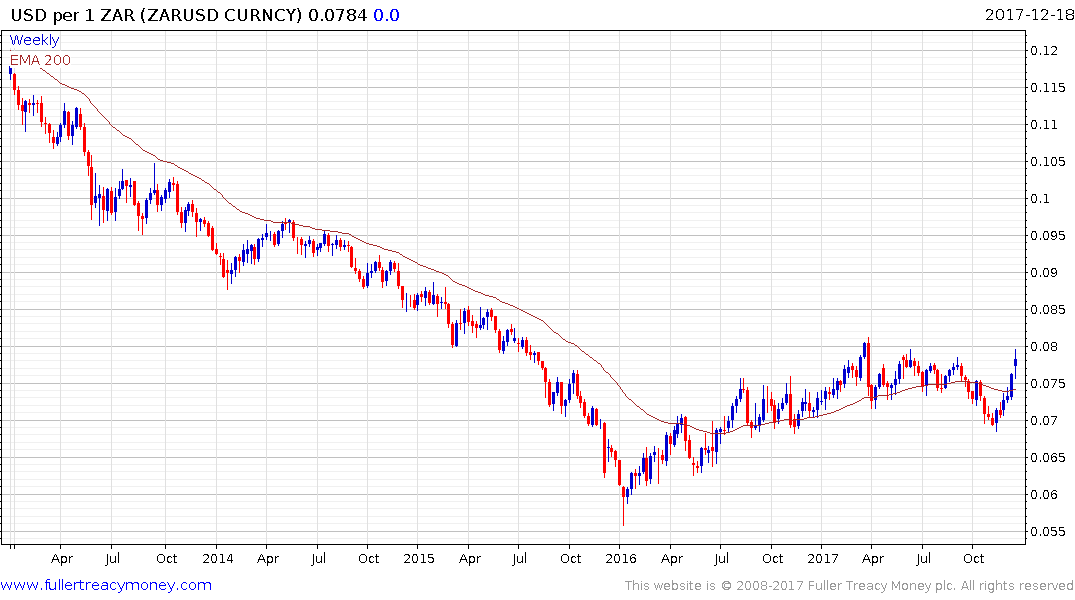 The Rand rallied impressively over the last four weeks to break the short-term downward bias but is now testing its highs for the year and exhibits a short-term overbought condition. It will need to sustain a move above 8¢ to confirm a return to demand dominance beyond short-term steadying.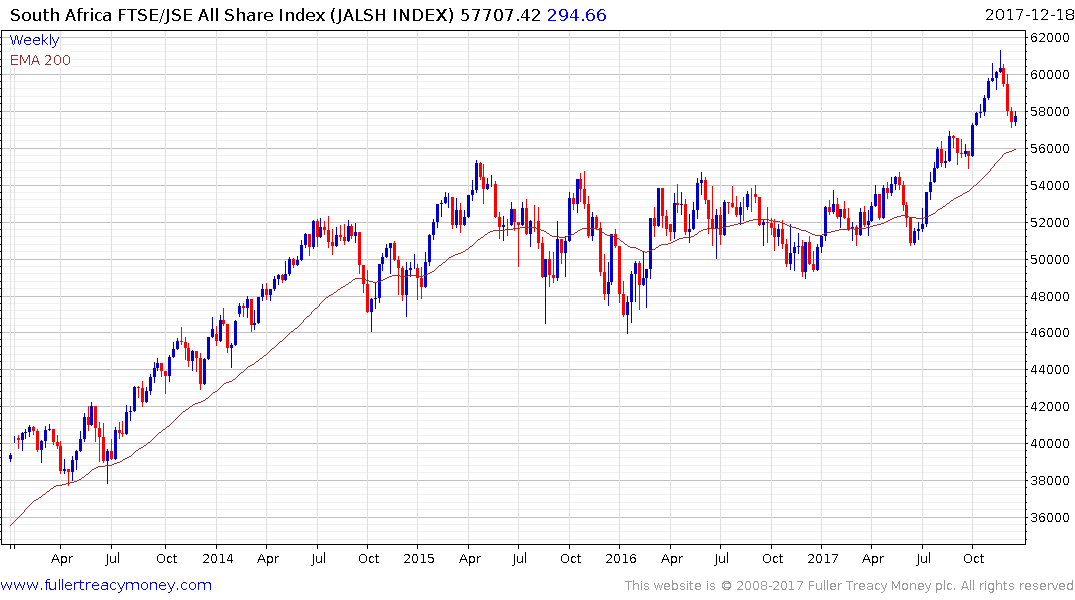 The Johannesburg All-Share Index has almost unwound its overextension relative to the trend mean and a sustained move below it would be required to question medium-term scope for additional upside.
From a broader perspective, Ramaphosa is part of a wider trend where very wealthy people are taking positions at the helm of their respective countries. The USA is the prime example but Orban in Hungary, Berlusconi in Italy and Pinera in Chile are additional examples of a growing trend.
This is very similar to what Plato describes in the Republic in his explanation of the stages of political development where the crowd seeks someone from the elite that purports to be able to deliver better living standards but ultimately fails because they end up serving their own interests ahead of the people. Therefore, monitoring how extraordinarily wealthy people behave once they achieve power is a worthwhile endeavor since their actions often benefit the holders of assets, i.e. shareholders.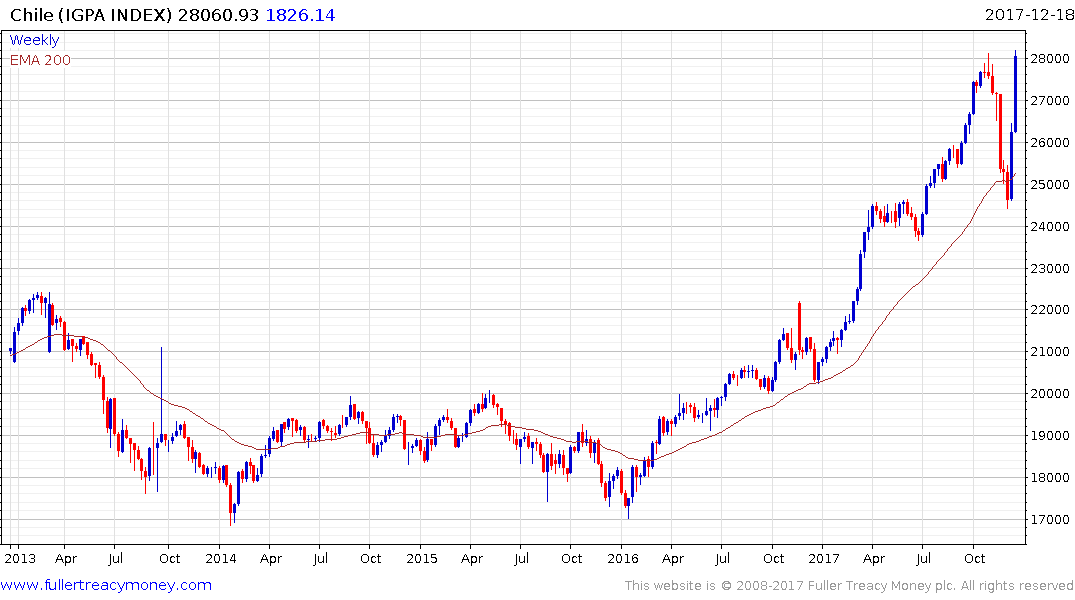 The Chilean Index surged over the last few days to confirm support in the region of the trend mean and a sustained move below 25,000 would be required to question medium-term scope for additional upside.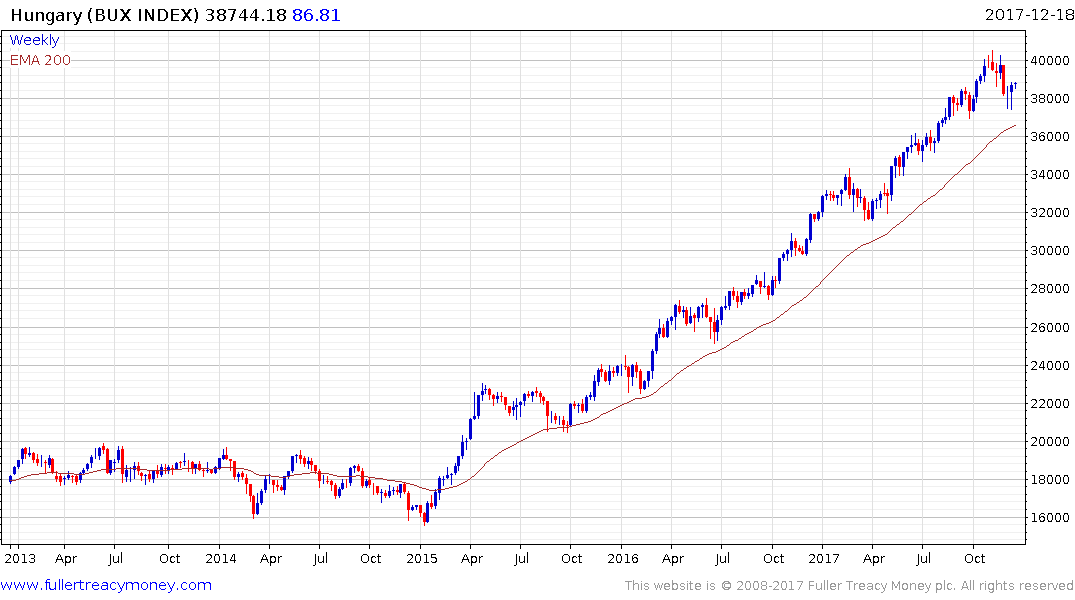 Hungary's Index has been trending higher in a consistent manner since early 2015 and bounced last week from the region of the trend mean.
Meanwhile India's Narendra Modi is its first prime minister to come from the lower castes but his probusiness agenda was reinforced with a hotly contested victory in his home state of Gujarat over the weekend.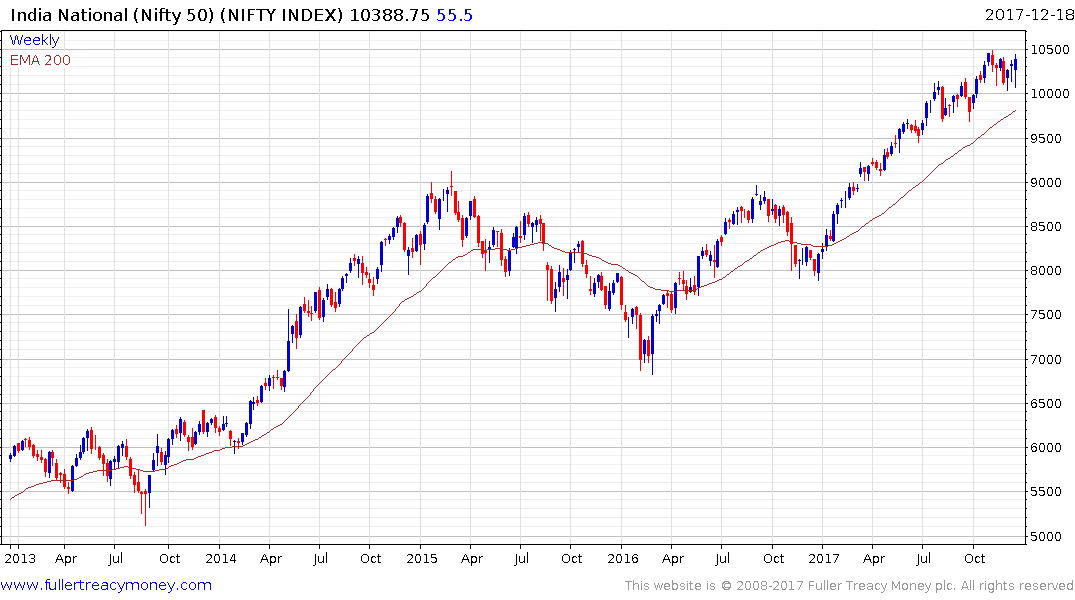 The Nifty Index reversed an earlier decline today to confirm near-term support in the region of 10,000 and a sustained move below that level would be required to question medium-term scope for additional upside.
Back to top