Shorts Beware, Your Archenemy in the Stock Market Is Revving Up
This article by Lu Wang and Vildana Hajric for Bloomberg may be of interest to subscribers. Here is a section:
The dips may have, in fact, provided good buying opportunities for companies to step in and buy at lower prices, said Jim Paulsen, chief investment strategist at Leuthold Group.

"There's something to be said about insiders showing confidence that their stock is probably going to go up. They think it's relatively cheap or a good opportunity to buy it back," said Paulsen. "It's typically a good sign that has led to higher stock prices."

Buybacks have climbed in recent years even as they've come under pressure from politicians who are focusing on corporate governance as an election issue. While far from being a consensus view, repurchases have been a bull case that strategists like David Kostin at Goldman Sachs have cited for the 10-year rally to keep going.

Corporate appetite has dwarfed that from all other investors as the biggest source of demand for U.S. stocks. Net purchases from corporations totaled $1.6 trillion during the past three years while investors from pensions to mutual funds to individuals were sellers, according to data from Goldman Sachs.

While it's only one bank's client flows, BofA's data demonstrated a similar pattern. Over the last three weeks when stocks slipped, companies stepped up buying while hedge funds and individual investors retreated. During the stretch, buybacks totaled more than $7 billion. By contrast, selling from the other two categories reached almost $1 billion.
Regardless of how one feels about the merits of share buybacks they have been the primary transition mechanism for monetary and fiscal easing to enter the stock market. If that conclusion is correct then only a significant downtrend in corporate earnings or a need to defend the company's credit rating is likely to change the spending priorities of big corporations.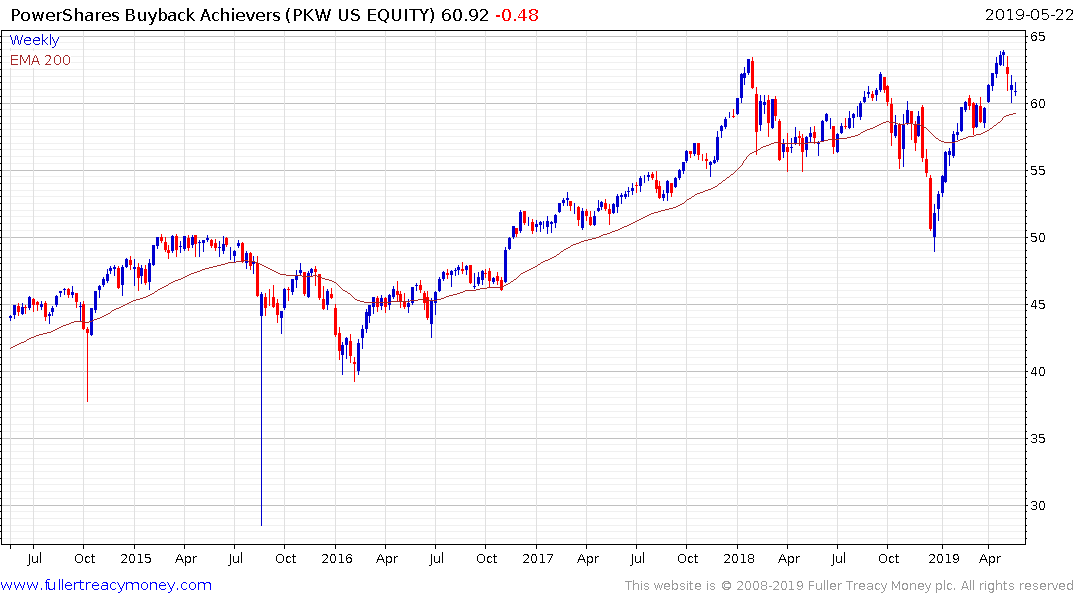 The Powershares Buyback Achievers ETF is comprised of companies buying back 5% of their shares over the last 12 months on a rolling basis. Interestingly it posted a lower high in September but roared back in the recent rally to break successfully above $60. If it can successfully consolidate above the trend mean that would enhance scope for a reassertion of the medium-term uptrend.
Back to top