Salesforce Jumps on Rosy Revenue Forecast After Acquisitions
This article by Nico Grant for Bloomberg may be of interest to subscribers. Here is a section:
Chief Executive Officer Marc Benioff has expanded Salesforce's ambitions beyond software for managing customer relationships, the business that made it an early leader in corporate cloud computing. The company bought MuleSoft Inc. for $6.5 billion -- its largest-ever purchase -- in May to chip away at Oracle Corp. in integration software that connects various systems. That deal, following forays into marketing and e- commerce products, is aimed at turning Salesforce into the top source of internet-based software for companies looking to replace all kinds of traditional programs once hosted in on-site servers.

The acquisitions have bolstered revenue, which Salesforce said climbed 25 percent to $3.01 billion in the fiscal first quarter. The company has promoted its expanding product portfolio to a bevy of new large and foreign clients in a bid to rival Oracle and Microsoft Corp. The result is Salesforce will reach its $20 billion sales goal "faster than imagined," Benioff said on a conference call. The company has also spent rapidly on its international expansion, pledging to invest $2.2 billion in its French business and $2 billion in its Canadian operations over the next five years.

"We signed several deals, including the largest transaction in the history of the company, and the biggest public-sector deal," Chief Operating Officer Keith Block said in an interview.

"The revenue for the quarter was over $3 billion. That's twice the rate of the market. We're obviously gaining share." The public-sector customer is the U.S. Department of Agriculture, which uses the company's Service Cloud to communicate with constituents, Block said on the call.
I included Salesforce in the original cast of Autonomies because it had the potential to develop as a leader in the cloud computing sector. It was a leap of faith at the time because it did not meet the clear characteristics of an established global leader within its sector. Nevertheless, it was obvious in 2013 when I was writing Crowd Money that cloud computing was going to be a big sector and it was necessary to have some representation.

Cloud computing is essentially about outsourcing computing to the network rather than hosting computing domestically. It brings economies of scale to the computing and hosting environments which has allowed companies like Amazon benefit from providing web services and Salesforce to provide software as a service.
The additional adoption of the subscription business model has transformed the modelability of cash flows from a highly cyclical trajectory to a smooth progression which helps to explain the comfort investors have in supporting a somewhat higher valuation for these kinds of companies.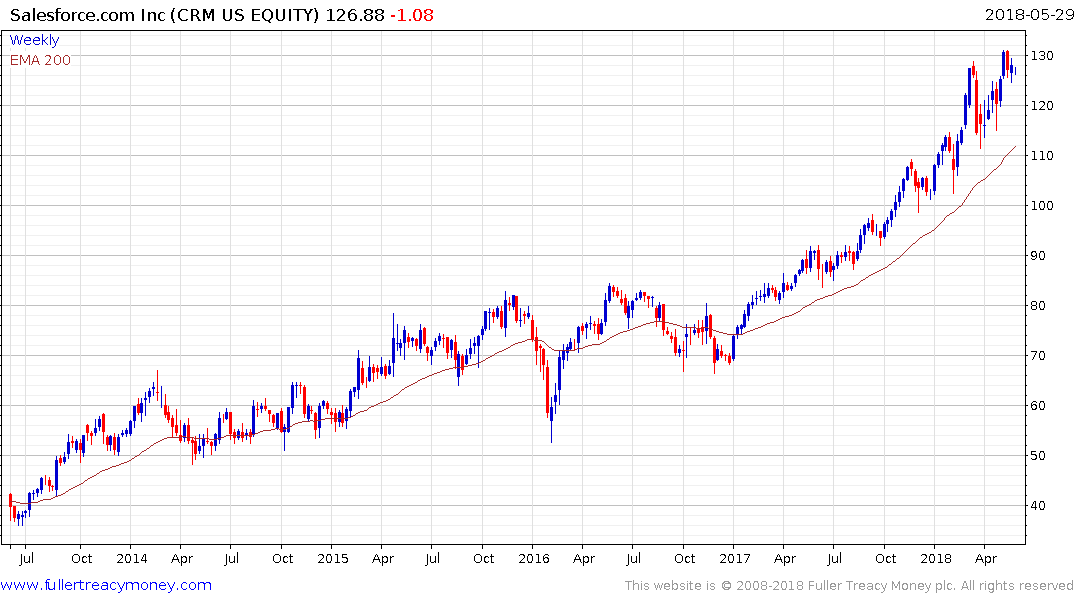 Salesforce is currently somewhat overextended relative to the trend mean but a sustained move below it would be required to question medium-term scope for additional upside.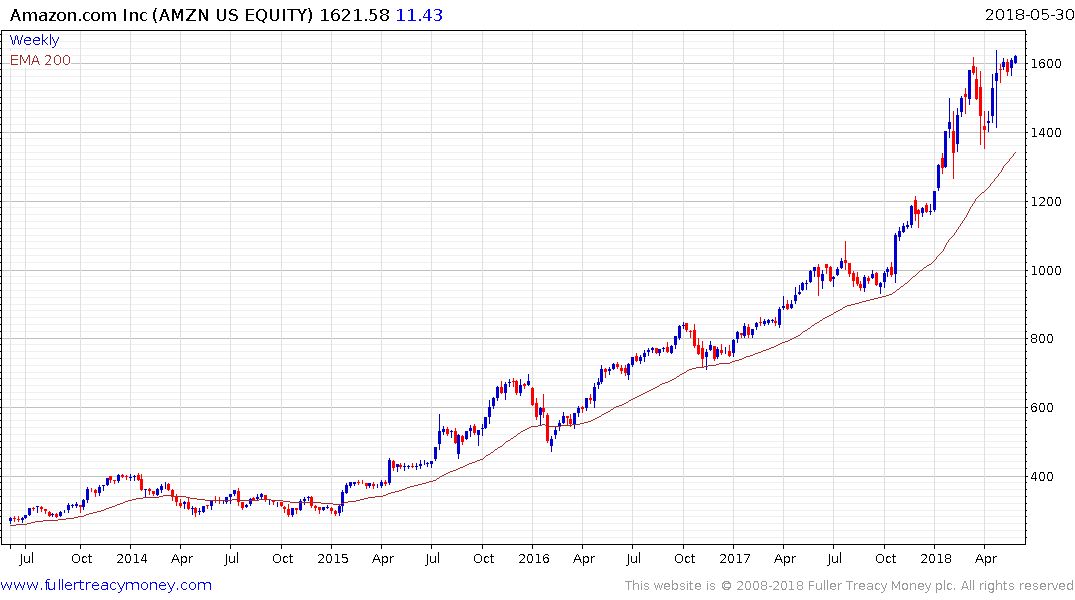 Amazon has been trading in a very tight range since late August and in the region of its all-time highs. This is a not a normal condition for a share characterized by its volatile and the break when it comes, either up or down, is likely to be both dynamic and surprising considering how inert the price has been.
Here is a link to the subscription business model section of the Chart Library.
Back to top