Russia Pulls the Plug on Ukraine Grain Export Agreement
This article from Bloomberg may be of interest. Here is a section:
Moscow had repeatedly threatened to leave the pact, citing obstacles to its own exports. It last agreed to a two-month extension in May, which ends Monday. The corridor's shutdown will hit key buyers like China, Spain and Egypt.

"Unfortunately, the part concerning Russia in this Black Sea agreement has not been fulfilled so far," Kremlin spokesman Dmitry Peskov said, according to Russian news agency Tass. "Therefore, it is terminated."

The move jeopardizes a key trade route from Ukraine, one of the world's top grain and vegetable oil shippers, just as its next harvest kicks off. It also comes after Russia on Monday said Ukrainian drones damaged a key bridge to Crimea.

The pact — brokered by the United Nations and Turkey — has ensured the safe passage of almost 33 million tons of crop exports via the Black Sea since it was signed in July 2022, helping world food-commodity prices ease from the record levels reached after Russia's invasion of Ukraine. However, it has been bogged down by red tape and slow vessel inspections in recent months.
Russia's munificence in allowing Ukrainian wheat exports only extends as far as its own self interests. With the trend of war not going according to plans, the argument for providing Ukraine with any form of assistance is less and less convincing. There has been a lot of handwringing within NATO at the reluctance of countries to fall into line in sanctioning Russia. That ignores the reliance many countries have on the base commodities it exports.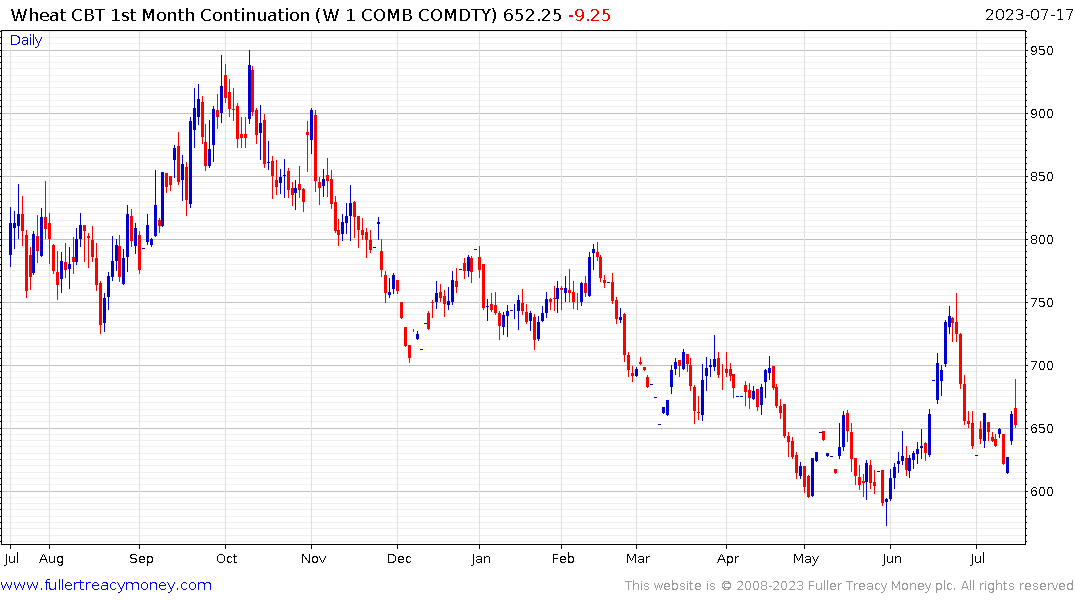 Wheat bounced in June from the upper side of the base formation. The price extended its rally in early trading but that faded throughout the day as traders looked at the contango and did not panic at the prospect of reduced supply in the short term.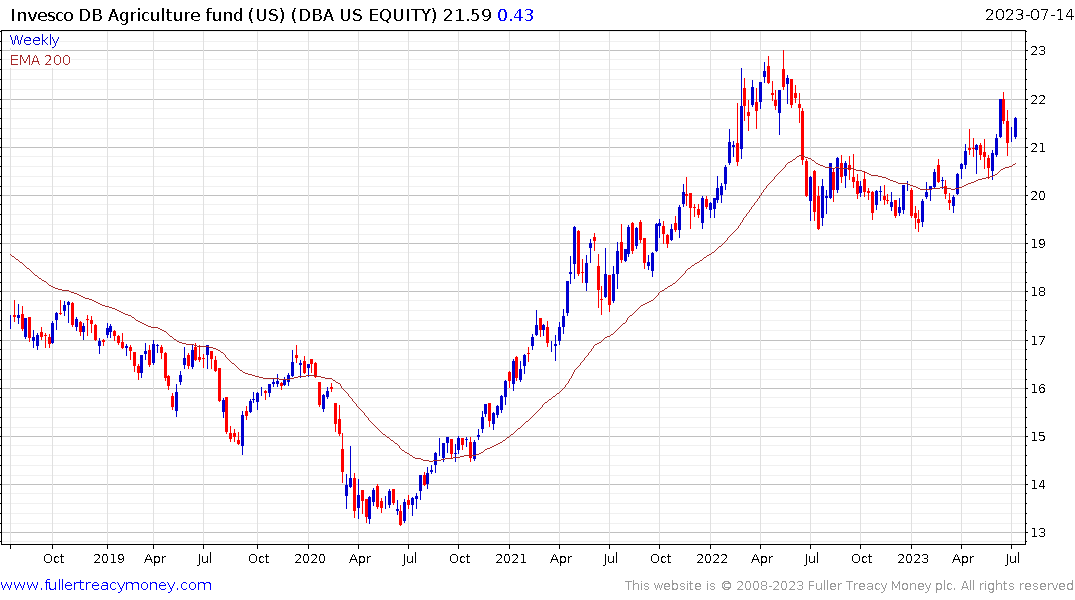 The Invesco DB Agriculture Fund continues to firm within its range as it bounces from the 200-day MA.
Back to top