Reminiscences
Thanks to a subscriber for this note from Birinyi Associates which may be of interest. Here is a section:
In truth, the positive arguments are not especially helpful either. One major investment banking firm wrote: "the bull market is still healthy but the risks for a crash are increasing." And "the bull market has ten more years to run" which is not an argument we would like to defend.

In summary, sentiment is negative and even the bullish arguments are muted. While several firms have slightly upgraded their year-end targets, perhaps the bulls with a capital B might be ourselves, David Tepper ('nowhere near an overheated market') and Morgan Stanley ('Bull market check list remains intact').

To us the abundance of bears and the lack of strong, positive arguments for a rally is a positive. We agree that the rally is lengthy and perhaps even boring of late, but it is still a bull market. For those who argue that it exceeds the average of the last ten rallies we might again mention that last year when we spoke at the Columbia B School we asked one of the professors: if averaging three numbers does not make sense, then how many data points does one need to make a meaningful average?

He said the conventional response is 30. Thus, it is not statistically sound to average ten rallies or declines despite one's understandable inclination to do so.
Here is a link to the full report.

"A bull market climbs a wall of worry" is about the oldest of all stock market adages and plenty of people are still worried, if the news flow surrounding the uptick in the volatility in early August is any guide.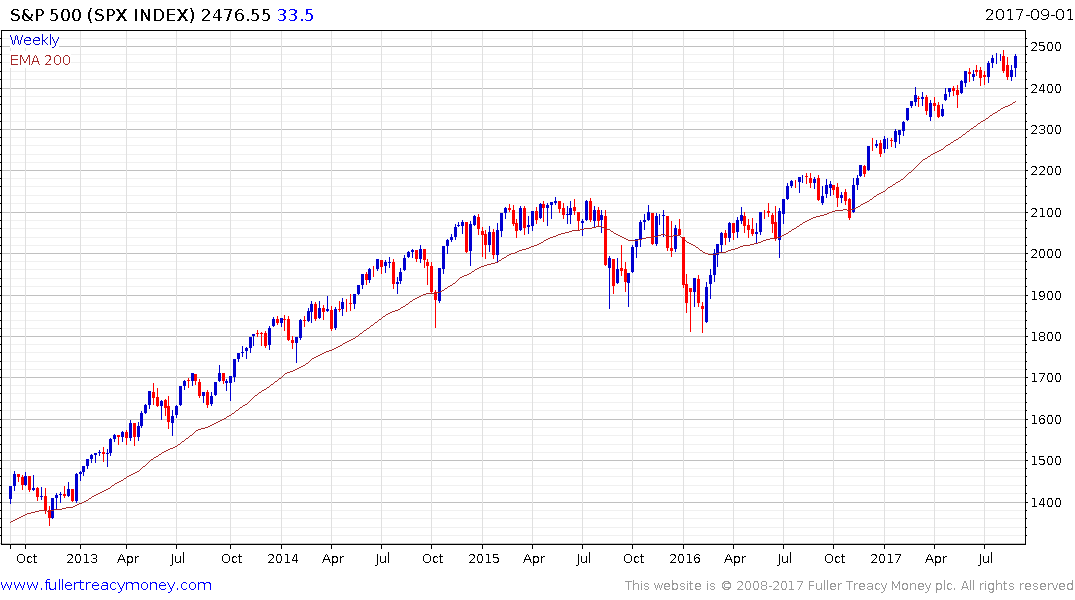 When we address the consistency of the chart patterns for the major indices it is hard to identify top formation characteristics and they generally remain in consistent medium-term uptrends. As long as progressions of higher reaction lows are sustained and support continues to be found in the region of the trend mean we do not have a clear rationale for questioning the upward bias.
Back to top