Philippines to shut half of mines, mostly nickel, in environmental clampdown
This article from Reuters appeared in Singapore's The Edge newsletter and may be of interest to subscribers. Here is a section:
The Philippines ordered the closure on Thursday of 21 mines, mainly nickel producers that account for about half of output in the world's top nickel ore supplier, in a government campaign to fight environmental degradation by the industry.

Manila also suspended operations at another six mines, including the country's top gold mine operated by Australia's Oceanagold Corp, as Environment and Natural Resources Secretary Regina Lopez vowed to put the public's welfare above mining revenues.

"My issue here is not about mining, my issue here is social justice," Lopez, a staunch environmentalist, said at a briefing that showed footage of damage from mining to an audience including priests and residents of mining communities.
To the best of my knowledge, Nickel was the worst performing LME traded industrial metals over the last couple of years. Indonesia's decision to relax export restrictions was a major influence on that outcome but the result has been that many mining operations are not economic at today's prices.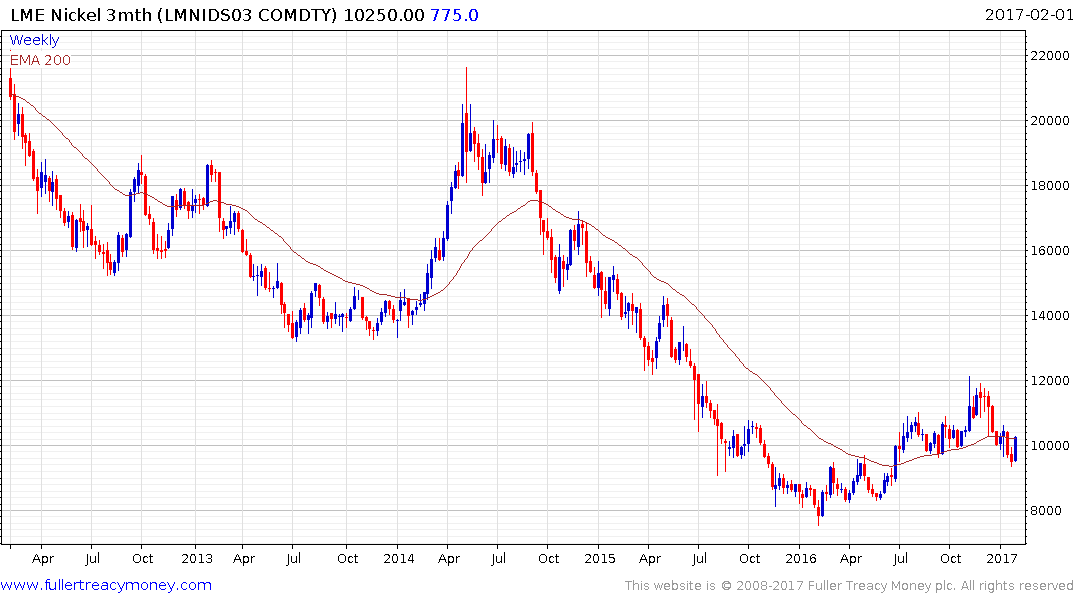 The Filipino decision to close loss making nickel mining operations is a symptom of the low price environment. A true test of their environmental credentials would be if they resist calls to re-open them when prices are higher. Nickel prices have been ranging around $10000 for a year but steadied from that level again this week on expectations supply is being inhibited while demand has been reasonably steady.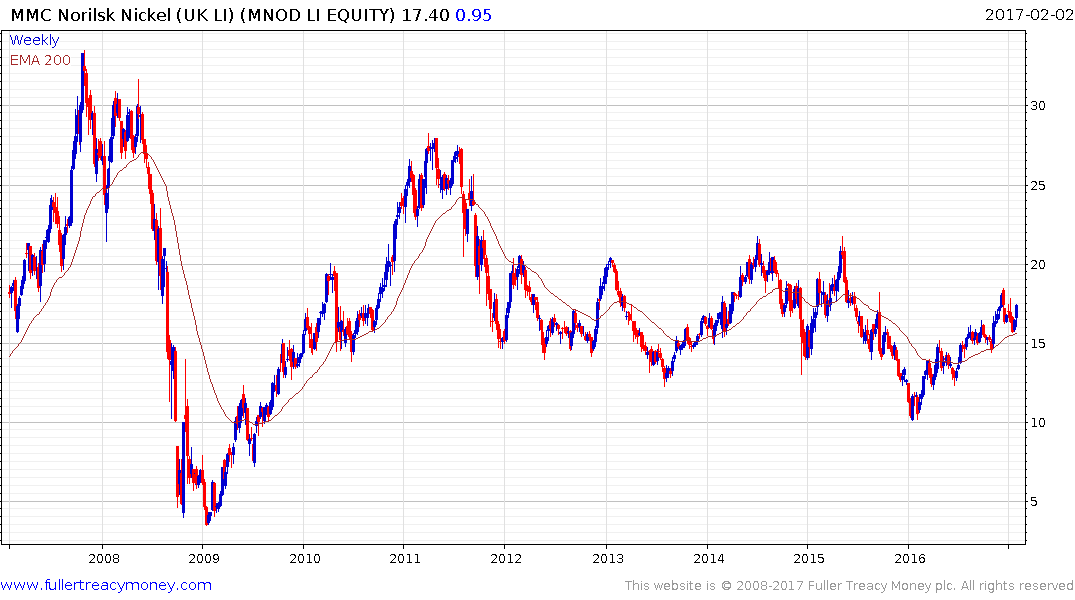 Nickel is Norilsk Nickel's (Est P/E 12.45, DY 8.59%) primary resource at about 40% of revenue. The share has held a progression of higher reaction lows since early 2016 and bounced from the region of the trend mean again last week. A sustained move below $15.50 would be required to question medium-term scope for continued upside.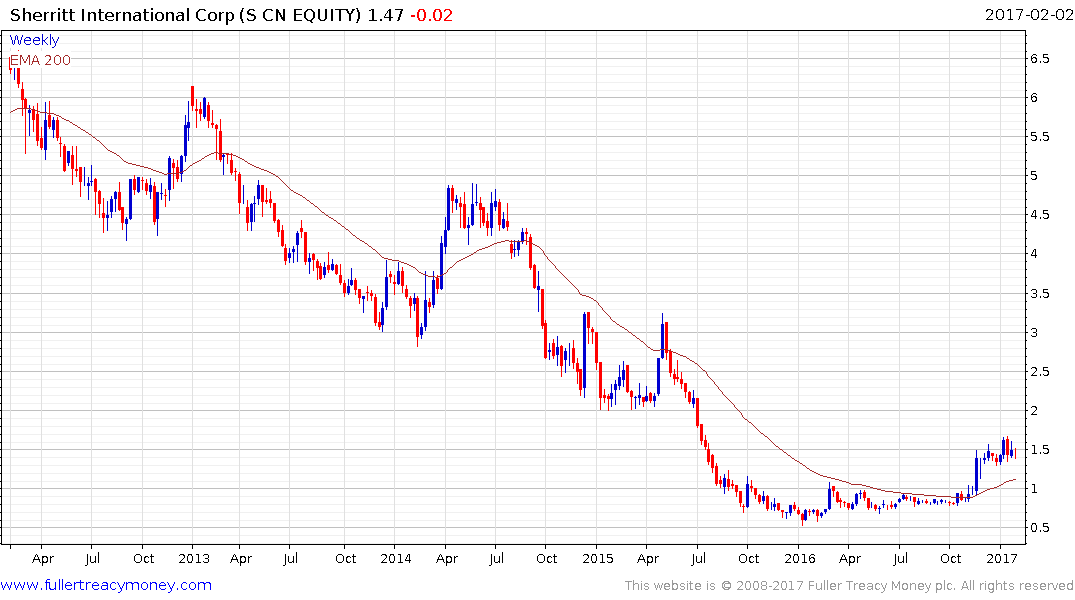 Canadian based Sherritt (P/E N/A, DY N/A) broke out of an 18-month base in November and is now forming a first step above it. A sustained move below $1.30 would be required to question medium-term recovery potential.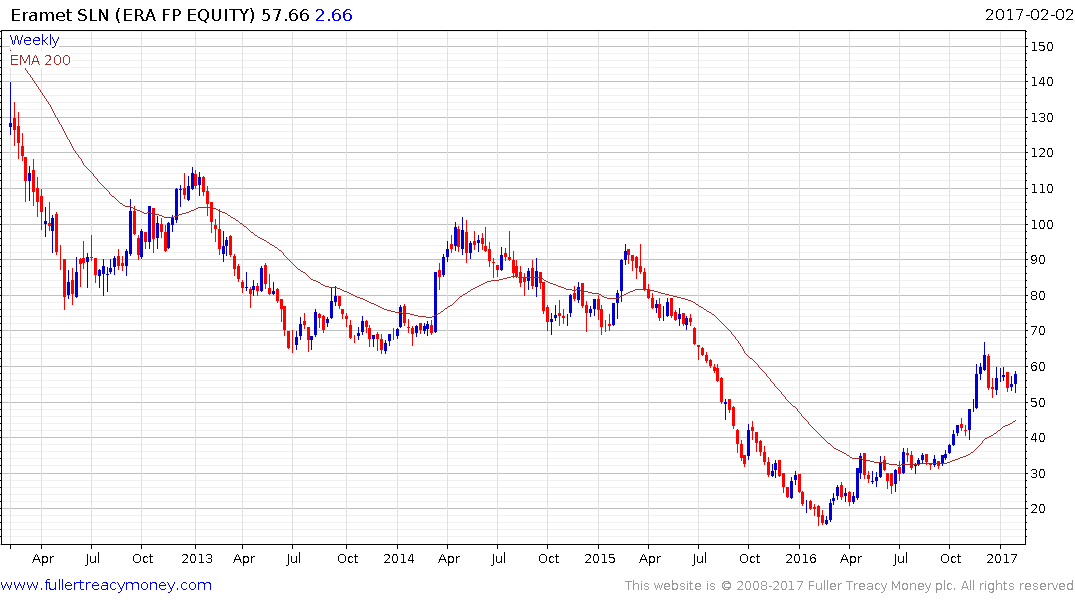 Eramet (Est P/E N/A, DY N/A) trended higher for most of last year but spent two months ranging following the December near-term peak. A sustained move below €50 would be required to question potential for additional upside.
This article from Mining.com (Nickel price picked as 2017 winner) may also be of interest.
Back to top