Pareto Securities on Pretium Resources
Thanks to a subscriber for this report which may be of interest to subscribers. Here is a section
We expect Brucejack to have sizeable production and free cash flow
Based on Pretium Resources' June 2014 feasibility study and starting from 2018, we believe the Brucejack deposit has the ability to produce average annual life-of-mine (LOM) gold production of 404.1koz at an all-in sustaining cost (AISC) of CAD 500/oz for 18 years, post an initial capital cost of CAD 811.9m.

We initiate with a BUY rating and a target price of CAD 10.88/share.
Our target price is based on a sum-of-the-parts valuation composed of the following: 1.0x NPV9% of our LOM assumptions for the Brucejack project, balance sheet items, the after-tax PV9% of general and administration and exploration costs, PV7% of the after-tax interest costs, financing assumptions and in-the-money (ITM) instruments.
Here is a link to the full report.

The post credit crisis environment has been difficult for explorers as energy prices surged, access to credit was restricted and gold prices fell from their 2011 peak. More recently the outlook has improved not least because energy prices no longer represent so much of a headwind and gold prices have stabilised. The rationalisation that has purged the sector of wildcat investors has resulted in leaner, more disciplined and cheaper operations. This is reflected in the valuation of the Gold BUGS Index relative to the bullion price.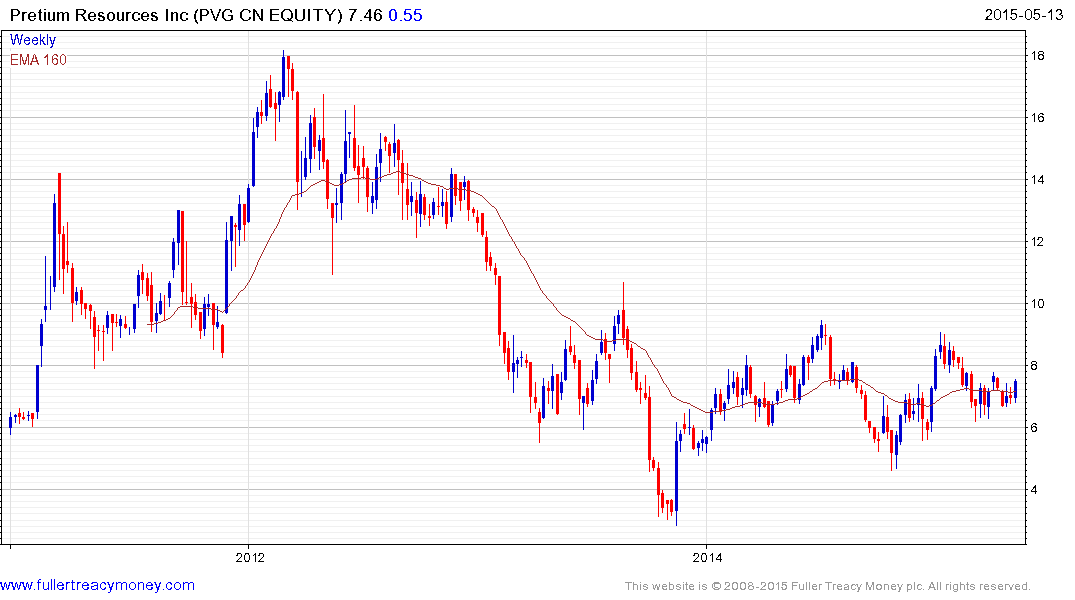 Pretium Resources will not be a producer for another two years so one would need to have a reasonably sanguine view on future gold prices in order to be an investor before then. Nevertheless, the anticipated all-in price of only C$500 an ounce is attractive in even the most bearish scenario. The share is currently firming within a two-year base and has held a progression of higher reaction lows since November. A sustained move below C$6 would be required to question potential for additional higher to lateral ranging.

Among more established producers.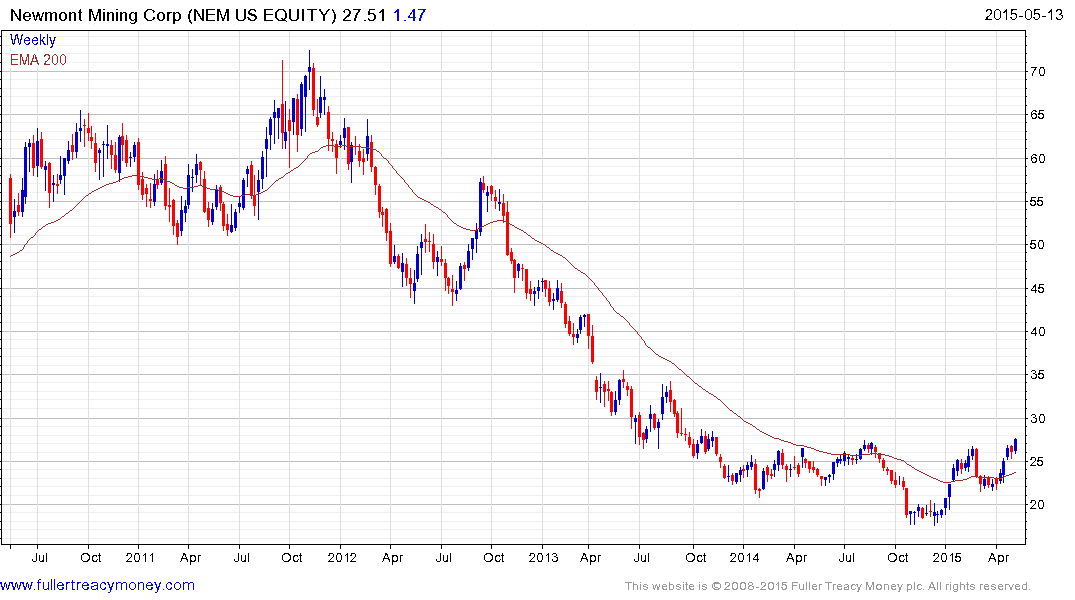 ewmont Mining appears to be in the process of breaking out of an 18-month base.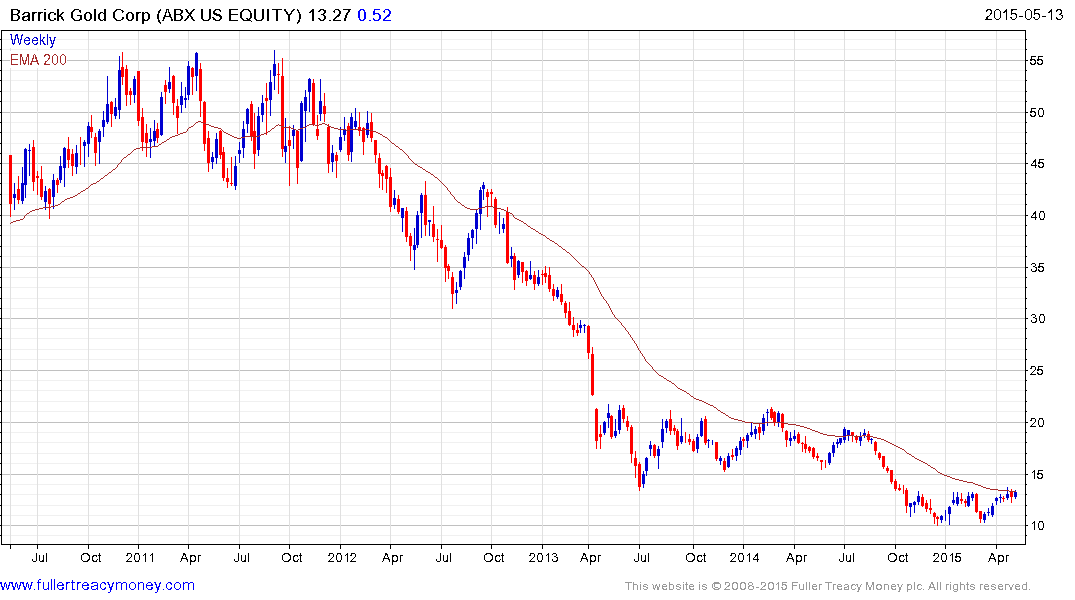 Barrick Gold has a similar pattern.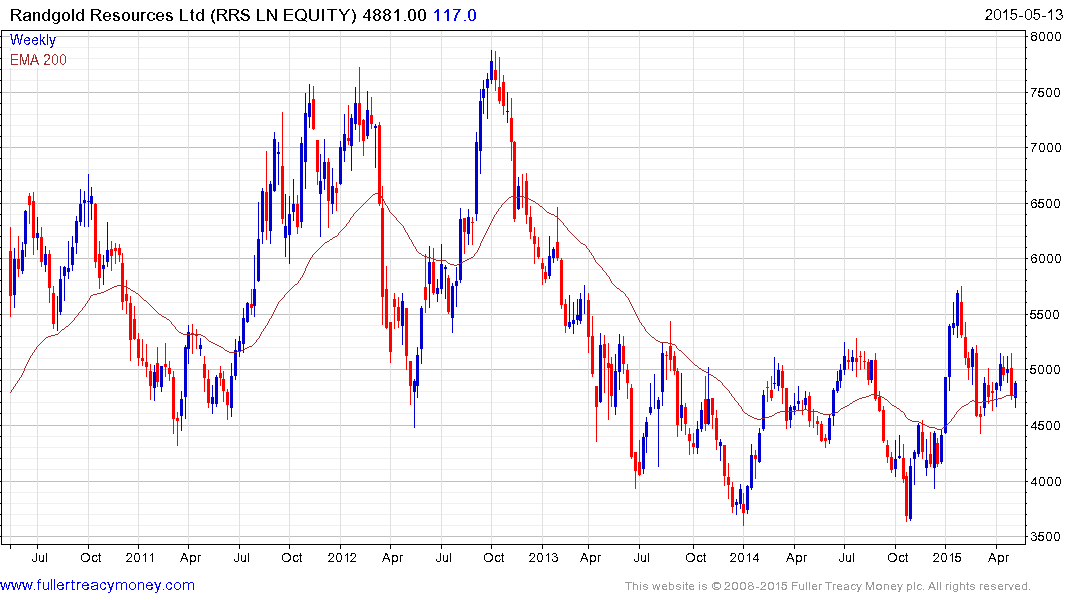 London listed Randgold Resources pulled back into the 18-month base in January but has firmed at the upper side and a sustained move below the March low near 4500p would be required to question potential for additional upside.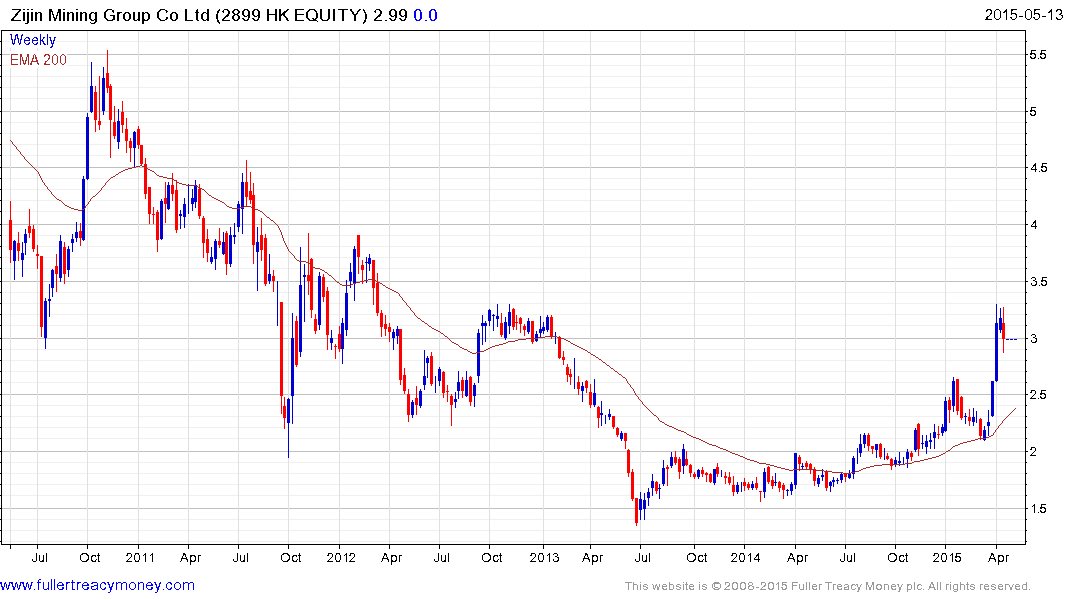 Zijin Mining suspended trading 3 weeks ago ahead of an announcement and applied today to prolong the suspension until June 1st. While the company yields 3.34% it is open to question whether the dividend will be sustained after whatever the announcement is.
Back to top