Over 700 Barges Stuck in Mississippi River From Bridge Crack
This article for Bloomberg may be of interest to subscribers. Here is a section:
"The river is the jugular for the export market in the Midwest for both corn and beans," said Colin Hulse, a senior risk management consultant at StoneX in Kansas City. "The length of the blockage is important. If they cannot quickly get movement, then it is a big deal. If it slows or restricts movement for a longer period it can be a big deal as well."

The New Orleans Port Region moved 47% of waterborne agricultural exports in 2017, according to the U.S. Department of Agriculture. The majority of these exports were bulk grains and bulk grain products, such as corn, soybeans, animal feed and rice. The region also supports a significant amount of edible oil exports, such as soybean and corn oils and even attracted 13% of U.S. waterborne frozen poultry exports in 2017.
Cracks in pieces of critical regional infrastructure are not encouraging. It's another example of how much need for infrastructure replacement there is. The massive infrastructure development in the post World War 2 era boosted economic growth for decades but many countries grew complacent to the need for constant renewal and maintenance. Large numbers of roads, railways, dams, power plants and pipelines are reaching the end of their anticipated lives.
That is leading to sporadic emergencies that need to be addressed with urgency. Eventually an accident is going to occur that will not submit to an easy fix. The collapse of tailings ponds for Vale in Brazil and the years-long hit to production that has caused is a good example. These issues are eventually going to require a bigger fix, but in the meantime volatility in supply chains is likely to remain a factor.
That's as true of hard infrastructure as it is of their respective computer controls. The Colonial pipeline is back up and running today because they paid the $5 million ransom. The ease with which hackers could gain access should give anyone pause and the success of this operation will only further embolden criminals.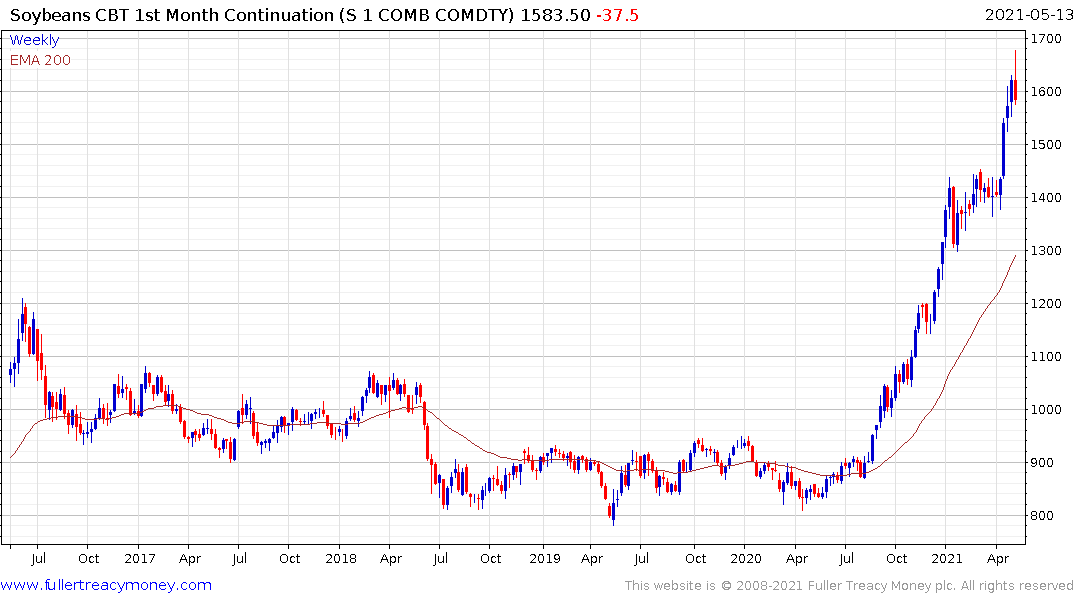 It seems like yesterday was a good day to point out that accelerations don't go on forever. Soybeans pulled back rather sharply today to suggest a peak of at least near-term significance in the region of the all-time peaks. The inability to export, however briefly, boosts domestic supply which should remove part of the support for the backwardation in the futures market. At least some consolidation of recent power gains is likely.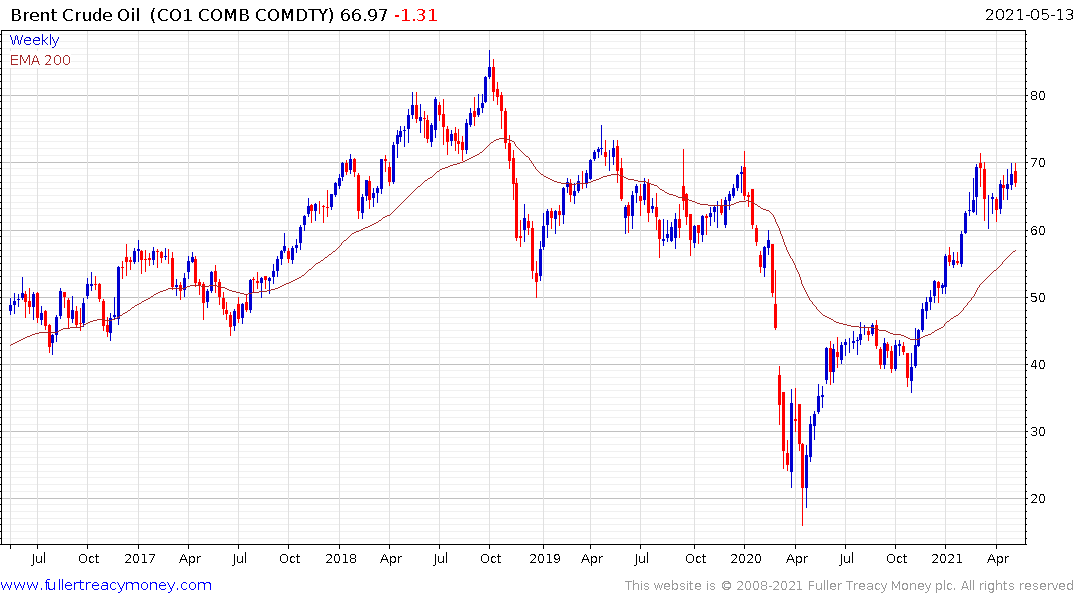 Crude oil was not unduly affected by the Colonial pipeline shut down but it pulled back sharply on the news the pipeline reopened. That confirms near-term resistance at the upper side of the six-week range.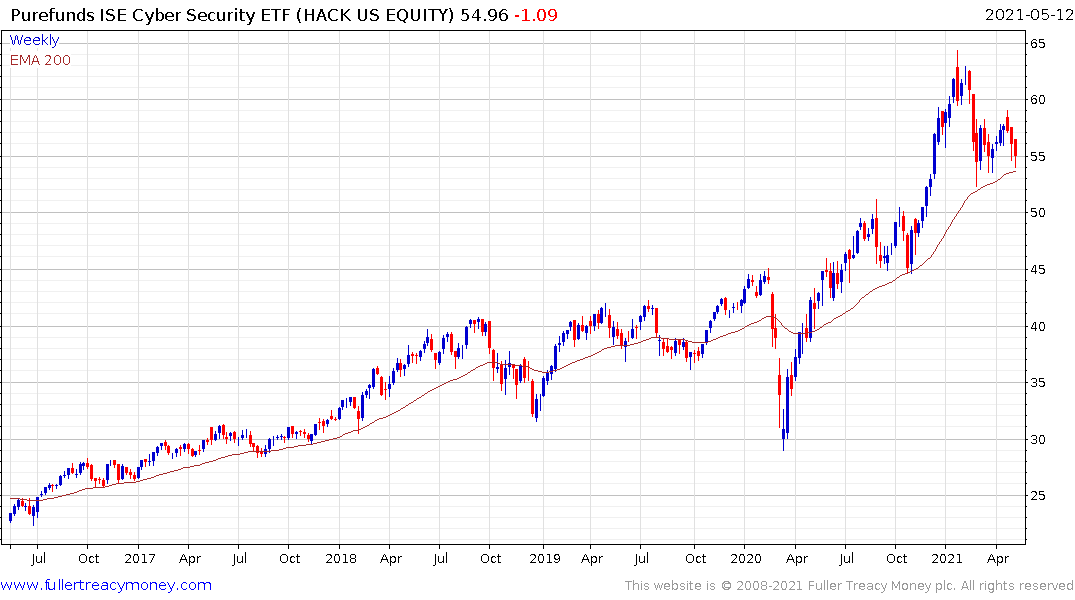 The Cyber Security ETF has been consolidating in the region of the trend mean and steadied today.
Back to top