One Sign That the Retail Industry Isn't Dead Yet
This article by Leslie Patton for Bloomberg may be of interest to subscribers. Here is a section:
There's plenty of talk about the retail industry dying, with malls closing and the slump stressing iconic chains like Sears Holdings Corp. and J. Crew, but healthier big-box giants such as Wal-Mart Stores Inc. and Costco Wholesale Corp. are still chronically in need of employees, at least for now. The number of U.S. retail jobs was about the same last year compared with 2015, according to the Bureau of Labor Statistics. What's really bedeviling retailers is annual turnover -- at 65 percent, it's the highest since before the Great Recession -- making it necessary to keep hiring. The chains are so hungry for good help they're poaching workers from fast-food restaurants.

"Those jobs tend to be more transitional, they tend to be more fluid, and as a result there tends to be higher turnover," said Michael Harms of Dallas-based researcher TDn2K. "Even though you hear headlines like retail is dying and the robots are coming, there's still a lot of things that need human touch points. It's a dogfight over good employees."
What interested me most about this story was not so much the fact big box stores need more workers as their share of the retail market increases, but the effect this is having on restaurant wages.
From talking with McDonalds and Burger King franchise owners the biggest cost by far is staffing the restaurants. The incentive to dispense with human cooks altogether is only going to be more compelling as labour costs rise and particularly as minimum wages rise primarily on the coasts.
This video highlighting Flippy the burger flipping robot is a clear example of the trend in fast food which should be positive for margins.


Yum Brands tested its high today on strong Taco Bell earnings and a clear downward dynamic would be required to check potential for additional upside.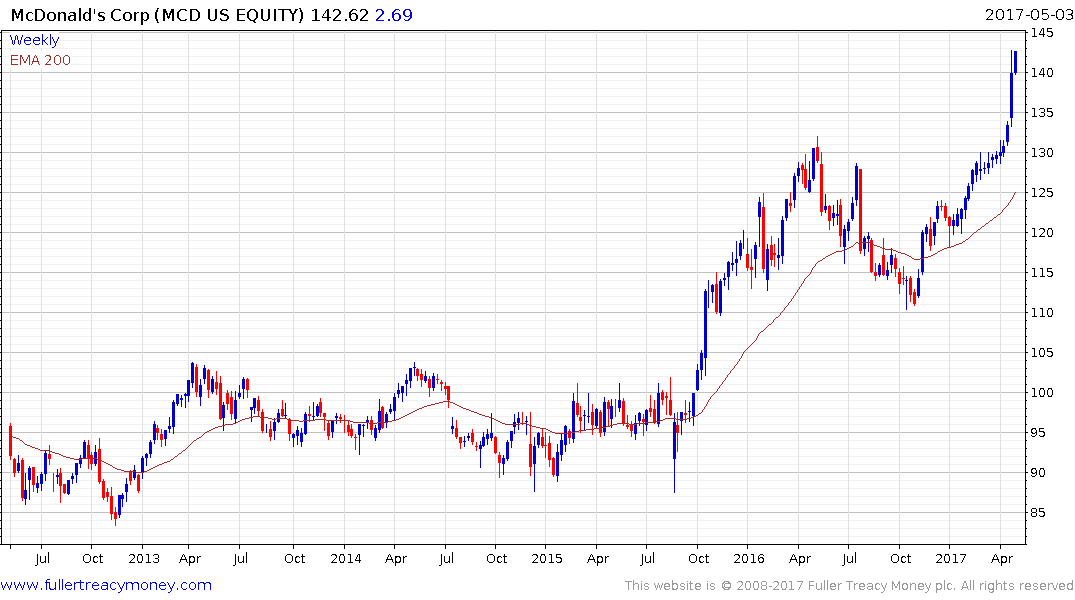 McDonalds has been leading and broke out three weeks ago.
Back to top