Offshore Staff for Australia's Woodside LNG Plant Vote to Strike
This note from Bloomberg may be of interest. Here is a section:
Workers at offshore facilities serving Woodside's North West Shelf LNG project are seeking a strike, according to results of the voting published Wednesday by Australia's Fair Work Commission.

The Australian Workers' Union voted for protected action options, according to the document

NOTE: That follows a vote to strike by workers at two of Chevron's LNG facilities in Australia earlier this week; no clarity on timing of a possible action yet
A Woodside spokesperson said Wednesday the "positive progress" is being made in negotiations and that "parties have reached an in-principle agreement on a number of issues"
Australia is one of the largest exporters of LNG so any threat to supply sends a shiver through the global market. The reaction in European markets this morning was swift. The price of natural gas in the Netherlands jumped by 40%. On the chart it looks like a blip relative to the size of the move posted in the aftermath of Russia's invasion of Ukraine.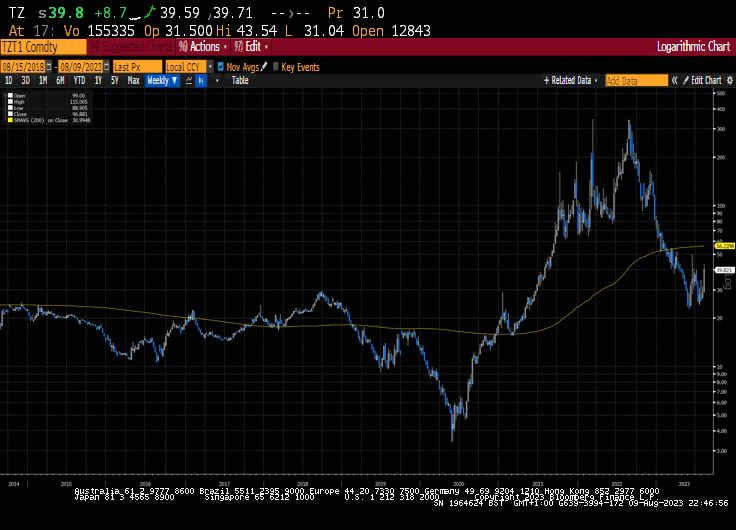 The reaction helps to highlight how nervous traders are in the wake of Russia's supply being excised from the market. Industrial action lasting more than a couple of weeks is unlikely in Australia and European peak heating demand is several months away. That suggests we are unlikely to see a surge akin that posted a year ago.
Nevertheless, it does confirm that a higher floor for natural gas prices has been put in which is where peak levels were only two years ago. US contracts are quoted by volume, British by specific energy and Dutch by megawatt hours. The Dutch pricing mechanism helps to highlight the step change in energy costs for Europe. The trajectory of the war in Ukraine and the permanence of Putin's regime will be deciding factors in whether prices return to prewar levels.
The immediate reaction of European countries to the supply shortage last year was to lease and build LNG regasification capacity. The medium-term solution will be to try and come up with a cheaper more robust solution. Nuclear remains the most reliable source of base load power but Russia is dominant in exporting the processed fuel.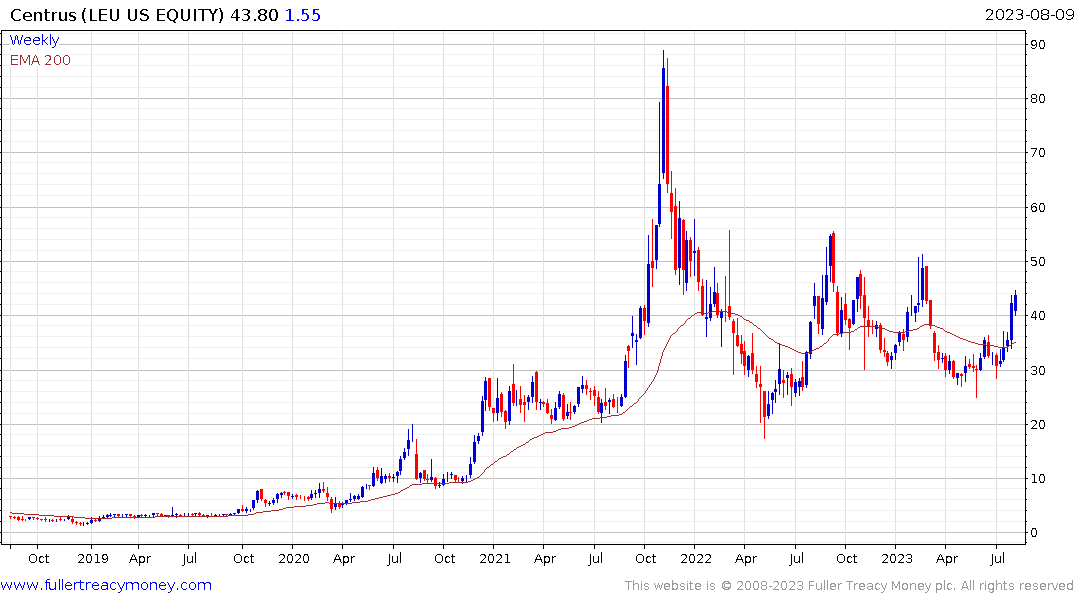 Centrus is building production capacity for high-assay low-enriched uranium (HALEU) fuel which will be used in generation IV reactors. The share popped on the upside late last month on signing a deal with TerraPower to supply its molten salt demonstration reactor in Wyoming. Centrus is currently the only potential supplier for HALEU so it has a captive market provided the reactors are built.
Back to top