Obama Lifts Myanmar Sanctions as Suu Kyi Visits White House
This article by Chris Blake and Toluse Olorunnipa for Bloomberg may be of interest to subscribers. Here is a section:
President Barack Obama said he would lift economic sanctions on Myanmar after meeting at the White House on Wednesday with the country's de facto leader, Aung San Suu Kyi, a former political dissident whose government took power in March.

"The United States is now prepared to lift sanctions that we have imposed on Burma for quite some time. It's the right thing to do," Obama said after the meeting, calling the country's ongoing transition to democracy a "good news story."

U.S. companies have been watching closely for any sign they'll get more access to the fast-growing Southeast Asian nation, known as Burma before its former military rulers changed the name to Myanmar in 1989. Business groups in the U.S. have complained that sanctions hinder them from competing with major rivals in an economy that the Asian Development Bank projects will expand 8.4 percent this year and 8.3 percent in 2017, making Myanmar Asia's best performer.

"We are very interested in successful businesses" entering Burma, Suu Kyi said after the White House meeting. "We think our country is ready to take off."

She said that U.S. sanctions helped drive the country's military junta to surrender power, but that the time had come to lift them.
Myanmar is a resource rich country with a number of unique attributes not least in jadeite, rubies and rosewood in additional to oil and gas. With a clear trend of improving governance the argument for dropping sanctions and internationalising the economy is a compelling one not least as the US needs as many allies in the region as it can get.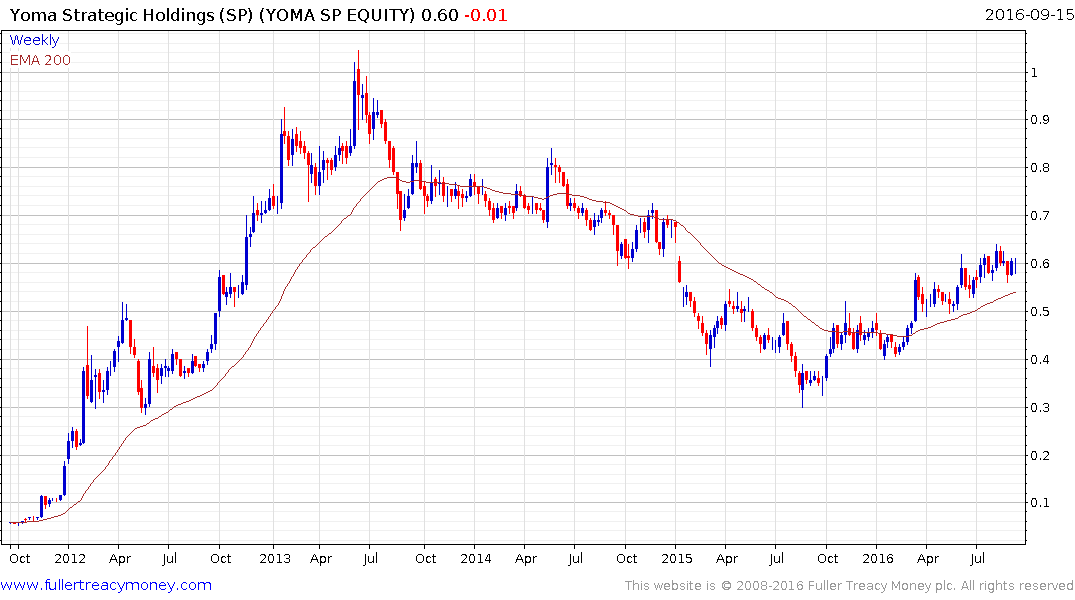 Singapore listed Yoma Strategic has been one of the primary vehicles for investors to gain exposure to Myanmar. The share trended lower from early 2013 but found medium-term support in July 2015 and has held a progression of higher reaction lows since.
Back to top