Nickel Is Gripped by a Supply Squeeze That Keeps Getting Worse
This article from Bloomberg may be of interest to subscribers. Here is a section:
The nickel market is showing more signs of stress. Stockpiles held by the London Metal Exchange extended their decline on Tuesday, with the last increase coming in October. Buyers are paying a massive premium for immediately deliverable futures.

The key cash three-month spread, which briefly eased on news of additional shipments from Tsingshan Holdings Group Co., notched new highs on Monday. Contracts for immediate delivery are trading at a $508-a-ton premium to those in three months, the highest such premium since a historic squeeze in 2007.

While the squeeze last month was focused on near-dated contracts, in recent days it has spread through the curve. That shows the market is now pricing in tighter nickel supplies for longer, amid strong demand from stainless steel producers and battery manufacturers.
Demand for batteries is likely to ramp higher over the coming years as more automotive manufacturers release new models. What kind of batteries will go into those cars is less discussed. Nickel is primarily used as a range extender. The downside is it is much more expensive and chemically volatile. Tesla is switching to lithium iron phosphate batteries for all its mid-range vehicles. That is going to cut into demand for nickel in the medium-term.

In the short-term China has shut down production from pig nickel because clear skies over Beijing for the Winter Olympics is a bigger priority. In another month, it is reasonable to expect production to start up again. That should act as a headwind to nickel prices.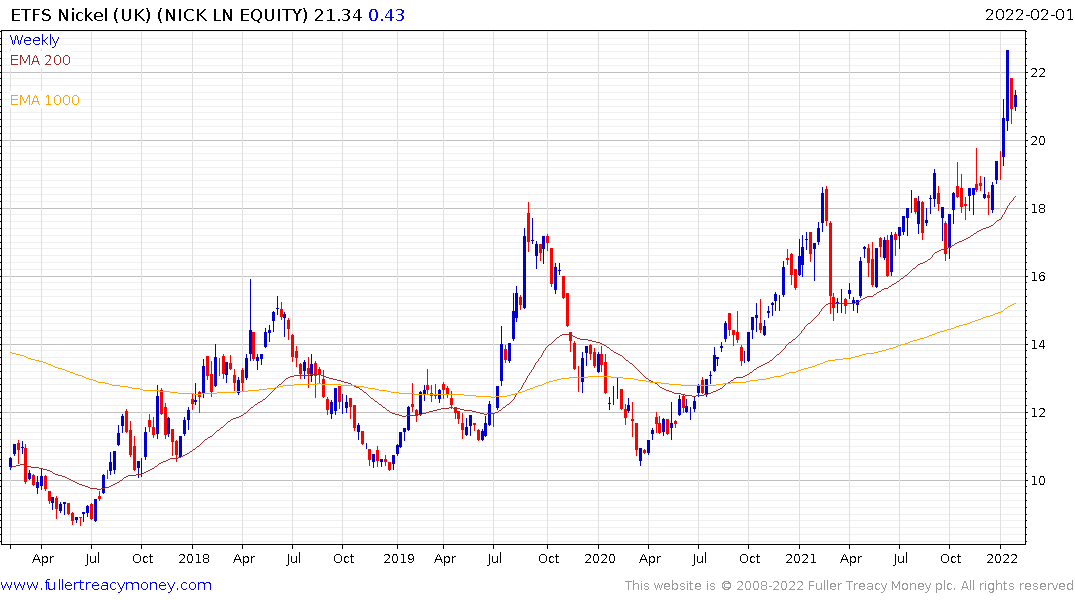 WisdomTree Nickel is consolidating in the region of the 2014 peaks and will need to continue to hold the above the trend mean at $18.35 if the benefit of the doubt is to continue to be given to the uptrend.
Back to top