MUCH aDO about the MUST Dos
Thanks to a subscriber for this interesting report focusing on Diageo. Here is a section:
We believe there has been a long-standing frustration within Diageo as to the UK investor base being underweight the stock (22% vs. 33% for the peer group, see Figure 13 and Figure 14, page 15) with various iterations of management seeking to address the relative imbalance.

Since SAB listed, Diageo (with Unilever) has been a significant underperformer relative to the peer group. That underperformance has coincided with Diageo and Unilever's EPS growth materially underperforming the same peer group. UK investors have been right to be underweight Diageo.
One clear MUST DO

Too simplistic, but in order to rectify the relative imbalance of the UK investor weighting Diageo needs to do only one thing: grow its EPS in line with, or ahead of the peer group. Execute that MUST DO (in a sustainable way) and the 'issue' of the UK investor base will likely disappear over the long-term.

August 2011 targets
In August 2011, then CEO Walsh established a set of what we consider excessive targets. Expecting any large FMCG business to grow EPS at double digits over a sustained period is too aggressive in our view as it likely ultimately undermines sustainability; 'even' PMI gave up its double digit target in 2014.
Here is a link to the full report.

China's crackdown on lavish gifts between party cadres and the ban on imbibing expensive liqueur at "business dinners" weighed on the shares of luxury drinks producers. Diageo straddles both the retail and luxury sides of the market and as such underperformed for the last year.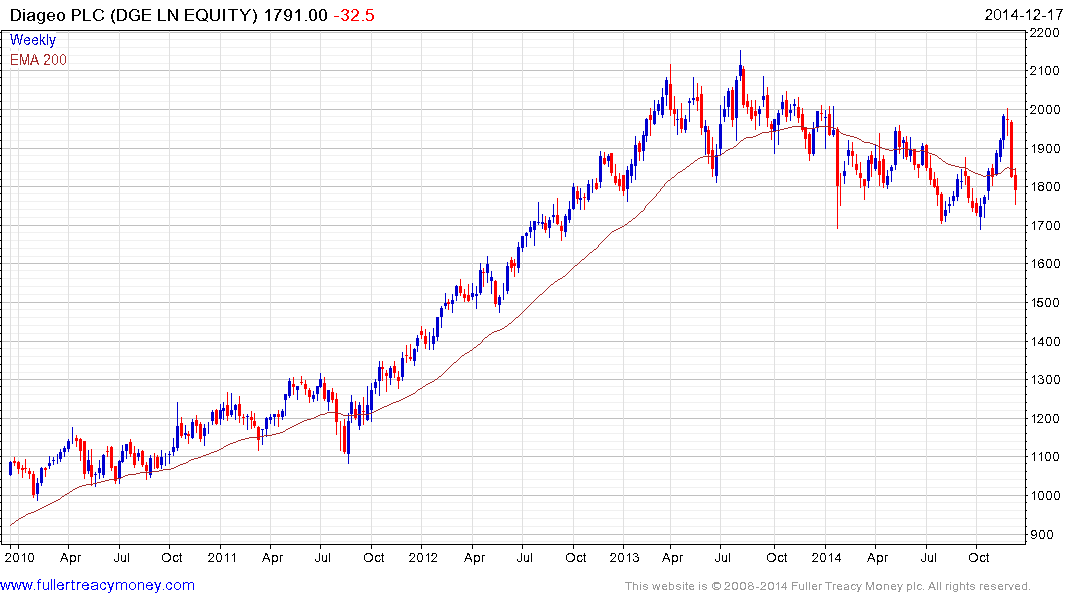 The share rallied to break a progression of lower rally highs in November and has returned over the last couple of weeks to test the October low. It will need to continue to find support in this area if medium-term potential for continued higher to lateral ranging is to be given the benefit of the doubt.
Back to top