Made-in-India iPhone X from July 2019
This article by Bharani Vaitheesvaran for ETtech may be of interest to subscribers. Here is a section:
Sustained increase in manufacturing will depend on, among other factors, the continuation of a favourable incentive regime into the next government, the official said. Mails sent to Foxconn and Apple seeking comment remained unanswered.

The company began its India manufacturing journey through another Taiwanese company Wistron, which had started with the iPhone SE from its factory near Bengaluru two years ago and later advanced to iPhone 6S model. Wistron now makes iPhone 7, a sign analysts foresee as a bump-up in local manufacture of multinational technology companies keen on the Indian market. Around 290 million smartphones were assembled in India in 2018 up from 58 million in 2014, according to data from the Indian Cellular and Electronics Association.

"In the short-term, the Differential Duty and the Phased Manufacturing Programme worked as far as import substitution is concerned. Now the challenge is to move from 290 million to 500 million phones and then to one billion by 2025," Pankaj Mohindroo, National president for ICEA, said.

"The National Policy on Electronics, 2019, gives a broad framework, but we will have to put a robust action plan behind it, which will enable exports..."

The ICEA has as its members brands such as Apple, Xiaomi, Vivo, Oppo, and manufacturers such as Flex and Foxconn.
India has the twin advantages of a massive young population and low costs. If we think about how manufacturing generally evolves, it is usually attracted by the presence of a low cost base and regulatory change which incentivises growth. Infrastructure usually comes later but it does need to be built. That is potentially where India is today. It is successfully attracting manufacturers but will need to do what is necessary to ensure they stay.
From the perspective of many India watchers, manufacturing has been the missing ingredient in its development model. It is the sector that can help to reverse the balance of payments, stablise the economy and the currency.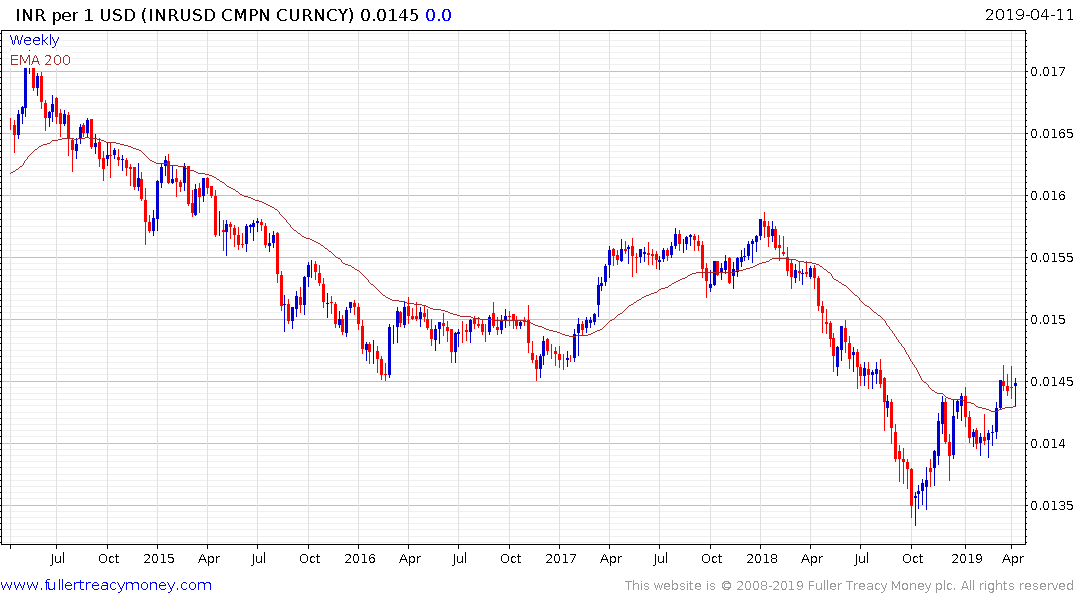 The Rupee has failed to sustain move above the trend mean on every occasion it has rallied for decades. It is back above that level again at present and will need to hold the move in order to confirm a clear change of the secular trend. That is an increasingly likely scenario for India as manufacturing, particularly of a high value nature, flourishes.
That has the potential to act as a significant catalyst for foreign investor interest in the Indian markets.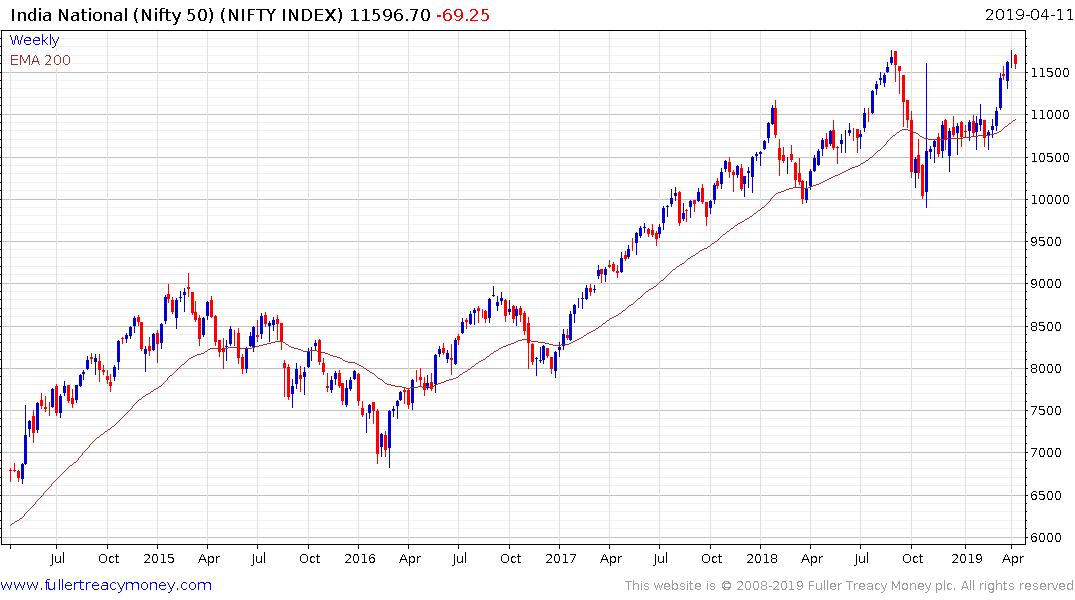 Near-term, voting began today in the country's election and a result is expected next month.
Back to top