Lordstown to Sell Ohio Plant to Foxconn in $280 Million Deal
This article from Bloomberg may be of interest to subscribers. Here is a section:
Under terms of the transaction, Lordstown Motors will sell the Lordstown factory to Foxconn for about $230 million after buying it from GM for just $20 million two years ago. The maker of Apple Inc.'s iPhone will buy $50 million worth of common stock in its new partner and will assemble the Lordstown Endurance electric pickup truck. The deal is contingent on the two sides reaching an agreement on manufacturing the vehicle. Foxconn plans to start mass production in April, according to a person familiar with its schedule.

Lordstown shares jumped as much as 12% in late New York trading Thursday. During regular trading hours, the stock rose 8.4%, closing at $7.98 after Bloomberg had earlier reported a deal was in the works. It's still down 60% for the year.

The accord gives both companies something they badly need. Lordstown Motors gets a partner that will hasten the startup's move into large-scale production, which will help lower the high costs required to make EVs. Foxconn gets a plant in North America where it can build its open-source electric vehicle platform and do contract manufacturing for partners like Fisker Inc.
Perhaps another way of thinking about this deal is Foxconn will get some valuable experience in building electric vehicles. It will have time to work through the kinks of producing large products at scale.

Sergio Marchionne often spoke about the inevitability of automotive manufacturing moving to an OEM model. That's even more likely today since the relative value of internal combustion engine performance and/or reliability is no longer a primary selling point for new models.

Batteries are now the largest cost and most significant component of an electric vehicle followed closely by the internal computer. Since both of these are highly commoditised items, room for differentiation resides in the user interface, software, look and feel.

That suggests made by Foxconn designed somewhere else is a realistic possibility. It is also the basis for continued rumours about an Apple car.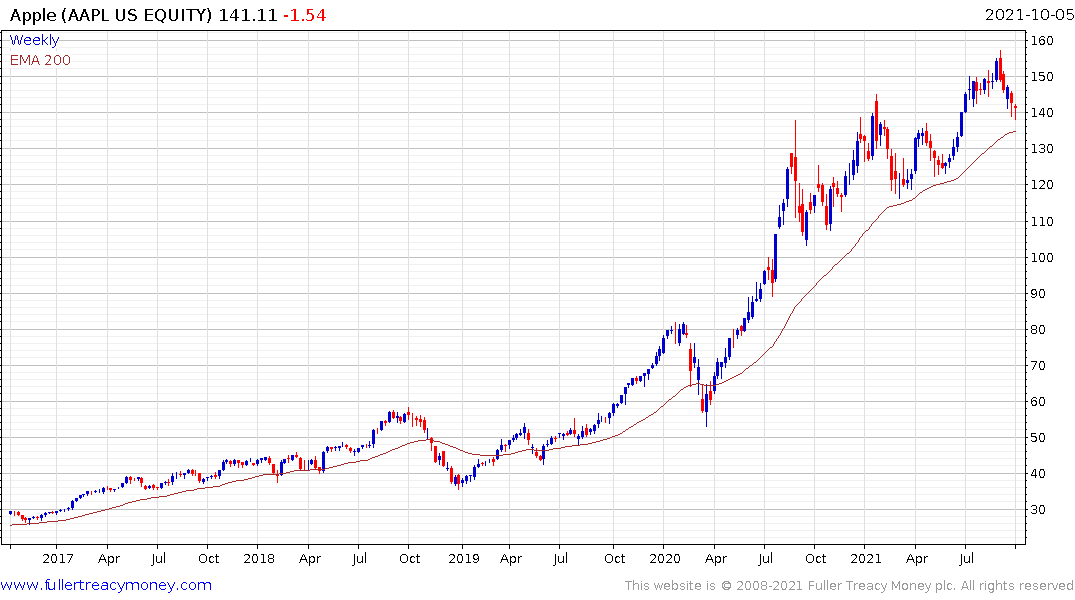 Apple is back testing the region of the January peak and the 200-day MA. If it can continue to find support in this area, that would help to support the consistency of the medium-term trend.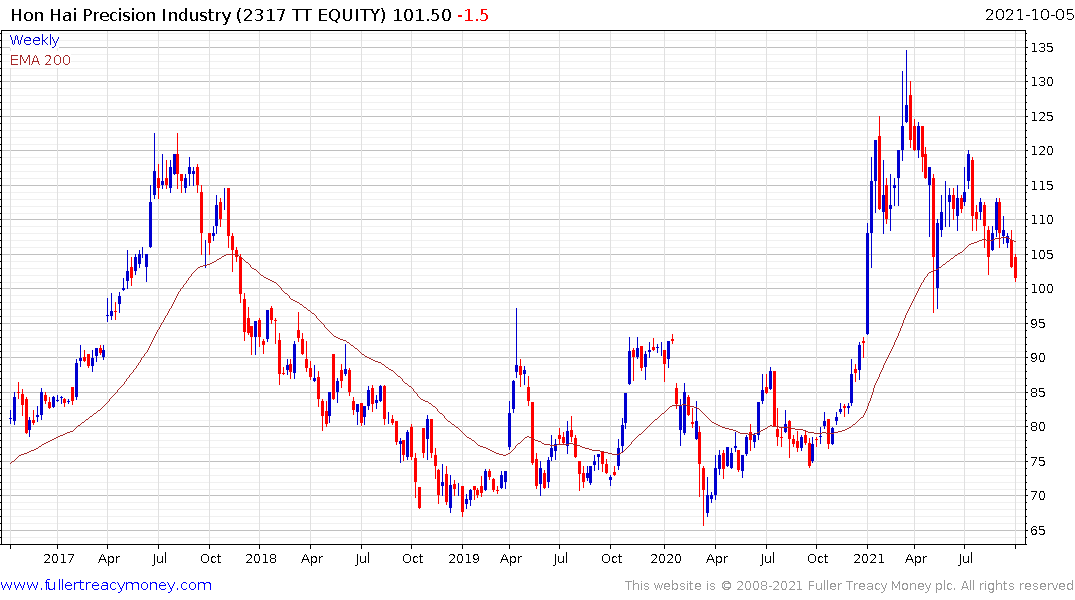 Foxconn's stock remains under pressure as it returns to test the lower side of its yearlong range.
Back to top