iPhone 'Super Cycle' Pronounced Dead as Handset Market Tumbles
This article by Alistair Barr for Bloomberg may be of interest to subscribers. Here is a section:
"The super cycle is dead," Steven Milunovich, an analyst at UBS, wrote in a note to investors on Friday. Apple shares slipped 2.9 percent to $163 at 12:18 p.m. in New York, leaving the stock down 3.7 percent so far, this year.

To adjust, Apple is now focusing on its huge installed base of devices and how to make more money from that -- rather than selling a lot more phones each year, Milunovich added.

Indeed, Chief Executive Officer Tim Cook highlighted late Thursday that Apple has 1.3 billion devices in use now, an increase of 30 percent in two years. The company is trying to sell more services through these devices, along with more accessories and related gadgets. Apple services revenue jumped 18 percent in the fourth quarter, while sales of other products, like the Watch and AirPods, jumped 36 percent.

Milunovich and other analysts quizzed Apple executives on the slowing phone upgrade cycle, during a conference call late Thursday.

"You have an installed base that's 20 percent-plus higher, and a unit growth that's relatively flat, which would suggest that your upgrade rate is going down, or your replacement cycle is elongating. And I'm wondering whether you agree with that," said Toni Sacconaghi, an analyst at Sanford C. Bernstein.

Cook advised against looking at 90 days of sales. "The far bigger thing is to look over a longer period of time and customer satisfaction and engagement and number of active devices are all a part of that."
Everyone on earth is going to have at least mobile device at some point in the next couple of decades. However, they are not all going to be paying $1000 for the handset. That privilege is reserved for the fashion conscious and those with deep pockets mostly in the OECD and China. For more than half the global population much cheaper handsets, often running Android, will prevail.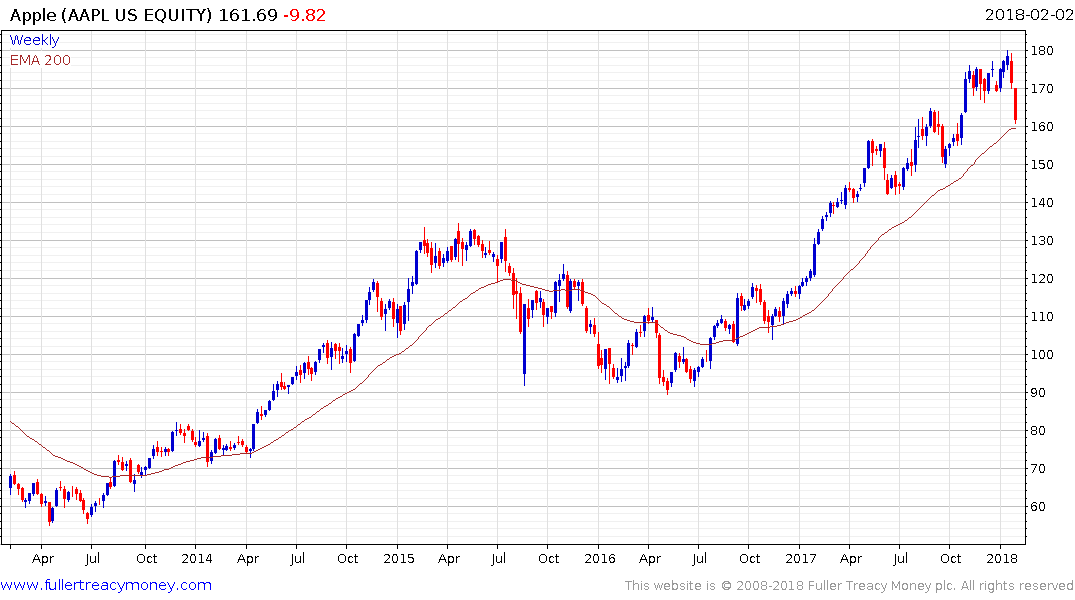 Apple is susceptible to large corrections. At the 2012 and 2015 peaks the share had rallied impressively but lost consistency at the penultimate peak. On this occasion It surged higher again from late 2016, pulled back in May, and again in September but continued to hit new highs, so this situation is not an analogue for the previous two medium-term peaks. Nevertheless, the loss of momentum, followed by a somewhat lengthier range, failed upside break and now a break lower raise the potential that we are witnessing a Type-2 trend ending in Apple. The share will need to demonstrate support in the region of the trend mean if that conclusion is to be delayed or negated.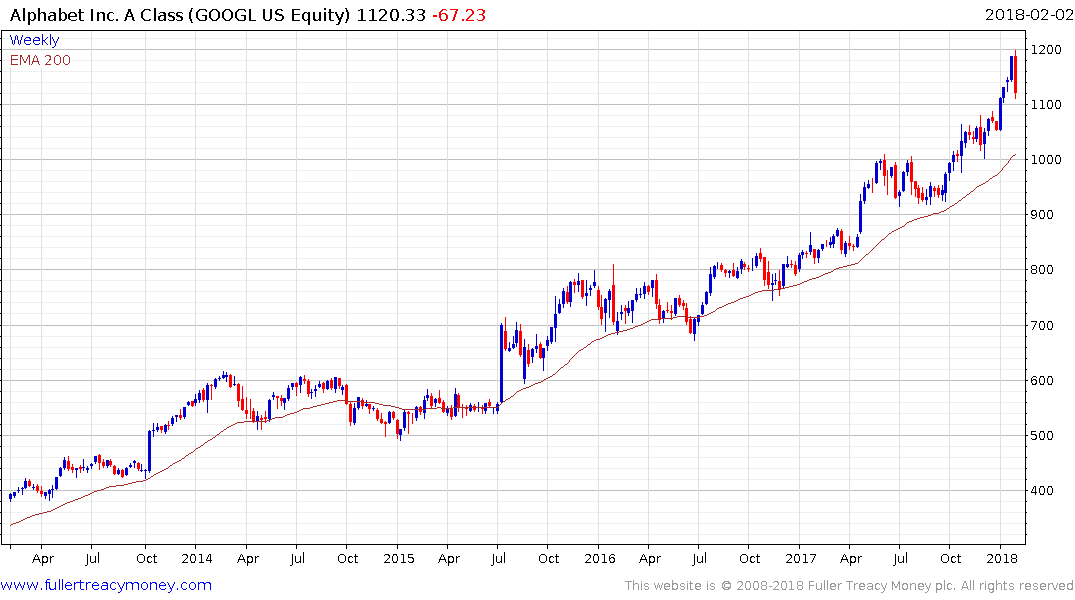 Alphabet posted a sizeable downside weekly key reversal this week, suggesting at least near-term resistance in the region of the psychological $1200. If the consistency of the lengthy medium-term uptrend is to be sustained it will need now need to range which would allow the trend mean to play catch up.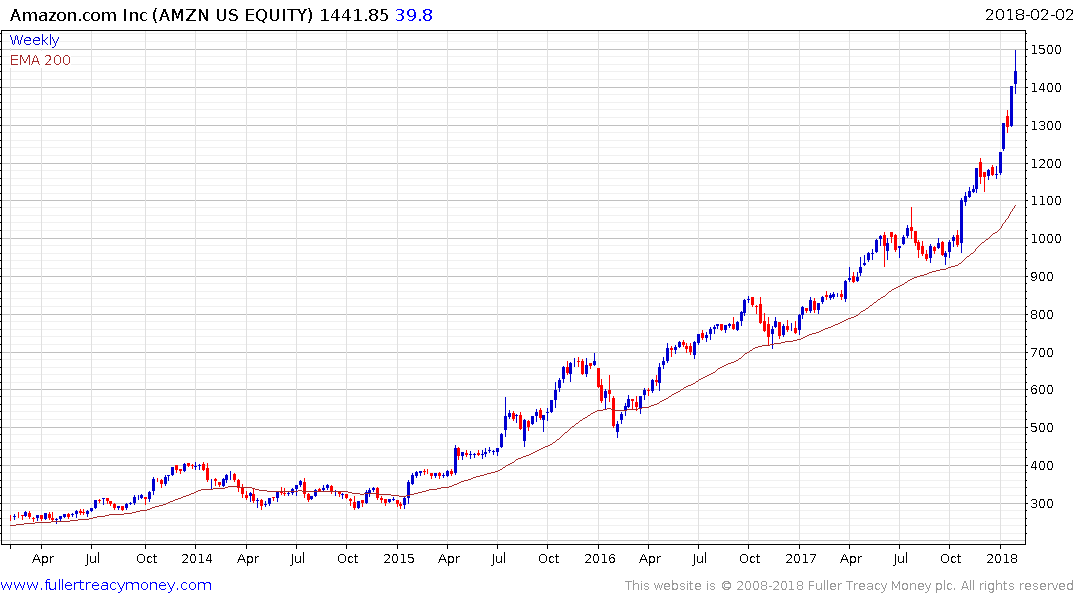 Amazon recouped all of yesterday's decline to initially post a new all-time high just below $1500. However, it is almost $500 overextended relative to the trend mean and the risk of a reversion is rising.
Back to top