Intel Plunges as It Weighs Exit From Manufacturing Chips
This article by Ian King for Bloomberg may be of interest to subscribers. Here is a section:
Outsourcing is the norm in the $400 billion industry nowadays, but for 50 years Intel has combined chip design with in-house production. And until recently, Intel was even planning to churn out processors for others.

"To the extent that we need to use somebody else's process technology and we call those contingency plans, we will be prepared to do that," Swan told analysts on a conference call, after the company warned of another delayed production process.

"That gives us much more optionality and flexibility. So in the event there is a process slip, we can try something rather than make it all ourselves."

Pursuing this option would represent a huge shift in the industry and the end of Intel's biggest differentiator, Cowen & Co. analyst Matt Ramsay said.

Design can only do so much for semiconductor performance. The manufacturing step is crucial to ensuring these components can store more data, process information faster and use less
energy. Combining the two helped Intel improve both sides of its operation for decades.
Intel has lagged in its ability to deliver 10nm chips at scale and is also having difficulty in getting its 7nm manufacturing up and running. The reality is as the width of a single silicon atom is approached the difficulty in manufacturing chips increases exponentially. That means the cost and focus required to succeed is progressively more difficult to maintain. Intel's willingness to entertain the idea of subcontracting represents a significant defeat.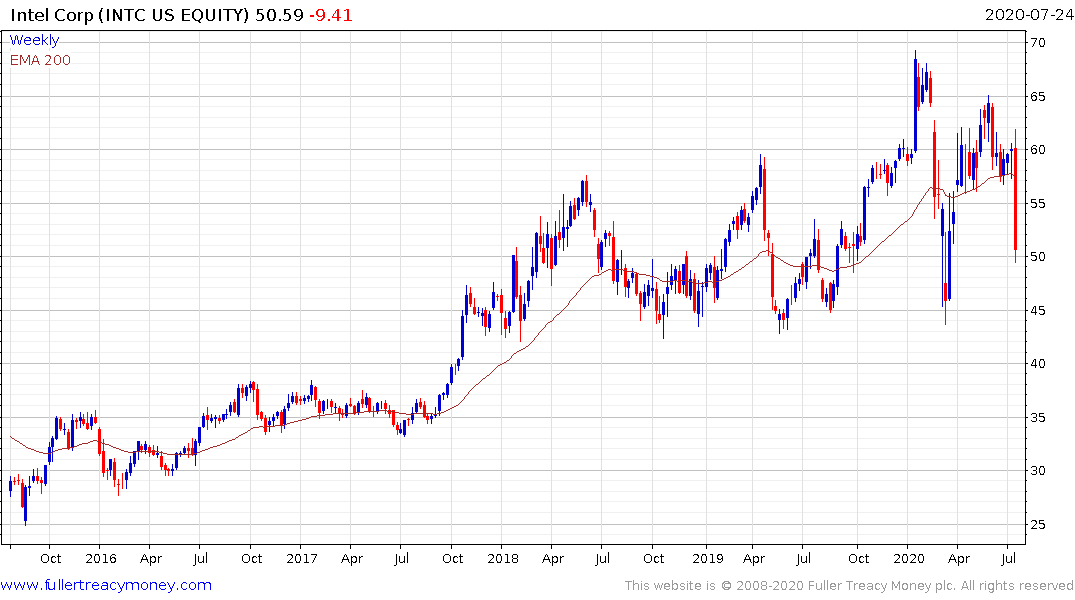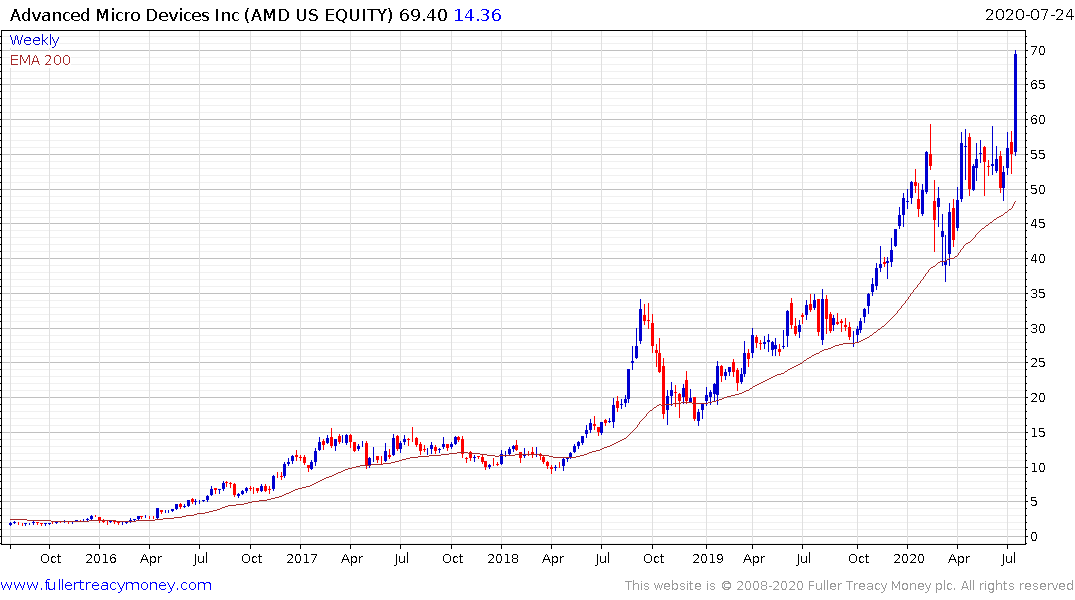 Intel fell by 16% today and Advanced Micro Devices rose by the same margin. That highlights just how much of an effect the announcement has had and that Taiwan Semiconductor's manufacturing is ahead of Intel's.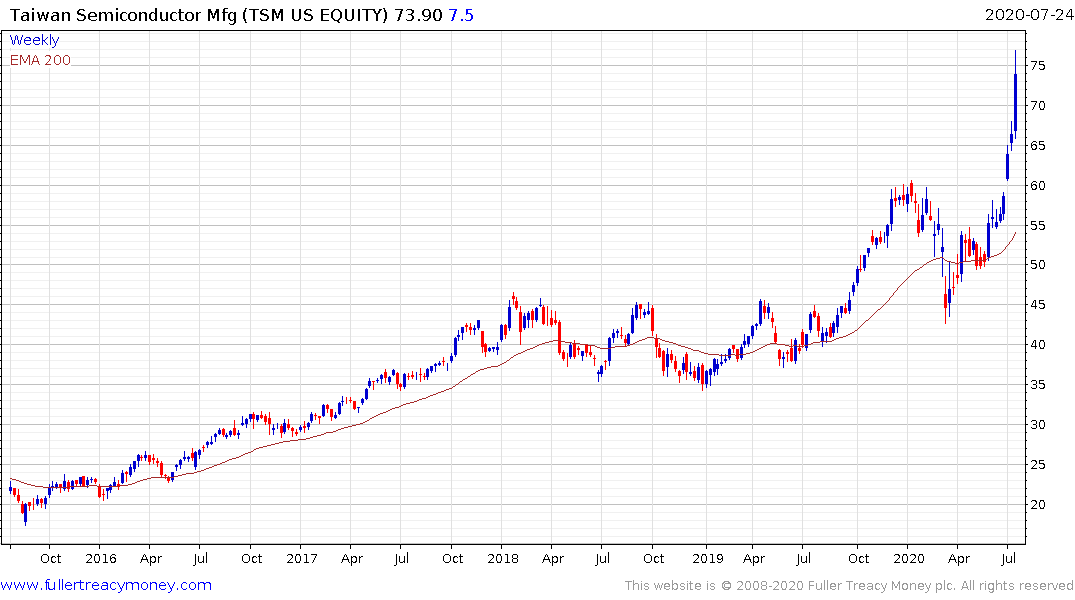 Taiwan Semiconductor is by far the largest constituent of the Taiwan market. The share initially surged today but closed well off the peak amid a wide overbought condition.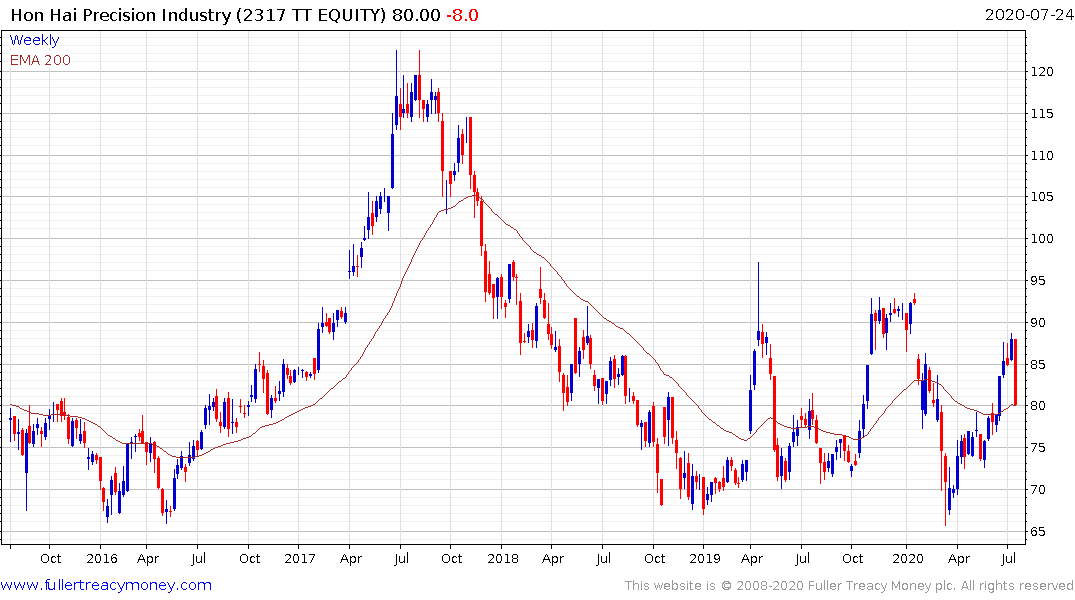 Meanwhile the 2nd largest constituent Hon Hai Precision, owner of Foxconn, pulled back sharply toward from the upper side of the 18-month base and continues to hold a mild downward bias. Hon Hai has much greater exposure to mainland China.
Back to top