India Strategy Midcaps
Thanks to a subscriber for this educative report from IIFL which may be of interest. Here is a section:
Over the past one year, marked improvement has been seen in India's macro-economic variables. GDP growth which had dwindled from 6%+ to less than 5% in a matter of 4 quarters, has bottomed out and has been stable at 4.5%]4.7% range in the past few quarters. RBI then was raising interest rates but has now maintained status quo for past two monetary policies indicating peaking out of interest rates. Inflation, which was mounting then, has now seen downward trajectory in the past few months, notwithstanding near term risk from weak monsoon. Fiscal and current account deficits have been well reigned in through measures such as curbs on gold imports and postponement of subsidies to next year. Rating agencies, a year ago, were considering a downgrade in rating for India with a negative outlook on the economy. The outlook for ratings has now been revised to stable. Currency, which was on a depreciating spree and had reached Rs68/US$, has now stabilized in a range of Rs58-61/US$.

With regards to investment cycle, steps were taken by the UPA government which shall fructify in the medium term. These steps include 1) setting up of CCI (Cabinet Committee on Investment) which has cleared bottlenecks of 210 projects worth more than Rs3.8tn across various sectors. 2) Around 85-90% of 173 FSAs have been signed; full completion would ensure fuel supply to 78,000 MW worth of power capacity. 3) Partial mining ban reversals. Furthermore, announcements from the new government have also been encouraging towards this space. With regards to the asset quality in the banking system, after a period of sustained uptrend in NPAs, Q4 FY14 results indicated stable trend.
Here is a link to the full report.

This report highlights the fact that Mr. Modi represents a transformation in the ability of India to elect a strong, reform-minded government and emphasises the electorate's demand for progress in standard of living improvements. It also highlights an important fact that a number of important reforms in the planning process were enacted by the last government which will ease the way for infrastructure investment in the next few years.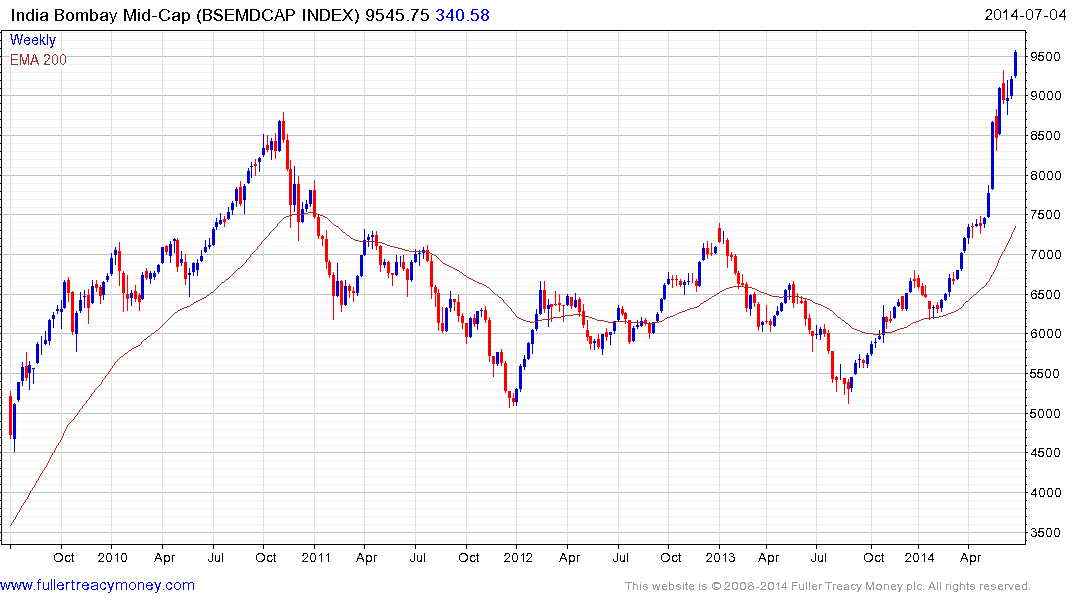 The Mid-Cap sector lagged the wider market over the last few years but has experienced a powerful catch-up advance since early May. It is now closing in on the 2008 peak near 10,000. While some consolidation is looking increasingly likely, a break in the short-term progression of higher reaction lows would be required to signal a pause near that level.

One of the challenges from the perspective of a foreign investor in India is that the domestic stock market is not easy to buy; not least because of controls on foreign inflows and ownership. A number of the larger companies have ADRs and/or GDRs and there are of course also a number of funds. I've recreated the India ADRs and GDRs section from my Favourites in the Chart Library for those who may be interested. I also added the Luxembourg listed Kotak Midcap India Fund to the Chart Library which has outperformed the BSE Mid Cap Index.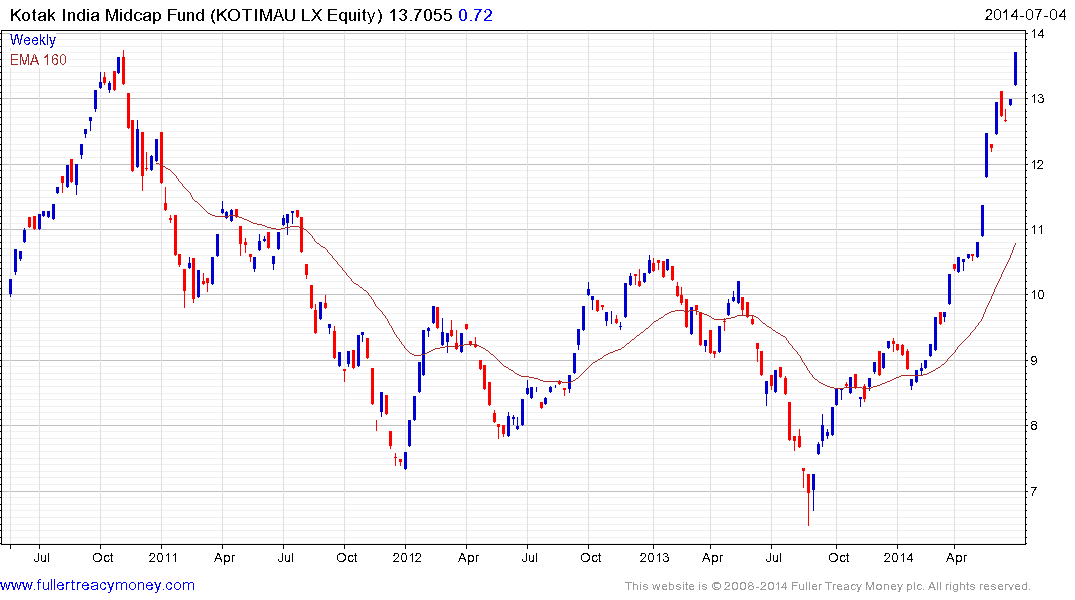 Among GDRs, Luxembourg listed Bharat Forge hit a medium-term low in August and has held a steep progression of higher reaction lows since. It moved to a new high this week and while extremely overbought, a clear downward dynamic will be required to check the advance and signal mean reversion.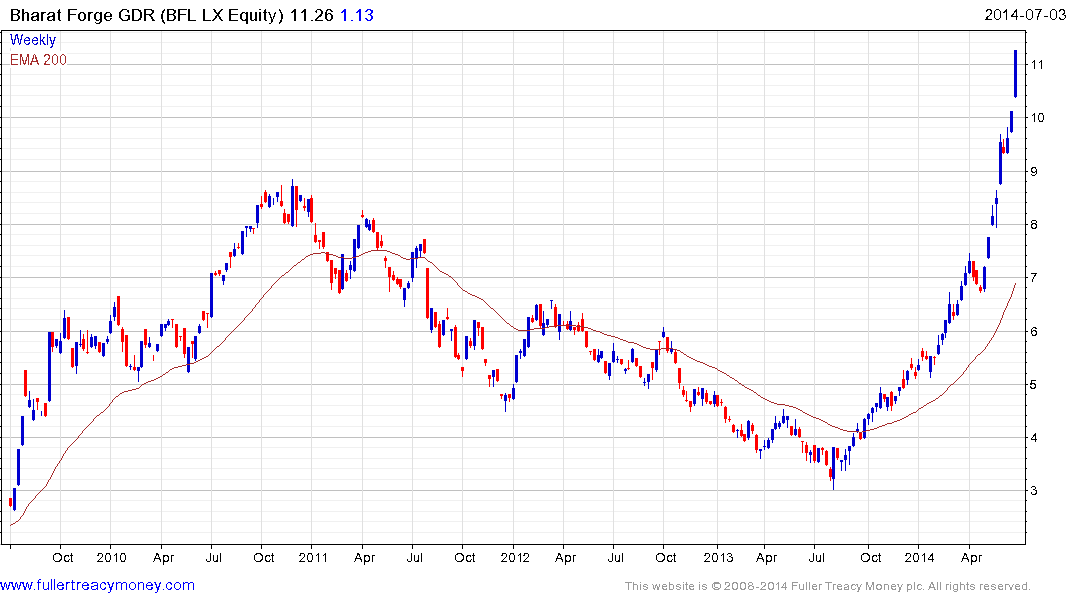 Elsewhere Dr.Reddy Labs found support in the region of the 200-day MA last week while Ranbaxy Labs has rallied to break a three-year downtrend.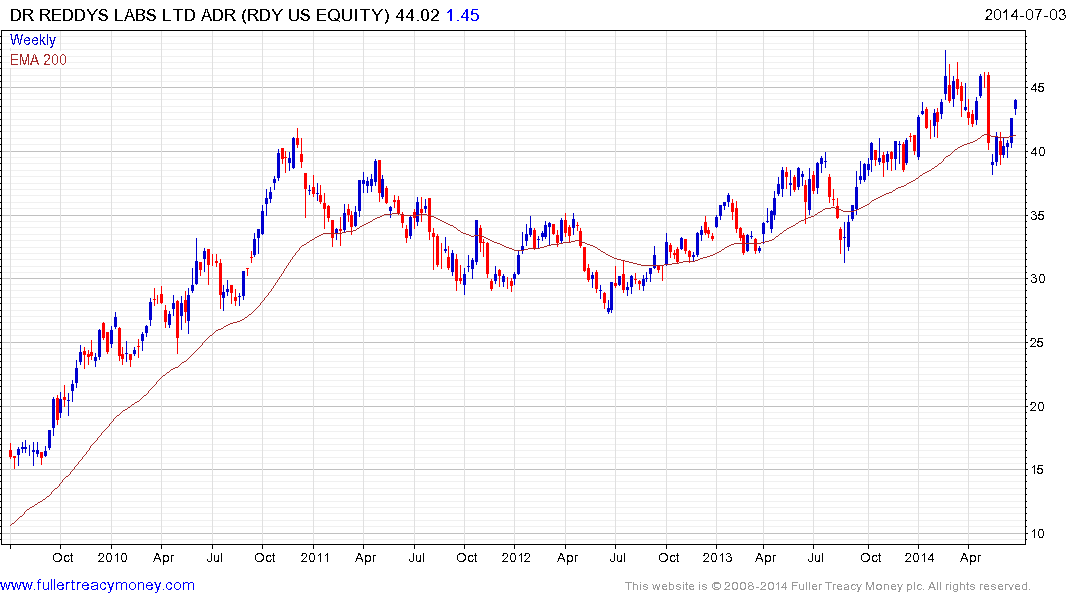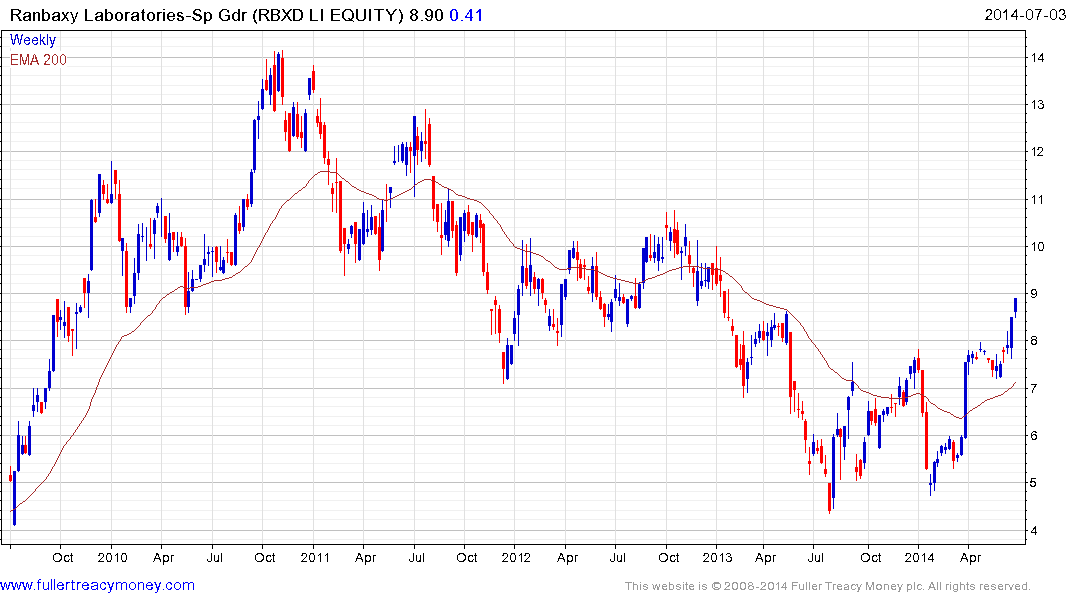 Back to top