India Stock Market Rocked by Sudden Plunge in Financial Shares
This article by Santanu Chakraborty, Abhishek Vishnoi and Nupur Acharya for Bloomberg may be of interest to subscribers.
Some investors are speculating that the Reserve Bank of India may tighten rules for housing finance firms after a long legacy of shoddy lending that's resulted in ballooning bad debts. This comes after the central bank said Yes Bank's chief executive officer will have to step down at the end of January.

"Investors are speculating that more bad loans may come to light as RBI may take stricter action," said Soumen Chatterjee, head of research at Guiness Securities. The RBI has also taken a tough line with other private-sector bank CEOs in recent months. The central bank refused to extend the tenure of Axis Bank Ltd. chief Shikha Sharma, who said she would step down at the end of 2018 despite support from
shareholders.

The IL&FS downgrade and default may have nudged investors to avoid potential collateral damage in other financial stocks. "Downgrades are a serious possibility" for non-bank financial companies, Aneesh Srivastava of IDBI Federal Life Insurance Co. said.
India's bad loans have been a rumbling background issue for a long time and there have been announcements over the last year that the RBI was going to take a more robust approach to the problem. That issue may now be coming to the fore with the prospect of defaults rising.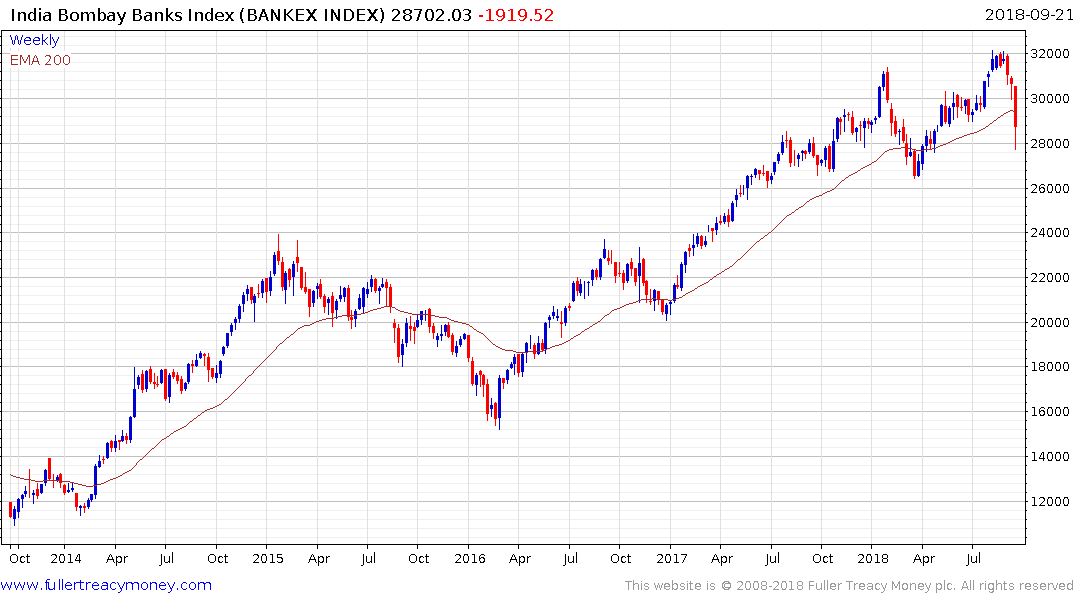 The Bombay Banks Index has been leading the wider market lower and broke below the trend mean today but closed off the low. Yes Bank was the leading decliner, down 28.7%, while HDFC closed in positive territory, if only just.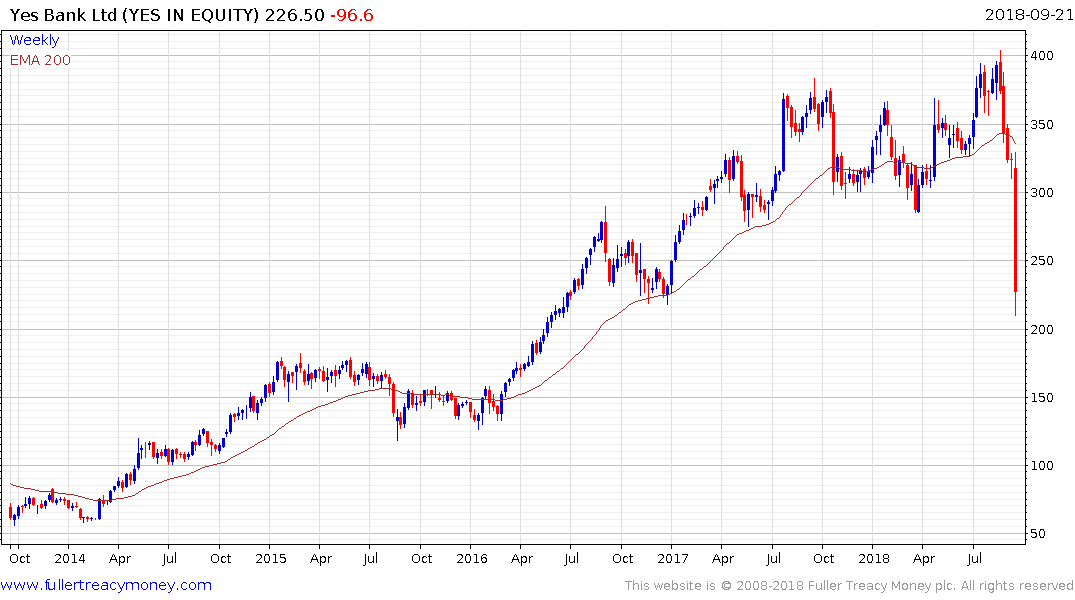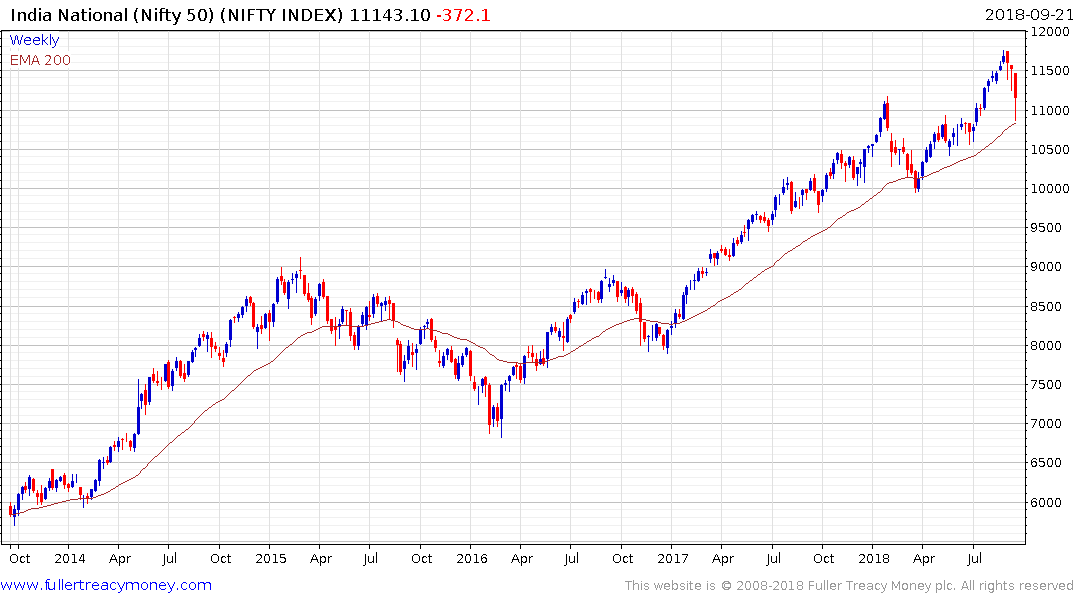 The Nifty Index briefly tested the region of the trend mean today before rebounding. The underperformance of the banking sector is not an anomaly and cannot simply be ignored by investors but wider contagion beyond Yes Bank's troubles would be required to signal a more serious degradation of bank balance sheets.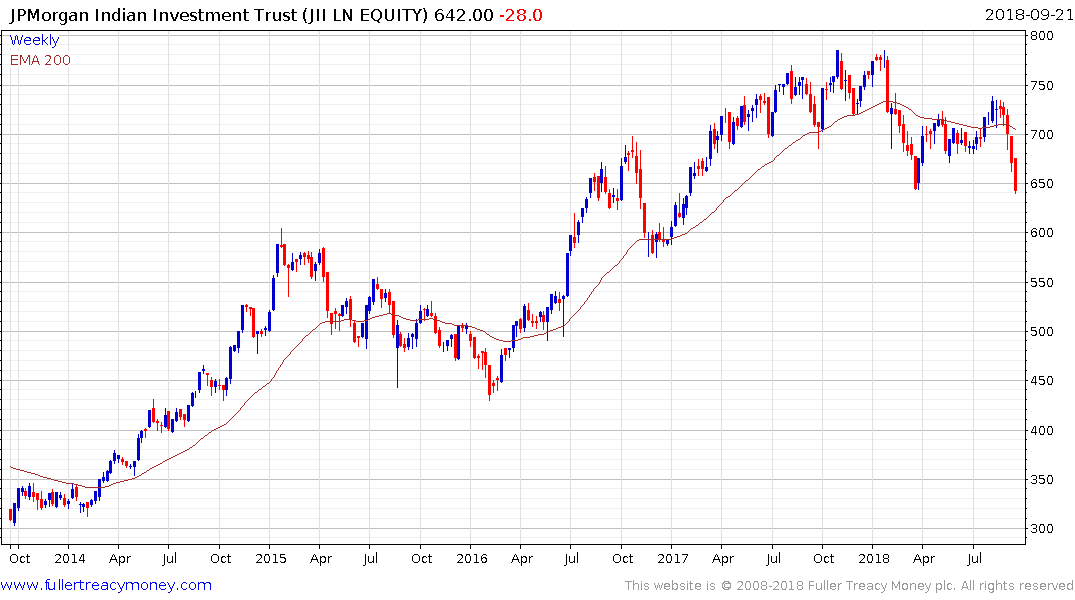 The JPMorgan India Trust is back testing its recent lows and is exhibiting Type-2 top with righthand extension characteristics. It needs to bounce from this area, and soon, to question the downward bias.
Back to top